For reasons I can't fathom, investors are obsessed with central bankers, hanging on their every word, parsing out every little detail or tone of voice. For the better part of a decade, we've seen this obsession send markets zooming ahead in moments, or selling off steeply just as fast, all totally divorced from economic fundamentals.
So they can bring gains or losses in short order, but I submit that, in fact, nearly seven years of near-zero, zero, and sub-zero interest rates have made it clear that central bankers have lost control, with very little in the way of real influence beyond short-term rates.
Long-term rates, which have a much broader impact, remain subject to market forces. And today I want to share with you a chart that shows those rates are on the cusp of a secular trend that's going to make early investors a ton of money, once they know how to bet…
Short-Term Rates Are a Mess… but That's Not the Real Story
Yellen & Co. have promised lower for longer. Even supposed hawks think any hikes should come at an extremely slow pace. Major European central banks, along with Japan, have already pushed rates below zero.
Together they've bought trillions in bonds to keep rates low. Some have resorted to buying corporate bonds, but could soon be running out of inventory.
The central banks are out of strategic depth, with their backs to the wall. There's no more room to maneuver. This is most aptly illustrated by the following chart, courtesy of The Wall Street Journal.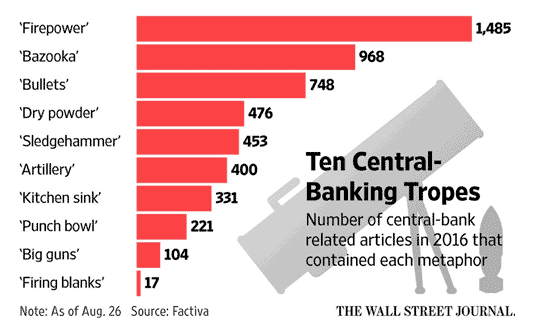 Short-term negative rates (you know, the kind Yellen insists she's not even considering), are becoming even more common where they already exist.
The unthinkable is becoming normal.
Two cases in point are Henkel AG & Co KGaA (OTCMKTS ADR: HENOY), the German household products company, and Sanofi SA (NYSE ADR: SNY), the French pharmaceutical company. They are about to become the first private non-financial enterprises to issue bonds with a negative yield.
Already, over $13 trillion of sovereign bonds promise to return less than your original capital.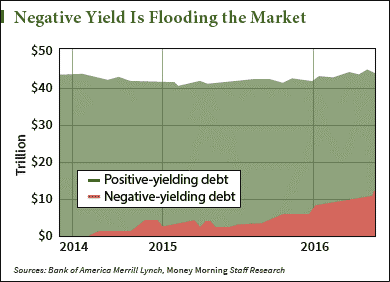 Observing these increasingly negative rates, along with a growing inventory of negative-yielding bonds, it would be natural to conclude that rates are going down.
Well yes… and no.
You see, short-term rates have been mainly trending down, but that's not the case for longer-term rates.
Back in July, the 10-year Treasury looks like it may have bottomed. That in itself would be highly significant for the world's most widely watched interest rate.
A little over two weeks ago, we saw a breakout in the 10-year Treasury yield, which jumped higher from its range of the past couple of months.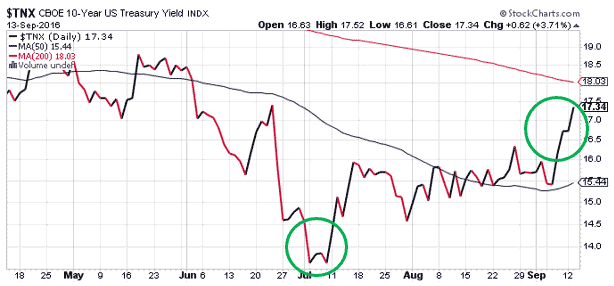 The 30-year yield is an almost exact replica of the 10-year chart.
Here's what I think is really going on…
Join the conversation. Click here to jump to comments…
About the Author
Peter Krauth is the Resource Specialist for Money Map Press and has contributed some of the most popular and highly regarded investing articles on Money Morning. Peter is headquartered in resource-rich Canada, but he travels around the world to dig up the very best profit opportunity, whether it's in gold, silver, oil, coal, or even potash.