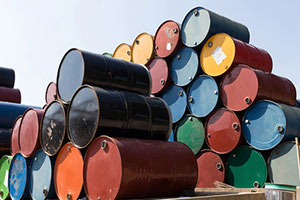 Crude oil prices today (Wednesday) are surging after an unexpected decline in U.S. crude inventories. The price of crude oil is also soaring thanks to a service workers strike in Norway, which has endangered North Sea output.
Brent crude oil prices, the global benchmark, were up $0.73, or 1.59%, at $46.61 in morning trading. WTI crude oil prices today were up $0.78, or 1.78%, at $44.82.
Here's a closer look at exactly why crude oil prices are soaring today…
Crude Oil Prices Soar on These Two Factors
Sending oil prices higher today was data out late yesterday from the American Petroleum Institute (API) showing a 7.5 million barrel drop in U.S. crude inventories to 507.2 million barrels. That was almost twice the drop analysts were expecting and a bullish development after supplies climbed 1.438 million barrels last week.
The second factor driving crude oil prices Wednesday was an oil service workers strike in Norway.
Trending Now: Get the Best Investing Research Today to Grow Your Money
After wage talks broke down Wednesday, more than 300 Norwegian oil service workers went on strike. The strike affects the operations of five large subcontractors to the country's oil and gas industry. The dispute will force oil firms to cease drilling of some wells on Norway's continental shelf. If the strike is a prolonged event, it may also impact output from Western Europe's top crude and gas producers.
While crude oil prices are up in morning trading, they could fade ahead of today's FOMC meeting. At 2:00 p.m., Fed policymakers will announce their decision on interest rates.
The overwhelming consensus is that the U.S. central bank won't hike rates. Heading into the meeting, market odds of a rate hike are just 15%. The likelihood of a December rate hike, however, has risen to 64%, according to CME Group.
Oil traders are bracing for volatility today. According to the Bespoke Investment Group, September is the fourth most volatile Fed day, with an average market move of 1% (in either direction) following the September FOMC meeting.
And if the Fed leaves rates unchanged, oil prices could spike further still.