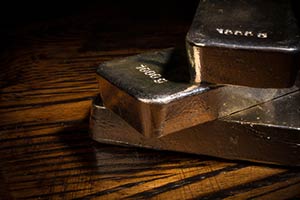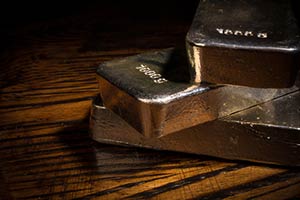 Silver prices today (Thursday) climbed back over $20 after the U.S. Federal Reserve left interest rates unchanged Wednesday. The Fed also trimmed its projection for future growth at the end of the FOMC meeting, which is bullish for silver prices.
In early morning trading, the silver price per ounce was up $0.26, or 1.35%, at $20.03. That pushed silver's five-day gains to 5.22%. The price of silver has now climbed 7.60% and 14.75% in the last month and three months, respectively.
Year to date, silver prices have now climbed 43.65%. That makes silver one of the market's best asset performers this year. During the same time, the Dow Jones Industrial Average has climbed just 5.7%.
Trending Now: Turbocharge your investing returns with our top 5 money-making investment reports. Get them now – they're absolutely free. Click here…
The jump in silver prices today also comes at a time when silver had started to cool off. After a near 50% gain earlier this year, silver prices pulled back mid-summer when it looked like a Fed rate hike might happen in September.
At the Fed's annual symposium on Aug. 26, Fed Chair Janet Yellen said the case for an interest rate increase had strengthened. A number of Fed officials followed with equally hawkish comments.
But in early September, dovish comments started being released by Fed officials…
Silver Prices Today Follow the Fed's Actions
Governor Lael Brainard said even though unemployment is low right now, the Fed still needs to focus on cutting the unseen slack in the labor market. That includes an overabundance of workers who are employed part-time but need full-time jobs.
Brainard also said the markets must get used to the idea that interest rates will be low for a long time. The last seven years are proof that very low interest rates are necessary to maintain even modest economic growth and inflation, she explained.
Silver trended cautiously higher in the weeks after Brainard's speech, but silver prices today really jumped after the September FOMC meeting.
While the Fed didn't rule out an interest rate hike in December, market odds currently show a 58% chance the central bank will lift rates in three months. The Fed always finds an excuse to remain on hold. This year's contentious presidential election may be the reason policymakers pause even longer.
In the meantime, silver investors are looking at three months (or more) of near-zero interest rates. That is very bullish for silver prices today and in the future. Low interest rates tend to weigh on the dollar. Since silver is traded in dollars, silver becomes less expensive for investors outside the United States.
In addition to the Fed's low-interest-rate policy, an increasing number of global central banks are toying with negative interest rates. That bodes well for the price of silver, too.
In fact, Money Morning Resource Specialist Peter Krauth sees silver prices climbing by double digits before the end of 2016. Here's his latest silver price prediction…
Follow us on Twitter @moneymorning and like us on Facebook.
Related Articles: