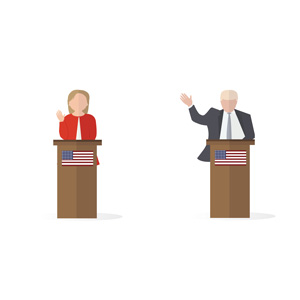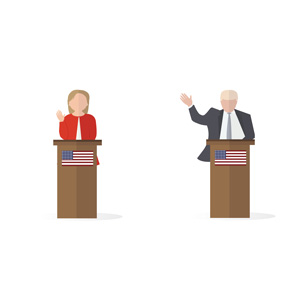 Both Donald Trump and Hillary Clinton have taken opposing positions on the Syrian refugee crisis - one of the hottest issues of election 2016...
These differences are sure to play out in the first presidential debate, set for Monday, Sept. 26, at 9:00 p.m. ET. According to a November Gallup poll (the latest taken), 60% of Americans oppose accepting Syrian refugees, while 37% are in favor.
In the debate, expect Trump to hammer Clinton for her comparatively relaxed refugee policy that risks national security. Expect Clinton to criticize Trump for not caring about suffering Syrian families...
The Syrian Refugee Crisis in the U.S., by the Numbers
On average, it takes Syrians up to two years to legally enter the United States, The Guardian reports. And according to the State Department, Syrians refugees are among the most heavily vetted groups of immigrants allowed in the country.
Related: Trump vs. Clinton on Taxes in the First Presidential Debate
Back in November, a senior State Department official told Time magazine that the number of male versus female refugees entering the country is roughly 50/50, with the majority being children under the age of 14. That analysis seems to hold up against the data. Of the 6,726 refugees admitted since January, 24.6% are men aged 14-50, while 22.8% are women aged 14-50. Nearly 48% are children aged under 14, according to CNSNews.com.
First Presidential Debate: Hillary Clinton's Refugee Plan
Total Number to Allow Entry
Hillary Clinton said back in late June that she wants to bring 65,000 Syrian refugees into the United States, although she didn't specify a time frame. That would presumably be in addition to the Obama administration's current target of admitting 85,000 refugees in 2016 and 100,000 in 2017.
Adjusting for current levels and goals for the following years, Clinton's policy could bring an average of 155,000 refugees into the United States each year, according to the Senate Subcommittee on Immigration and the National Interest. That would bring the total refugee count over four years to at least 620,000.
Estimated Cost to U.S. Taxpayers
The Senate Subcommittee went on to say that Clinton's refugee policy over a term would cost U.S. taxpayers around $400 billion, including the cost of healthcare, welfare, and other entitlement benefits. It should be mentioned, however, that Clinton has not explicitly stated she wants to bring 155,000 refugees into the United States each year. The Senate Subcommittee made presumptions to arrive at that number.
Another cost estimate for Clinton's refugee policy is much lower; according to an analysis from the nonpartisan National Conference of State Legislatures, it would cost about $582 million to resettle 70,000 refugees. Scaling up the figures to resettle 620,000 refugees over four years, it would cost U.S. taxpayers about $5.2 billion.
First Presidential Debate: Donald Trump's Refugee Plan