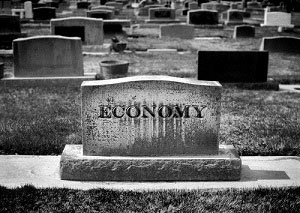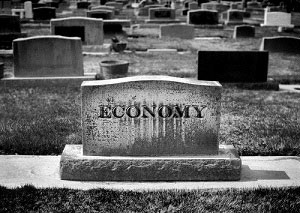 Wall Street was too excited about the Fed keeping interest rates unchanged this week and missed the latest major stock market correction signal out of Japan.
Most investors focused on the Dow Jones Industrial Average climbing 1.1% this week.
But what they should have focused on is a dangerous policy from the Bank of Japan (BoJ) that is leading the global economy straight to a stock market correction.
We're going to explain this policy today, and once we do, you'll see why a stock market correction is due...
How the BoJ Is Creating a Stock Market Correction
On Jan. 9, the BoJ instituted a negative-interest-rate policy (NIRP) to create economic growth.
Here's how it works. Banks in Japan are charged a fee for depositing money by the BoJ. Because the banks don't want to incur the fee, they will theoretically lend more money. The more money that is lent, the more people in Japan will spend on homes, cars, and starting up businesses.
That's how it's supposed to work, at least.
But the reality is much different and could be the cause of a massive stock market correction...
The people in Japan are actually saving their money, the exact opposite of what the BoJ wants them to do. The people of Japan realize that their economy must be in bad shape if the BoJ had to adopt a negative-interest-rate policy.
According to Fortune, sales of safes doubled at a particular hardware store in Japan in February after the country introduced negative interest rates.
Trending: Get the Best Investing Research Today to Grow Your Money
You see, some banks are forced to pass these charges by the BoJ onto the customer. So it makes no sense for someone to be charged a fee for storing their money at a local bank.
And if the banks have fewer deposits, they have less money to loan.
"Loan demand isn't growing so banks can't raise rates," Money Morning Capital Wave Strategist Shah Gilani said on Feb. 24. "And worse, if depositors are going to be charged to park their money in banks, or fear they'd be denied access to their cash residing in banks, they'll pull their deposits and create all kinds of havoc for banks."
Japan's efforts to spur the economy through negative interest rates are clearly not working.
Inflation is at -0.4% (well below the BoJ's desired target of 2%), GDP growth was an abysmal 0.2% in July, and people are saving more than they are spending.
This means once its negative-interest-rate policy fails, Japan is out of options for stimulating the economy. The economic impact will be felt on the global economy, because Japan is such a huge player in global markets.
But instead of backing off from these failing policies, the BoJ is doubling down...
When the BoJ met to discuss interest rates on Sept. 21, the BoJ left rates unchanged. And BoJ officials have left the possibility of going even further negative on the table.
The BoJ does plan right now, though, to wreak more havoc in the bond market by buying $777 billion worth of bonds and risky assets, according to Reuters. The purchases of bonds will keep the yield of 10-year government bonds at roughly zero.
You can't control the actions of the BoJ. But what you can do is protect your hard-earned money before it's wiped out.
Money Morning Global Credit Strategist Michael Lewitt has formulated a plan to help you profit even during a 2016 stock market correction. And you can do that through one key investment...
Before the Stock Market Correction, Make This Investment