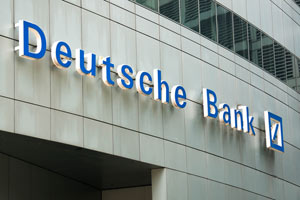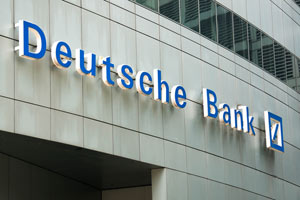 Shares of Deutsche Bank AG (NYSE: DB) have slipped 50.6% in 2016, but thanks to our Deutsche Bank stock analysis, we've banked gains of 166% on DB's way down.
Before we show you our full Deutsche Bank stock analysis, here are some key details about what has been pummeling Deutsche Bank shares...
Why the Deutsche Bank Stock Price Keeps Dropping
The DB stock price has been under pressure all year from global economic woes, Brexit fears, and the ailing state of Europe's banking system. But concerns about Deutsche Bank's financial health really escalated this month.
On Sept. 16, the U.S. Department of Justice (DOJ) said Deutsche Bank must cough up $14 billion to settle an investigation into its selling of residential mortgage-backed securities (RMBS) between 2005 and 2007.
Up Next: Turbocharge your investing returns with our top 5 money-making investment reports. Get them now - they're absolutely free. Click here...
Germany's flagship lender was among a group of global banks that sold investors RMBS, many of which were filled with subprime mortgages. When home prices collapsed in 2008 and people couldn't pay their mortgages, banks and investors who owned those RMBS were on the hook for large sums.
Deutsche Bank maintains it has no intention of paying the DOJ $14 billion, an amount that would severely strain its already extremely fragile finances. Instead, it expects to pay a fine around $3.4 billion.
But even that amount is concerning. The growing worry is that Deutsche Bank will have to raise capital to reinforce its dwindling finances. Some fear another "Lehman Brothers moment" is looming.
Monday, Deutsche Bank denied it has sought help from the German government. It went on to say that it is "fundamentally strong" and any questions about its capital capacity are simply pure speculation.
Those words didn't help the Deutsche Bank stock price. DB shares fell to a new 52-week low of $11.23 today. The DB stock price has been cut in half this year and now sits at a level last seen in the mid-1980s.
Money Morning Global Credit Strategist Michael Lewitt has been warning readers about Deutsche Bank stock since early this year.
But instead of watching the disaster like the rest of Wall Street, his Deutsche Bank stock analysis showed a way to profit. And his readers have already banked gains of 166%...
Deutsche Bank Stock Analysis - Here's Our Profit Play
"Deutsche Bank is the proverbial canary in the coal mine of the global financial system," Lewitt cautioned in February and reiterated earlier this month. "It poses systemic risk because it is poorly managed, even more poorly capitalized, and party to $60 trillion of derivatives contracts."
In July, Lewitt warned the DB stock price was heading to $5 a share. At the time, he shared his carefully selected put trades to profit on the Deutsche Bank stock price crash.
Lewitt revisited his put positions in August. DB remained a prominent position on his short list - even though shares were already down a steep 43.1%.
As DB shares hit a record low Monday, one of Lewitt's DB put plays was up 166%.
With more downside expected, there are still profits to be had on Deutsche Bank stock. You can find Lewitt's recommendation on how to play DB stock now here.
This May Be the First (and Last) Time You See Michael Lewitt on Camera
Michael Lewitt is one of the most talented investors in America. He's also one of the most private individuals we've ever known and rarely makes public appearances. But, for the first time, Michael is going "off the record" to reveal a new way to find stocks that have a 94.5% chance of working in your favor... and could net you an easy $313,000 in a matter of months. You may disagree with his approach, but you can't deny its millionaire-making power. 
Follow us on Twitter @moneymorning and like us on Facebook.
Related Articles: