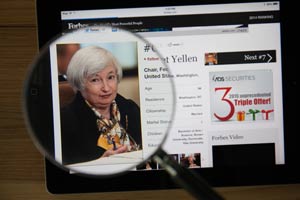 The Janet Yellen testimony at the House Financial Services Committee begins at 10:00 a.m. today (Wednesday), and she'll address the topic of financial regulation.
Here's everything investors need to watch for from today's Janet Yellen testimony...
The bulk of today's questions from lawmakers should focus on big banks and the Fed's relationship with them. But that's not all on the docket.
Yellen is unlikely to get too heavily into monetary policy. Still, her testimony will be interesting in light of the scandal unfolding at Wells Fargo & Co. (NYSE: WFC) and the serious capital concerns surrounding beleaguered Deutsche Bank AG (NYSE: DB).
Janet Yellen Testimony Topic No. 1 Interest Rates
The Fed left interest rates unchanged at the Sept. 20-21 FOMC meeting last week. Yet Yellen said the case for a rate increase "has strengthened." Republican lawmakers will press hard with arguments for raising rates. Democrats will take the opposite approach and call for keeping interest rates near zero - where they have been for almost a decade.
Don't Miss: This is your ticket to bigger and better returns... and it won't cost you a penny. What are you waiting for? Read more... 
Janet Yellen Testimony Topic No. 2: Bank Tests
Under a new proposal outlined Monday, regional banks will be subjected to a "stress test" by the Fed. Banks that pass will be excluded from additional reviews that assess the bank's risk-management procedures as well as internal controls. Additionally, banks with less than $250 billion in assets are exempt from the tests. About 20 banks have qualified to be exempt from the Fed's reviews so far.
Janet Yellen Testimony Topic No. 3: Commodities
The Fed proposed a new rule last week that will make commodity trading more expensive for banks. The new rules will impact 14 banks, including Goldman Sachs Group Inc. (NYSE: GS) and Morgan Stanley (NYSE: MS). According to the proposal, banks will need to hold more capital for their commodity trading activities. They also restrict banks' trading on commodities. Also, the Fed aims to revoke authorization given to banks for running power plants and remove copper from the precious metal category. Right now, many banks "hold and store" copper as a commodity.
Janet Yellen Testimony Topic No. 4: The Election
[mmpazkzone name="in-story" network="9794" site="307044" id="137008" type="4"]
We're just weeks away from one of the most contentious presidential elections in U.S. history. GOP candidate Donald Trump maintains the Fed is keeping rates low to help President Obama's image and get Democratic candidate Hillary Clinton elected. Yellen has repeatedly said the central bank's moves are not politically motivated. In an interview with CNBC in May, Trump said when Yellen's time is up he would likely replace her. Yellen's term as chair ends in February 2018.
Janet Yellen Testimony Topic No. 5: Executive Compensation
Back in April, U.S. regulators (including the Fed) proposed incentive compensation rules that had been required as part of the 2010 Dodd-Frank law. Proponents of the rules want them to be enacted before President Obama leaves the White House. The Wells Fargo scandal has only made this process more urgent for proponents.
Markets were trading cautiously ahead of the Janet Yellen speech, bracing for anything that could rattle stocks.
And according to Money Morning experts, the Fed's recent actions could have a disastrous impact on the economy and the markets. Here's how dangerous the Fed is to your money and how you can protect yourself today...
Follow us on Twitter @moneymorning and like us on Facebook.
Related Articles: