Gold climbed 2.4% last week, which was its biggest weekly advance since June. And we see gold prices climbing even higher from here.
That's why we're bringing readers one of the best gold stocks to buy today before the price of gold rallies again.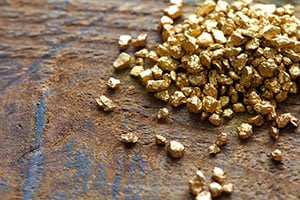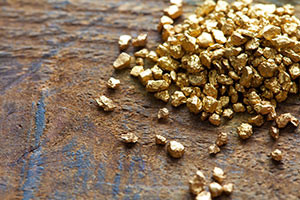 Gold closed out Q1 2016 with a 16.1% gain. That was its best quarter in three decades. Gold kept climbing in Q2, thanks largely to the UK's decision on June 23 to leave the European Union.
On June 24, gold prices surged more than 8% to their highest level in two years. The Brexit vote sent investors flooding into safe havens like gold. Spot gold rose to an intraday high of $1,358.20 per ounce, finishing the session up $50.30 at $1,322.30 an ounce.
Gold stocks, particularly mining stocks, enjoyed even bigger gains. In fact, the Market Vectors Gold Miners ETF (NYSE: GDX), which tracks some of the best gold stocks to buy now, has soared nearly 100% in 2016.
More recently, investors have been piling into gold after the scandal that has hit Germany's leading lender Deutsche Bank AG (NYSE: DB). The bank is facing a $14 billion fine for selling mortgage-backed securities that played a crucial role in the 2008 financial crisis.
The German government and financial authorities are reportedly working on a rescue plan. In a worst-case scenario, the government would take a 25% stake in the beleaguered bank. DB shares have tanked and now trade at levels last seen in the mid-1980s.
And Deutsche Bank isn't the only big bank in trouble.
Credit Suisse warned today that the whole European banking sector is in a very fragile situation and is "not really investable."
Credit Suisse Chief Executive Tidjane Thiam said at a Bloomberg conference that individual banks have become susceptible to extreme share-price movements on the most minor piece of news.
While news stories like this are bearish for the markets, they are a major catalyst for gold prices and gold stocks. But those aren't the only reasons we're recommending one of the best gold stocks to buy today.
Up Next: Get the Best Investing Research Today to Grow Your Money
Another global monetary policy is acting as a major catalyst for gold mining stocks…
Negative Interest Rates Continue Driving Gold Stocks
The European Central Bank is among a number of global central banks that have implemented negative rates. Results have been mixed so far, but they have been a massive catalyst for gold stocks.
The Bank of Japan rattled world markets in January when it cut interest rates to zero. Last week, the BOJ unveiled its latest monetary policy.
In a sign that negative interest rates are not working, the BOJ didn't go further into negative territory. Instead, it will peg 10-year government bond yields around zero in hopes that bond prices should move beyond that into positive territory.
The BOJ also reiterated its intentions to keep real interest rates low for a long time. It also promised to keep printing money until it overshoots its inflation target and stays above it.
Investors keep losing confidence in central banks. No wonder investors continue to pile into the best gold stocks to buy…
The upcoming presidential election is another catalyst for gold prices. A Donald Trump win, which is a very distinct possibility, would rattle markets. That of course would boost gold demand.
First, a Trump victory might weigh on the dollar and ignite geopolitical risks. Second, Trump has touted the gold standard and the merits of a gold-backed currency.
At $1,322.90 an ounce, the precious metal is up 24.35% year to date. But Money Morning Resource Specialist Peter Krauth sees gold prices trading around $1,400 an ounce in the near term. His long-term forecast is for gold to trade upwards of $5,000 an ounce by 2020.
With all of that in mind, here's one of the best gold stocks to buy before the next rally…
One of the Best Gold Stocks to Buy Now