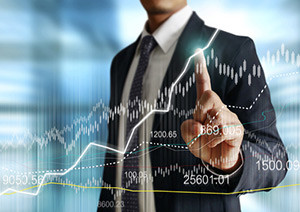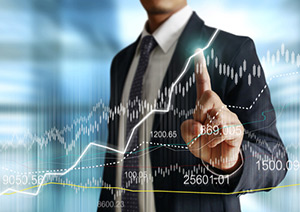 Our list for the best stocks to buy in October 2016 emphasizes quality companies that can survive a volatile market - because that's exactly what we have today.
After a rough start to the year, with the Dow Jones closing at its lowest level in two years on Feb. 11, all major indexes hit new all-time highs this summer - the Dow Jones and S&P 500 on Aug. 15 and the Nasdaq on Sept. 22.
Yet the fundamentals to support these lofty heights aren't there.
The employment picture isn't as rosy as the government would have us believe, and corporate earnings are likewise stuck in a rut. The third quarter was supposed to mark a return to growth. Yet according to FactSet, S&P 500 companies are on track to report negative earnings growth for the sixth quarter in a row.
Share prices have instead been artificially pumped up by reckless Federal Reserve monetary policy. And with the Fed's decision on Sept. 21 to hold rates near zero yet again, the upward march for stocks could continue - but we're due for a pullback before long.
That's no cause for concern, though - because the best stocks to buy right now are solid investments in any market. These are healthy companies that make products the world needs - and that never go out of style. They operate in growing sectors and have top-notch management teams at the helm.
Their stocks might temporarily dip during a pullback, but they'll recover and move higher. In fact, any downtrend would represent an ideal time for investors with a long view to pick up these quality shares at a discount.
Following are three of the best stocks to buy in October 2016 - and should markets falter, look to pick up additional shares on sale and hold for the long haul for outsized returns.
We've also included an easy strategy you can use to buy these stocks (or any stock, for that matter) at a price you want...
Urgent: This small-cap stock could double your money - and save a dying U.S. industry. Learn more...
Best Stocks to Buy No. 1: A "New Money" Stock to Make You "Old Money" Rich
Money Morning Executive Editor Bill Patalon got an inside view on the habits of the fabulously wealthy while working as a reporter in Rochester, N.Y. - home to a large number of "old money" families. He learned that it's not just preferential treatment owing to their high net worth that made these investors so wealthy - they actually invest differently than everybody else. They focus more on long-term results, and they gravitate toward long-term trends that offer the biggest profit potential.
The good news for those of us who aren't (yet) wealthy is that Patalon found a stock to buy now with the potential to nearly double in value in just a few years. He calls it "The Ultimate Long-Term 'Big Trend' Stock" - because while it's the clear leader in one tech sector, it's constantly making inroads in other tech subsectors that virtually guarantee continued growth.
For example, it's the perfect way to play the "next big thing" tech trend of virtual reality, a market that will generate $40.26 billion in revenue by 2020. Bill also considers this company a "digital infrastructure" play - and both tech and infrastructure are big trends that are the bailiwick of the wealthy.
Patalon's not alone in his favorable view of this stock - a top asset manager recently named it his favorite stock in Barron's. When Wall Street finally catches on, it will spur an "upgrade cycle" and send shares even higher - so grab this stock now, and get ready to buy even more if prices dip...
Don't Miss: This is your ticket to bigger and better returns... and it won't cost you a penny. What are you waiting for? Read more... 
Best Stocks to Buy No. 2: This Defense Stock Is a Cybersecurity Play, Too
The second pick on our "best stocks to buy" list was recently recommended by not one, but two of our investing experts.
Money Morning Director of Tech & Venture Capital Research Michael A. Robinson says this company will be the biggest beneficiary of a massive defense sector "supercycle" as spending increases in both the United States and worldwide. It makes one of the best-selling missile defense systems in the world, with a price tag of between $2 million and $3 million per system. And its next-generation defense system is even more impressive, with an operational range of 120 miles - nearly five times the range of its predecessor.
And with tensions heating up in the South China Sea, the Middle East, Russia/Ukraine, and elsewhere, it's an environment defense stocks thrive in - and this one is the cream of the crop. Robinson says this company "is in the catbird seat in the defense sector" - and the time to get in is now.
Money Morning Chief Investment Strategist Keith Fitz-Gerald identified another reason why this is one of the best stocks to buy now. You see, the U.S. government has allocated a staggering $87 billion in its 2017 budget request to fix the country's outdated systems - like the Social Security Administration's 1980s-era benefits analysis programs and the Secret Service's mainframe computer that's equally in need of an upgrade.
This company sits at the very top of a short list of firms qualified to make these fixes. Unlike smaller tech companies, it's got the might and the security clearance necessary for the job. It's been plowing $3.5 billion into cybersecurity in the last 11 years - a move that's gone mostly unnoticed by markets.
Fitz-Gerald believes these efforts will propel this quality stock to (another) double...
Best Stocks to Buy No. 3: This "Legacy Wealth Stock" Is a Long-Term Profit Machine
[mmpazkzone name="in-story" network="9794" site="307044" id="137008" type="4"]
Executive Editor Bill Patalon has been bullish on this e-commerce firm for years. In fact, he believes it will become the world's first trillion-dollar company in a matter of not decades, but years - and its shares will almost quadruple from today's price. This company's global expansion efforts are really starting to take off, with collaboration agreements recently inked with retailers and hotel groups in Australia, Canada, and London.
And this "e-commerce company" is so much more - its payment services and cloud-computing business are adding millions to its bottom line. In fact, in its last earning call, it reported a 156% jump in year-over-year cloud-computing revenue to a whopping $187 million.
Patalon firmly believes this stock has the potential to generate what he calls legacy profits - "the kind of wealth that will make your family name immortal." So grab these shares now and then add to your position every chance you get - your grandkids will thank you for it...
Now, as promised, we've got a tool you can use to pick up quality stocks at fire-sale prices...
Use This Powerful Strategy to Buy Stocks at the Exact Price You Want to Pay
Panic selling like the sort that happened in the wake of the Brexit referendum on June 23 provides an excellent opportunity to buy stocks on sale - but it pays to be prepared. Further, markets can go an incredibly long time without a significant drop. Single-session declines of 5% have happened on only 22 days since 1957.
Instead of waiting for a big down day, you can use this powerful tool to create your own opportunity. It's like laying a "profit trap" in advance. This tactic is incredibly easy to use and it won't cost you a thing, but the payoff can be huge - think "life-altering profits," according to Chief Investment Strategist Keith Fitz-Gerald. Find out what this strategy is and exactly how to use it right here. It's a fantastic way to get in on some of the best stocks to buy - at a price you set yourself...
Bonus Content: Find out how you can double your money on the world's most valuable companies in a matter of weeks, or even days - and risk less than $500 to do so. Read more...