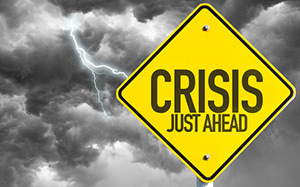 There's a dangerous economic policy known as negative interest rates, and it's going to cause a stock market crash.
It's being largely ignored because the policy isn't used in America. Right now, it's mostly being used in Europe and Japan. But U.S. Federal Reserve Chair Janet Yellen said in May she would not rule out negative interest rates if the U.S. economy was in an adverse scenario.
And if more and more countries adopt negative-interest-rate policy (NIRP), a future stock market crash is inevitable.
Here's why...
Why Negative Interest Rates Are So Dangerous
Central banks think by charging smaller banks a fee to deposit money, these smaller banks will loan out more money instead.
That's the basic principal behind NIRP.
When more money is lent and easier to access, borrowers will spend more money on building new homes, purchasing new cars, and creating or expanding a business.
Increased spending is supposed to help grow an economy.
But that's not what's really happening. Instead of helping the economy, negative interest rates are a catalyst for a stock market crash...
The citizens of these countries understand their economies are in bad shape for such a dangerous policy to be enacted. People in Japan and Germany are hoarding money instead of spending it.
That's exactly the opposite of what the Bank of Japan (BoJ) and other central banks need to happen for NIRP to work.
Safe sales in a Japanese hardware store doubled in February, according to Fortune. And according to The Wall Street Journal, Germany's biggest safe manufacturer saw sales jump 25% in the first half of 2016 year over year.
And people not spending money is only one of the issues...
Just take a look at economic data from Japan:
In July, Japan only had GDP growth of 0.2%.
Inflation is -0.4%, which is drastically lower than the BoJ's target of 2%.
Banks are charging clients fees to keep their money to offset costs by the BoJ.
But the most dangerous part of this policy is that the BoJ and other central banks are out of options to stimulate their economies.
They can't come to the rescue and provide a bailout.
So the ripple effect of the Japanese economy (the third largest in the world) and other economies collapsing will be felt throughout the global markets. That could cause a stock market crash.
Unfortunately, you can't stop central banks from making bad decisions.
But you can still make money even when the global stock market crash happens...
You see, Money Morning Global Credit Strategist Michael Lewitt has a plan to profit even during a stock market crash. Here's his one simple investment to make when a stock market crash strikes...
During a Stock Market Crash, Make This One Investment