Back in April, I recommended Caesars Entertainment Corp. (Nasdaq: CZR) as a buy - but warned you that this was a play that might take some time to mature.
If you haven't gotten in already, you'll want to do it soon.
After months of bitter wrangling, the much-beleaguered Caesars has finally reached a $5 billion deal with the private-equity sponsors that looted the company, Apollo Global Management, LLC (NYSE: APO) and TPG Capital (formerly Texas Pacific Group). Pending approval by the U.S. Bankruptcy Court in Chicago, CZR is now set to leave bankruptcy, get rid of its debt, and get back on its feet.
Of course, this means very good news for stockholders (like you, I hope).
Here's why you can expect to start seeing profits...
CZR's Bonds Are Recovering - and Its Stock Will, Too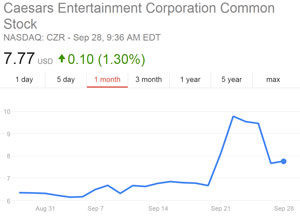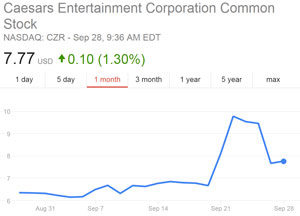 The sad chapter of Caesars Entertainment's ownership by these two private-equity firms appears to be mercifully coming to an end. The firms agreed to increase their offer to repay the creditors some (but not all) of the billions of dollars they looted from the company in a desperate and disgusting effort to save their ill-fated investment in the casino giant. While they will retain an equity interest in the company, a majority of the stock will be held by the creditors who suffered at their hands.
Don't Miss This: Get the Best Investing Research Today to Grow Your Money
While everyone involved is no doubt relieved that this ugly chapter in the credit markets is over, nobody should be disabused of the notion that Caesars' private-equity owners got away with murder. They are retaining a significant equity interest in a company that they ruined and looted. The fact that they escaped without being charged with civil or criminal fraud is a sad testament to the inability of our laws to punish blatantly immoral and illegal behavior. They inflicted permanent damage on the corporate credit markets and distinguished themselves as uniquely untrustworthy.
[mmpazkzone name="in-story" network="9794" site="307044" id="137008" type="4"]
The memories of investors in the high-yield bond market are notoriously short; in a yield-starved world, memory and principle are often dismissed as luxuries investors cannot afford. That view is mistaken. Believe me, investors can more than afford to avoid lending to or investing in companies managed by people whose promises are not worth the paper on which they are written.
The bankruptcy plan provides for holders of Caesars' second lien bonds, which I recommended for purchase in The Credit Strategist on Jan. 1, 2015, when they were trading at $0.175, to recover $0.66. That's nearly a four-bagger in less than two years - not too shabby. Second lien holders are receiving a combination of cash, convertible notes, and stock. The value of the stock should increase over time and increase their recovery further as the company operates without the straightjacket of billions of dollars of debt that is being wiped out in bankruptcy.
Freed of the burden of paying over $1 billion a year in interest, and with APO and TPG's baleful influence decreased, a deleveraged Caesars should prosper and its stock should rise significantly. Further, a deleveraged Caesars will be able to reinvest in its business instead of paying all of its free cash flow in interest to creditors and in egregious fees to its private-equity owners.
Over time, I expect Caesars stock to rise sharply as the company's value is shifted from creditors to equity holders. I am strongly reiterating my earlier recommendation: buy and hold Caesars Entertainment Corp. (Nasdaq: CZR) now.
This Is the Best "Retirement Stock" of 2016... And the good news is, it's trading for "pennies." But it won't be for long... its revenue is set to surge 4,709%. Learn the details of this $5 stock today while it's still "on sale." Read more...
Follow Money Morning on Facebook and Twitter.
About the Author
Prominent money manager. Has built  top-ranked credit and hedge funds, managed billions for institutional and high-net-worth clients. 29-year career.