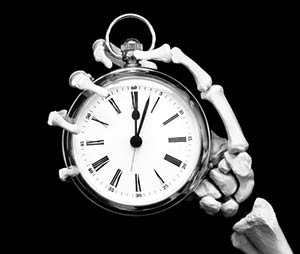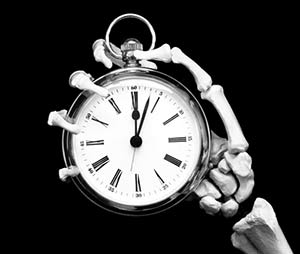 Smart investing isn't just knowing what stocks to buy. It's also knowing what stocks to avoid...
That's why we've put together a list of stocks on death watch in 2016. While companies on this list aren't guaranteed to fail, they have a high likelihood of doing so.
We'll come out with a new stock death watch list every month, so be sure to check back often.
Here are three stocks on death watch in October 2016...
Death Watch Stocks, October 2016
Stocks on Death Watch No. 1: Valeant Pharmaceuticals International Inc. (NYSE: VRX)
Valeant is a drug company that makes both branded and generic drugs. It also makes certain medical devices, like contact lenses and surgical equipment. The company is known for its focus on distribution, rather than research and development, which former CEO Michael Pearson said makes it more efficient and profitable.
But this embattled company has been all over the news this year for a big scandal allegation. And what was once Wall Street's hottest pharma stock now looks like one on the verge of collapse...
Since mid-October, Valeant has fought with federal prosecutors over allegations of defrauding insurers with one of its subsidiaries, Philidor. Valeant appears to have used Philidor, an online pharmacy that mainly sold Valeant profits, to artificially hike some of its drug prices. The company is also charged for using Philidor to steer customers toward higher-priced drugs, although cheaper alternatives existed.
The scandal has caused Valeant stock to plunge from its 52-week high of $182 per share to $25 per share as of Sept. 29 - a stunning 86% drop. [Editor's Note: We will profit off of VRX's misery. Here's how...]
Besides being steeped in alleged corruption, Valeant's financials are also incredibly concerning, according to Money Morning Global Credit Strategist Michael Lewitt, a former hedge fund and wealth manager.
Lewitt was one of the first to snuff out Valeant's dreadful balance sheet, far ahead of mainstream analysts. On Oct. 15, 2015, he found that Valeant was operating with $30 billion in long-term debt, without the revenue necessary to back it up. In fact, the company reported $2.42 billion in revenue in its most recent quarter on Aug. 9, down 11% from the same period a year earlier. And drowning in legal fees, Valeant is unlikely to become a profitable company anytime soon.
"This company is functionally insolvent from a balance sheet perspective," Lewitt said on April 20, 2016.
Whether or not Valeant makes it through this scandal -- which is being compared to the likes of former energy giant Enron -- the company's high debt load and terrible business model still put it on death watch for this year.
Stocks on Death Watch No. 2: Deutsche Bank AG (NYSE: DB)
Deutsche Bank is one of the largest commercial and investment banks in the world, with over 1.9 trillion in assets, but it's in big trouble.
The bank has been under pressure from all sorts of global economic woes, from Brexit to crippling negative interest rates.
But DB's real coup de grâce is its poorly managed $60 trillion in derivatives contracts. Yes, you read that correctly... $60 trillion.
There's simply no way that Deutsche Bank can manage that kind of portfolio. And investors have realized this. DB stock is trading at a 30-year low, down nearly 60% from its 52-week high of $30.82 per share. And at $12.23 per share as of Sept. 29, DB is poised to go even lower, according to Lewitt. [Editor's Note: See how we made 166% off DB's fall...]
To add to the bank's problems, on Sept. 16, the U.S. Department of Justice said Deutsche must fork over $14 billion for selling fraudulent mortgage-backed securities leading up to the 2008 Financial Crisis. The bank, however, says it will only pay a fine of about $3.4 billion.
Lewitt noted even that amount is concerning: "The growing worry is that Deutsche Bank will have to raise capital to reinforce its dwindling finances," Lewitt said on Sept. 27. "Some fear another 'Lehman Brothers moment' is looming."
What's more, German Chancellor Angela Merkel has said that the German government will not bail out Deutsche Bank if it runs out of money.
Germany's flagship lending institution simply can't meet its obligations to its customers or investors.
"This means that the bank's capital structure could crumble, starting with its stock price," Lewitt said. "I expect DB stock to end the year in the low- to mid-single digits."
Our Capital Wave Strategist Shah Gilani feels the same as Lewitt about Deutsche Bank.
Continue reading to find out the third stock on our death watch list. This phone maker has been in trouble for a while, but a recent announcement from the company's CEO just ensured its destruction...
Stocks on Death Watch No. 3: BlackBerry Ltd. (Nasdaq: BBRY)
BlackBerry was once a leader in smartphones, but has since failed to keep up with modern cellphone technology and trends - especially those produced by rivals Apple Inc. (Nasdaq: AAPL) and Samsung.
[mmpazkzone name="in-story" network="9794" site="307044" id="137008" type="4"]
Over nearly a decade, the company's stock has plunged from a high of $230.52 per share on July 20, 2007, to a measly $8.19 per share as of Sept. 29.
And now, a Sept. 28 announcement from BlackBerry CEO John Chen has ensured the stock will keep falling to $0 per share.
The smartphone maker will.... stop making smartphones, Chen says.
After 14 years, the company will no longer be designing its cellphones in-house. BlackBerry will now outsource its hardware development to its partners.
This was certainly not the kind of change BBRY needed to make a comeback. The company is no longer profitable and is currently operating on a $670 million net income deficit, according to its balance sheet for the 13 weeks ending May 5, 2016. And to add to its woes, BlackBerry's long-term debt is upwards of $1.2 billion.
It'll take a lot more than outsourcing for Chen to make his company profitable again.
Up Next
Michael Lewitt has found a way to profit off the worst stocks on the market.
In fact, he plans on making big gains from embattled companies like Valeant and Deutsche Bank. And for some, he already has...
But it's not too late for you to get in on the action...
For the first time, Lewitt is sharing his counterintuitive strategy with Money Morning readers.
Check out what he has to say, right here...