Three weeks ago, the markets broke to the downside and ended the tightest eight-week range in U.S. markets' recorded history.
With that "box-busting" break, we got four out of five days that had close-to-close moves of 1% or more.
In my Stealth Profits Trader service, I predicted that the markets would go no lower than the "line in the sand" I drew on the chart below. The market would stay above the line this push down and then settle in for a slow grind up after that quick pullback.
And the markets have done just that.
It's been a slow, modest grind up, though.
This cool chart I drew will show you where markets are likely headed next.
It'll point at the best commodity trade to make this week, too…
The Markets Are in the Molasses Once More
Right now, we're sitting right around 1% below all-time highs, grinding up from our line in the sand.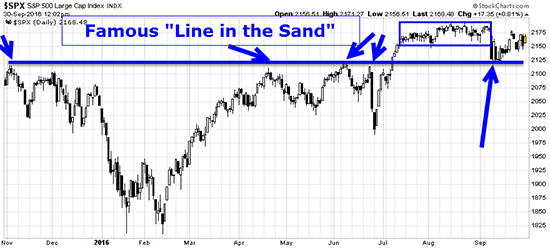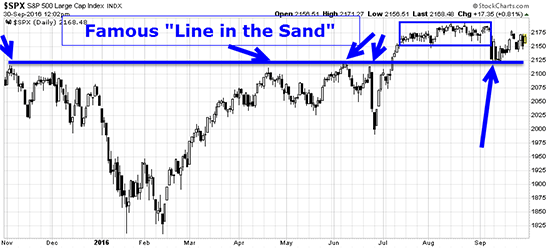 The U.S. presidential election season is starting to loom larger and larger in the thoughts of traders and investors.
That makes the modest uptrend that we're in a little tough to see – unless you look at a chart along a smaller time frame, like this: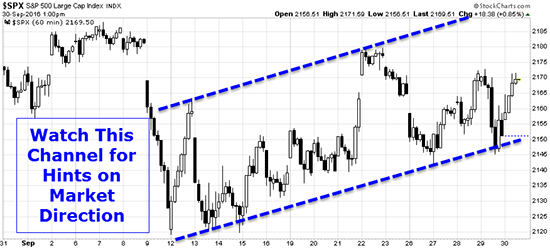 Now, this uptrend should continue, but there are a few forces out there – forces not so easy to predict – that could push it to new highs… or deeper back into the sideways quagmire that defined trading over most of the summer.
There are several important, influential economic reports due out over the next two weeks, including employment, retail sales, and construction, and several members of the Fed's Board of Governors will speak between now and Oct. 10.
Join the conversation. Click here to jump to comments…
About the Author
Nationally recognized technical trader. Background in  engineering, system designs, and risk reduction. 26 years in the markets.