Three weeks ago, the markets broke to the downside and ended the tightest eight-week range in U.S. markets' recorded history.
With that "box-busting" break, we got four out of five days that had close-to-close moves of 1% or more.
In my Stealth Profits Trader service, I predicted that the markets would go no lower than the "line in the sand" I drew on the chart below. The market would stay above the line this push down and then settle in for a slow grind up after that quick pullback.
And the markets have done just that.
It's been a slow, modest grind up, though.
This cool chart I drew will show you where markets are likely headed next.
It'll point at the best commodity trade to make this week, too...
The Markets Are in the Molasses Once More
Right now, we're sitting right around 1% below all-time highs, grinding up from our line in the sand.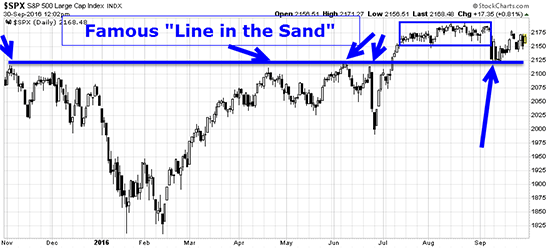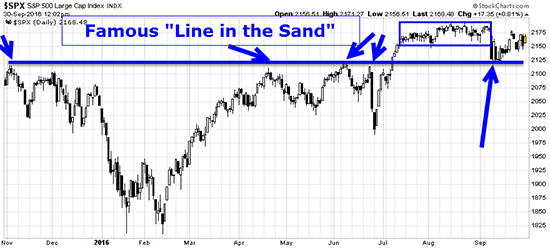 The U.S. presidential election season is starting to loom larger and larger in the thoughts of traders and investors.
That makes the modest uptrend that we're in a little tough to see - unless you look at a chart along a smaller time frame, like this: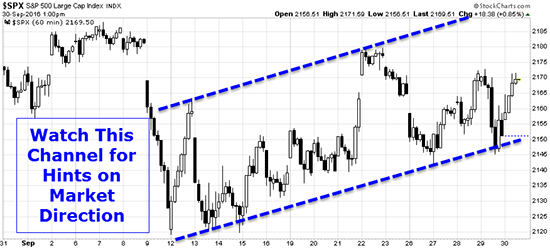 Now, this uptrend should continue, but there are a few forces out there - forces not so easy to predict - that could push it to new highs... or deeper back into the sideways quagmire that defined trading over most of the summer.
There are several important, influential economic reports due out over the next two weeks, including employment, retail sales, and construction, and several members of the Fed's Board of Governors will speak between now and Oct. 10.
[mmpazkzone name="in-story" network="9794" site="307044" id="137008" type="4"]
I'm not expecting much in the way of surprises, but... well, that's why they're called surprises.
Any startling developments in the U.S. presidential election, or news from the South China Sea or the Syrian Civil War, could roil the markets, and that's something to keep in mind.
In view of this, I think the smart move, when the stock market is moving in baby steps, is to make trades and investments that aren't strongly correlated with stocks.
There's one I can show you right now...
This Sector Is Dealing Out Upside Profits Right Now
Oil, for instance, has been good to our Stealth Profits Trader readers lately, with a 100% options profit on top of a cool 20% gain on an oil exchange-traded fund (ETF) we were playing. Every peep out of OPEC moves the oil market right now, and the profits can be big.
However, oil is holding a double top right now that could break to the downside: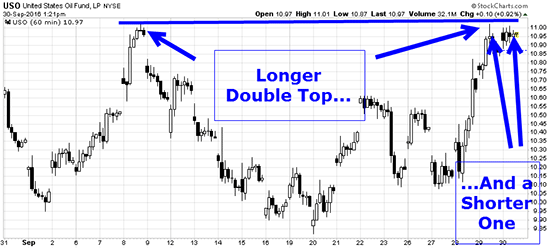 That double top and possible move lower aren't anything to fear, though, when you've got technical analysis informing your investing and trading decisions. It simply means it's time for a change of tactics, to book downside profits instead of upside. Put options and short-selling are the easiest way to do that.
Legalizing booze created dynasties and massive fortunes. The end of this ban could mint millionaires, too. On Nov. 8, if voters end this prohibition, it could eventually put $200 billion in the pockets of Americans from coast to coast. Here's how you could be one of them! Full Story...
Follow Money Morning on Facebook and Twitter.
About the Author
D.R. Barton, Jr., Technical Trading Specialist for Money Map Press, is a world-renowned authority on technical trading with 25 years of experience. He spent the first part of his career as a chemical engineer with DuPont. During this time, he researched and developed the trading secrets that led to his first successful research service. Thanks to the wealth he was able to create for himself and his followers, D.R. retired early to pursue his passion for investing and showing fellow investors how to build toward financial freedom.