It's been two months since the price of silver peaked and entered a consolidation phase.
Most investors are not surprised by the recent correction in silver prices. After all, in the first half of the year, the price of silver climbed an astounding 37% higher.
So it's only normal to see silver prices give back some of those gains as part of a healthy bull market.
Like gold, the price of silver enjoyed some strength last week in the aftermath of the Fed's decision not to hike rates, but those gains have already been given back.
And interestingly, while gold gained ahead of last Monday's presidential debate, silver actually sold off.
First, here's how the price of silver has been trending. Then we'll get into what investors can expect from silver prices for the rest of the year…
How the Price of Silver Is Trending Now
As the trading week started, silver began on a weak note as traders sold off their positions. The price of silver opened at $19.42 and quickly jumped to $19.60 at 10:00 a.m. But silver would end up selling off and closed the day at $19.42.
The price of silver was slightly lower at $19.39 Tuesday, before immediately tanking to $19.02 by noon. Silver prices ended Tuesday at $19.12.
Wednesday's open had silver priced at $19.13, but choppy trading sent silver to $19.17 by the close. The U.S. Dollar Index (DXY) was equally choppy and probably explains the day's volatility.
Up Next: Get the Best Investing Research Today to Grow Your Money
The price of silver was flat Thursday, opening at $19.09 and closing at the same price.
But Friday saw the volatility return. Silver prices spiked in the early morning to open at $19.33, and they climbed further to peak at $19.61 by 9:00 a.m. Interestingly, the DXY also ran up and peaked in the late morning just below 96. It seems the excitement was caused by reports that several large hedge funds had withdrawn assets from Deutsche Bank, which is facing a multibillion-dollar fine from U.S. regulators.
But the gains in both silver and the DXY reversed precipitously. Silver prices fell to $19.30 by midday, and by the week's close were trading at $19.14.
Now that we've looked at how the price of silver has been trending, here's what's next for the precious metal in 2016…
What Investors Need to Know About the Price of Silver Now
Last week, silver prices managed to close above their 50-day moving average, but this week's selling pushed silver back below that level. Momentum, as measured by the RSI and MACD, has also pared back.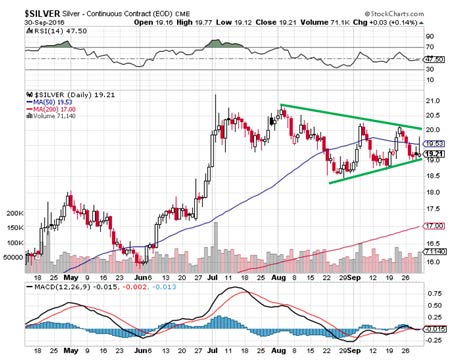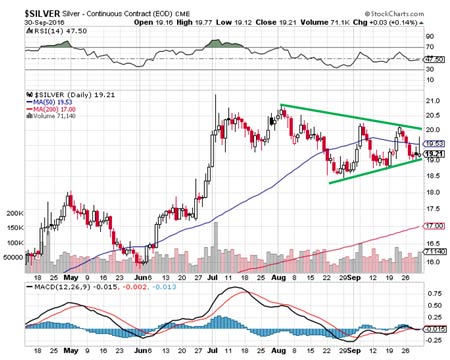 We do see what looks like a classic symmetrical triangle pattern emerging in the price of silver. As we move towards the apex of the triangle, I'd expect to see a move higher for silver, which would be a continuation of the preceding upward trend.
But if we see silver break down from the triangle, then I think it could test the $18 level and below that, maybe even $17 to $17.50.
I'd also like to point out an interesting chart that shows annual sales of silver by the U.S. Mint going back 30 years.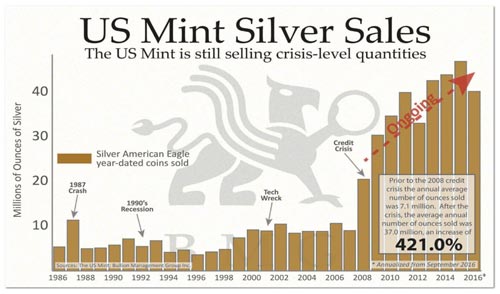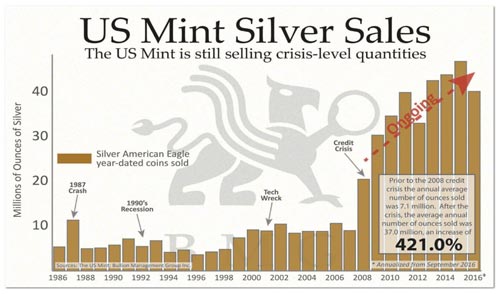 Although there's a clear buildup in sales starting in 1999-2000, the first standout year is 2008, when the financial crisis began. Since then, there's been no looking back.
Before 2008, average annual sales were 7.1 million. Since the crisis, we've seen 37 million. That points to a massive increase as people have flocked to the safe haven of physical silver.
Overall, I think silver could face some near-term weakness, but my $22 target by year's end still stands.
Give Your Portfolio a Much-Needed Edge: Chances are, your investing returns aren't where they could be if you had the proper tools. Learn how you can double your money in just days, profit on a trend that's gearing up to generate massive returns, give your portfolio a 325% performance advantage, and more. Click here…
Follow us on Twitter @moneymorning and like us on Facebook.
Join the conversation. Click here to jump to comments…
About the Author
Peter Krauth is the Resource Specialist for Money Map Press and has contributed some of the most popular and highly regarded investing articles on Money Morning. Peter is headquartered in resource-rich Canada, but he travels around the world to dig up the very best profit opportunity, whether it's in gold, silver, oil, coal, or even potash.