"In the short term, the market is a popularity contest; in the long term, the market is a weighing machine."
So goes this famous saying attributed to hedge fund billionaire Warren Buffett, who is arguably one of the world's greatest stock-pickers.
This statement is particularly true when it comes to fad stocks - or securities that experience a burst of popularity in the short term followed by a lull in the long term.
Or outright extinction.
Don't Miss: Are you doing everything you can to grow your retirement "nest egg"? You can start today with our top 5 money-making investment reports - they're absolutely free...
The "Dot-Com Crash" of 2002 was probably the best example of how latching onto the fad stock du jour can ruin a portfolio. At that time, investors were grabbing stakes in all sorts of companies that had ".com" tagged to the end of their name. In just two years' time - after the dot-com investment boom peaked in Q1 of 2000 - at least 4,854 web companies were either shut down or acquired. Here are five examples of fad stocks from the 2000s...
5 of the Biggest Fads Stock from the 2000s
Fad Stock No. 1: Crocs Inc. (Nasdaq: CROX)
Sign up for SMS so you never miss special events, exclusive offers, and weekly bonus trades.
Crocs, the colorful resin clogs, were once the biggest footwear fad since Ugg boots.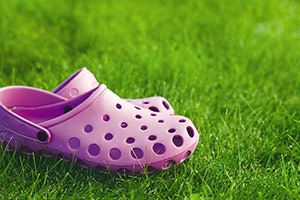 The company went public in September 2006 for roughly $17 a share. And just a year later, by October 2007, the Crocs stock price was up 75% to $68.98
But that's when the retail environment turned its back on Crocs. The public was already starting to feel the strain of what was about to become the Great Recession. And the lack of general purchase power from the public as the economy turned forced the company to slash revenue guidance. After issuing lower than expected revenue and profit expectations in Q3 of 2007, Crocs shares dropped 30% in one trading session, down from their $68.98 high to $47.52.
During the 2008 financial crisis, the shoe company lost an additional 96% value - from a high of $36.74 in February that year down to a paltry $1.21 in December - penny stock status.
Today, Crocs has made a small comeback. CROX stock wavers around $8.50 a share - much better than the $1.21 valuation it saw at the end of 2008, but far less than the nearly $70 security it once was.
Fad Stock No. 2: Krispy Kreme Doughnuts (NYSE: KKD)
On April 5, 2000, Krispy Kreme went public at $21 a share, then rose to $37 on volume of 7 million shares within that very same day.
The company's rapid expansion carried it for a few years until the stock collapsed in 2004, falling from $40 in March to $12 by the year's end.
On Feb. 11, 2005, upon disclosing disappointing earnings and lowering its future guidance in the first quarter of the fiscal year, Krispy Kreme's stock dropped an additional 29% in one day - from $8.66 a share to $6.16. This eviscerated more than $590 million in shareholder value.
At the same time as KKD stock fell, its CEO Scott Livengood was removed from the job after the Securities and Exchange Commission (SEC) probed the company for alleged improper accounting that lead to its value demise. Livengood denied these claims, instead attributing the KKD's decline in profits to another fad: the low-carb craze.
However, Livengood was slapped with shareholder lawsuits following accusations that he and the company were involved in self-dealing. Shareholders alleged that Krispy Kreme paid a premium to acquire a franchise that Livengood's ex-wife partially owned.
On March 5, 2009, in the crux of the Great Recession, Livengood settled with the U.S. District Court for the Middle District of North Carolina on this suit and was ordered to pay a total of more than $542,200 in civil penalties, disgorgement fees, and interest.
Today, Krispy Kreme's stock price is $21.00 - 95% higher than its 2009 low of $1.15.
But $21.00 per share is still 57% less than KKD's heyday price of $48.90.
Our third of five fad stocks of the 2000s went out of style because... it killed people...