"In the short term, the market is a popularity contest; in the long term, the market is a weighing machine."
So goes this famous saying attributed to hedge fund billionaire Warren Buffett, who is arguably one of the world's greatest stock-pickers.
This statement is particularly true when it comes to fad stocks - or securities that experience a burst of popularity in the short term followed by a lull in the long term.
Or outright extinction.
Don't Miss: Are you doing everything you can to grow your retirement "nest egg"? You can start today with our top 5 money-making investment reports - they're absolutely free...
The "Dot-Com Crash" of 2002 was probably the best example of how latching onto the fad stock du jour can ruin a portfolio. At that time, investors were grabbing stakes in all sorts of companies that had ".com" tagged to the end of their name. In just two years' time - after the dot-com investment boom peaked in Q1 of 2000 - at least 4,854 web companies were either shut down or acquired. Here are five examples of fad stocks from the 2000s...
5 of the Biggest Fads Stock from the 2000s
Fad Stock No. 1: Crocs Inc. (Nasdaq: CROX)
Crocs, the colorful resin clogs, were once the biggest footwear fad since Ugg boots.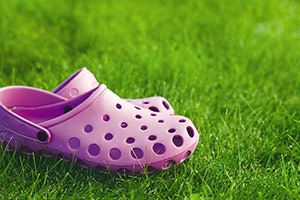 The company went public in September 2006 for roughly $17 a share. And just a year later, by October 2007, the Crocs stock price was up 75% to $68.98
But that's when the retail environment turned its back on Crocs. The public was already starting to feel the strain of what was about to become the Great Recession. And the lack of general purchase power from the public as the economy turned forced the company to slash revenue guidance. After issuing lower than expected revenue and profit expectations in Q3 of 2007, Crocs shares dropped 30% in one trading session, down from their $68.98 high to $47.52.
During the 2008 financial crisis, the shoe company lost an additional 96% value - from a high of $36.74 in February that year down to a paltry $1.21 in December - penny stock status.
Today, Crocs has made a small comeback. CROX stock wavers around $8.50 a share - much better than the $1.21 valuation it saw at the end of 2008, but far less than the nearly $70 security it once was.
Fad Stock No. 2: Krispy Kreme Doughnuts (NYSE: KKD)
On April 5, 2000, Krispy Kreme went public at $21 a share, then rose to $37 on volume of 7 million shares within that very same day.
The company's rapid expansion carried it for a few years until the stock collapsed in 2004, falling from $40 in March to $12 by the year's end.
On Feb. 11, 2005, upon disclosing disappointing earnings and lowering its future guidance in the first quarter of the fiscal year, Krispy Kreme's stock dropped an additional 29% in one day - from $8.66 a share to $6.16. This eviscerated more than $590 million in shareholder value.
At the same time as KKD stock fell, its CEO Scott Livengood was removed from the job after the Securities and Exchange Commission (SEC) probed the company for alleged improper accounting that lead to its value demise. Livengood denied these claims, instead attributing the KKD's decline in profits to another fad: the low-carb craze.
However, Livengood was slapped with shareholder lawsuits following accusations that he and the company were involved in self-dealing. Shareholders alleged that Krispy Kreme paid a premium to acquire a franchise that Livengood's ex-wife partially owned.
On March 5, 2009, in the crux of the Great Recession, Livengood settled with the U.S. District Court for the Middle District of North Carolina on this suit and was ordered to pay a total of more than $542,200 in civil penalties, disgorgement fees, and interest.
Today, Krispy Kreme's stock price is $21.00 - 95% higher than its 2009 low of $1.15.
But $21.00 per share is still 57% less than KKD's heyday price of $48.90.
Our third of five fad stocks of the 2000s went out of style because... it killed people...
[mmpazkzone name="in-story" network="9794" site="307044" id="137008" type="4"]
Fad Stock No. 3: Heelys Inc. (formerly Nasdaq: HLYS)
Heelys were the original two-in-one shoe with removable wheels that could be used for walking... or rolling.
The company debuted on the Nasdaq in November 2006 at $21.00. At the height of the shoes' popularity in early 2007, the stock skated around $40 per share.
But by August 2007, Heelys noted that it was "experiencing challenges at retail related primarily to an over-inventoried position of product at many of the company's domestic accounts," reported The Street on Jan. 6, 2011.
This excuse, however, seems like a smokescreen in hindsight...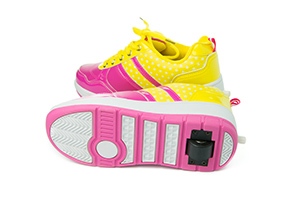 Up Next: Turbocharge your investing returns with our top 5 money-making investment reports. Get them now - they're absolutely free. Click here...
You see, in reality, the company was facing multiple shareholder lawsuits citing Heelys had failed to inform the public of the shoes' inherent hazards.
Long before the shoe even hit its heyday, between September 2005 and December 2006, Heelys were linked to one death and at least 64 injuries that all had been reported to the U.S. Consumer Product Safety Commission.
By the end of 2007, the stock traded for $6. And in August 2008, Skechers USA Inc. (NYSE: SKX) acquired Heelys for $143 million, or $5.25 a share.
Fad Stock No. 4: Build-a-Bear Workshop Inc. (NYSE: BBW)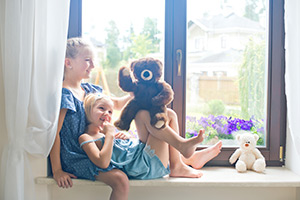 Build-a-Bear went public on Oct. 28, 2004, with 7.5 million shares priced at $20 apiece. From there, the company aggressively grew its number of stores - to 165 new outfits opening in 39 states within a year.
However, the recession took its toll on the retailer four years later. The stock fell from $30 in June 2007 to below $4 by the end of 2008.
Today, Build-a-Bear's share price is $10.50 - up 62% from its recession low. One reason for the business' slight improvement has to do with the hiring of CEO Sharon Price John in 2014, who shrank the size of stores, updated bear-making stations with cutting-edge technology, and ramped up television advertising.
Give Your Portfolio a Much-Needed Edge: Chances are, your investing returns aren't where they could be if you had the proper tools. Learn how you can double your money in just days, profit on a trend that's gearing up to generate massive returns, give your portfolio a 325% performance advantage, and more. Click here...
Fad Stock No. 5: Barnes & Noble Inc. (NYSE: BKS)
On March 31, 2006, Barnes & Noble realized an all-time share-price high of $46.25. Its popularity had mostly to do with the increasing success of its GameStop Corp. (NYSE: GME) franchise. GameStop had already spun off from its bookseller mothership in 2004, but B&N still had majority stake in the company, which meant B&N shareholders did, too.
But from that point on, the venerable bookseller lost ground to Amazon.com Inc. (Nasdaq: AMZN) due to competitive pricing. And it even found its e-reader Nook device, a hit that garnered $105 million in sales in just two months' time (from November 2009 to January 2010), threatened not only by Amazon's Kindle but also by Apple Inc.'s (Nasdaq: AAPL) iPad.
Between March 2006 and March 2009, B&N stock fell from its $46.25 high to a $21.51 low - a 53% loss.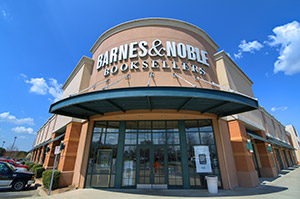 Stockholders began pressuring the bookstore to examine all options regarding what actions to take next, including the sale of the company to the highest bidder.
But Barnes & Nobles' board of directors wouldn't budge.
Which lead to one of the company's chief investors, Ronald Burkle, who owned over 19% of its stock, to try and oust certain members of the board.
Burkle's tactic didn't work, however, and the board stayed.
As did the bookseller, for the most part.
Today, Barnes & Noble is trading at $11.01.
Up Next
Fad stocks enjoy about as much popularity as the Furby, the Beanie Baby, and Tickle Me Elmo once did.
And shareholders who invest in these securities are essentially throwing their money down an incinerator.
But we know a strategy that will tell you exactly when these stocks will be standing on their last leg.
And then how to profit. Read more here...
Follow us on Twitter @moneymorning and on Facebook.
Related Articles: