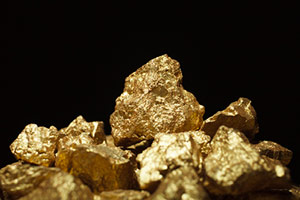 Spot gold prices had their biggest loss in nearly three years yesterday (Tuesday), falling 3.3% to $1,283 per ounce. While some investors are panicking, this is actually an excellent buying opportunity.
Before we get into our spot gold price outlook, here's why the spot gold price has been so volatile…
Stronger Dollar and Rate Worries Drive Spot Gold Lower
A strong dollar was the biggest reason spot gold was falling yesterday. Gold is priced in dollars and becomes more expensive to investors who purchase the metal in other currencies.
The dollar gained 1.2% to 102.89 yen Tuesday, marking its highest level since Sept. 5. The Wall Street Journal Dollar Index, which measures the dollar against a basket of 16 currencies, rose 0.51% to 87.06.
Up Next: Turbocharge your investing returns with our top 5 money-making investment reports. Get them now – they're absolutely free. Click here…
The rising greenback weighed heavily on gold prices…
Spot gold slid about 3% to $1,271.16 an ounce Tuesday. Gold for October delivery ended Tuesday's session down 3.3%, or $42.70, at $1,283.60 an ounce. That was gold's lowest closing price since June 23. It was also its biggest loss since Dec. 19, 2013.
Options trading of gold exchange-traded funds (ETFs) also surged Tuesday. Put volume contracts (which give the holder the right to sell) on the SPDR Gold Trust ETF (NYSE Arca: GLD) tripled its one-month average, according to Trade Alert.
And the stronger dollar wasn't the only thing weighing on spot gold prices Tuesday…
Strong economic data and a hawkish tone from the Fed have also been driving gold lower.
Monday's stronger than expected U.S. manufacturing data could give the U.S. Federal Reserve a reason to lift rates. The Institute for Supply Management said its manufacturing index increased to 51.1 last month. That was up from 49.4 in August. A reading above 50 indicates that factory activity is growing.
Also on Monday, Federal Reserve Bank of Cleveland President Loretta Mester reiterated her stance for a rate increase in December. New York Fed President William Dudley also said the Fed would not be able to cut interest rates as aggressively as it has done in the past if a recession arises. Many took that to mean a rate hike is likely, even if it's just so the Fed could cut rates again.
Gold investors are now focused on September's U.S. payrolls data out Friday.
The Labor Department is expected to report 175,000 new hires for the month. The unemployment rate is forecast to hold steady at 4.9%. The Fed pays close attention to the jobs report for clues on the health of the labor market and whether it is appropriate to hike interest rates.
While spot gold fell Tuesday, the drop did spur some bargain buying.
A notable spike in physical demand was seen among private and retail investors. According to Bullion Vault, customers traded a collective $11.8 million of physical gold and silver on Tuesday. There were more than seven buyers in gold for every seller.
Spot gold prices have traded in a narrow range of $1,300 to $1,350 an ounce for the last six weeks, cautious ahead of the next interest rate hike.
Despite the drop, the spot gold price is still up 19.67% year to date. That compares to a 4.75% gain for the Dow and a 5.61% gain for the S&P 500.
And we see gold prices continuing to beat the markets this year.
Here's how high Money Morning Resource Specialist Peter Krauth sees the spot gold price climbing by the end of 2016…
Follow us on Twitter @moneymorning and like us on Facebook.
Related Articles: