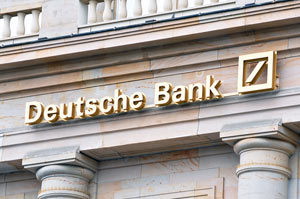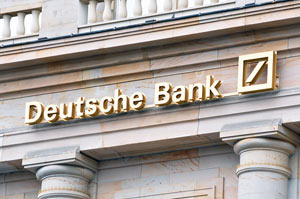 After to plunging to a 30-year low, the Deutsche stock price has climbed 18.55% in the last five days.
But we don't recommend buying in on this week's Deutsche stock price rally...
Before we get into why we remain bearish on Deutsche Bank AG (NYSE: DB), here's what has been driving shares so much higher this week...
Why the Deutsche Stock Price Has Rebounded
The Deutsche Bank stock price had been falling after U.S. regulators said they are seeking $14 billion in fines from the company for selling fraudulent mortgages that lead to the U.S. housing bubble.
But new reports this week indicate that the fine may actually be closer to $5.4 billion. Apparently the bank's transgressions may not have been as bad as originally determined.
A $14 billion fine, nearly as much as DB's $19 billion market cap, would cripple the bank. And even though a $5.4 billion fine is much lower, that type of payment will still weigh heavily on the Deutsche stock price.
Don't Miss: This is your ticket to bigger and better returns... and it won't cost you a penny. What are you waiting for? Read more... 
You see, Deutsche Bank's balance sheet has never fully recovered from the 2008-2009 global economic recession. Years of reckless lending decisions, coupled with record low and negative global interest rates, have nearly depleted the bank's capital base.
Deutsche Bank is still a disaster waiting to happen...
Germany's biggest bank is the main clearing house for trades in Europe. It has more than $60 trillion in derivatives right now. That's almost 14 times bigger than Germany's $3.3 trillion economy. It is also more than twice as big as the European Union's $16.3 trillion GDP.
"To put this in perspective, that's roughly 20 times the derivatives exposure that Lehman Brothers had... and we all know how that ended," Money Morning Chief Investment Strategist Keith Fitz-Gerald explains.
"Deutsche Bank doesn't have the cash to settle its own legal troubles, let alone any 'surprises' that might come its way," Fitz-Gerald continued.
And the government doesn't have a clue about how to deal with this crisis.
Deutsche Bank shares hit a 30-year low of $11.19 following the initial reports of the fine. Shares went on to drop even further after Germany's Chancellor Angela Merkel ruled out a bailout for the bank.
The DB stock price crash continued when new reports surfaced showing that a number of hedge funds that clear derivatives trades with Deutsche Bank have withdrawn cash and adjusted positions. One large hedge fund in Asia is said to have pulled out roughly $50 million from Deutsche.
At $13.46, the Deutsche Bank stock price is still down 43.60% year to date. And this rally should not be trusted. The Deutsche stock price is likely heading lower.
Money Morning Global Credit Strategist Michael Lewitt has been warning readers about Deutsche Bank stock since the start of 2016. And with more downside expected, Lewitt shares his recommendation on how to play Deutsche Bank stock here...
Follow us on Twitter @moneymorning and like us on Facebook.
Related Articles: