There's a sentiment among warfighters going all the way back to Sun Tzu's time that goes something like, "amateurs talk weapons and tactics, pros talk logistics."
Logistics are what make it possible to actually go somewhere and fight to achieve an objective. And it is hands down the most difficult, costly component of fighting. For every one soldier on the field, fighting, there must be dozens of support personnel in the rear, doing hundreds of tasks.
So for thousands of years, generals and military chiefs have always sought ways to make logistics easier, safer, and less expensive.
Well, they would have loved to get their hands on the disruptive technology I'm about to show you. I think it will likely change the way this country fights its wars forever.
And right now, the company that makes it is "on sale." It's been beaten down about 3.5% over the past few days, giving us a beautiful opportunity to add some more shares and keep our costs down.
These prices won't last long, though, once Wall Street gets wind of what's coming through...
Getting from A to B Is Tougher Than It Sounds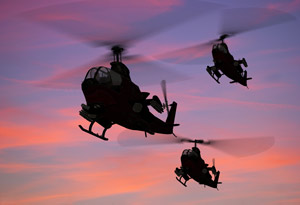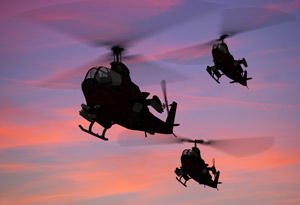 In Iraq and Afghanistan, the United States military has lost more than 7,222 lives, both killed in action and in accidents. More than 57,614 personnel have been wounded in action.
If there were ever any doubts that Iraq and Afghanistan are incredibly dangerous places to move around in, this sobering figure should settle them: USA Today reports that fully two-thirds of the injuries and deaths in both theaters - nearly 42,800 people - didn't happen on the battlefield, but as a result of improvised explosive devices (IEDs) like roadside bombs.
Anything that could move troops, supplies, equipment, and ammunition quickly and securely would be a game-changer; all the high-tech weaponry and surveillance in the world won't help troops if it's stuck and can't get to them.
That's one of the reasons why helicopters and vertical take-off and landing vehicles (VTOLs) are the real workhorses of any military operation. There are tens of thousands of helicopters in use by our military at this very moment, and some of them have been in service since the Vietnam War era.
The thing is, up until now, the technology wasn't available to really revolutionize the vehicle.
Military Transport Is Screaming for a Quantum Leap Forward
Sure, there have been improvements in armor. There have been "stealth" helicopters, like the heavily modified (and deeply classified) Sikorsky MH-60 Black Hawks used in Operation Neptune Spear, the raid that killed Osama bin Laden.
There have even been upgraded electronics, like glass cockpits, but innovations that have long since become standard on fixed-wing aircraft, like fly-by-wire, are only just starting to be used in civilian helicopters; so far, just one military "whirlybird," the NHIndustries NH90, made by a consortium of French, German, Dutch, and Italian aerospace firms. The U.S. military doesn't fly the NH90.
Bell Helicopter (a division of Textron Inc. [NYSE: TXT]) and Boeing Co. (NYSE: BA) worked together in the 1980s to build the V-22 Osprey, a twin propeller VTOL that could take off and land like a helicopter but fly like a fixed-wing aircraft.
It was the first new idea in rotary flight in quite a while, and there were some serious problems with it. The "plane," if you can call it that, was extremely difficult to fly during the phase where the airframe transitioned from vertical take-off to horizontal flight. Several test pilots died testing it, and a further two crashes in 2000 killed 19 Marines.
But now technology is beginning to catch up with military logistics concepts. It will be far more effective in filling the niche served by the Osprey, too.
What's more, there's a huge window of opportunity to provide rotary aircraft to the U.S. Army, too, along with the other branches once the Osprey becomes obsolete.
Remember, we're in the midst of a defense "supercycle" of upgrades to existing equipment and acquisition of new hardware that will continue for decades - no matter who moves in at 1600 Pennsylvania Avenue next January.
I think that one of my absolute favorite aerospace and defense companies has the wherewithal to deliver exactly what's needed for the military to step up its rotary aviation game. I'll show you why in a minute.
This Is the Most Powerful Synergy I've Seen in a Long Time
Join the conversation. Click here to jump to comments…
About the Author
Michael A. Robinson is a 36-year Silicon Valley veteran and one of the top tech and biotech financial analysts working today. That's because, as a consultant, senior adviser, and board member for Silicon Valley venture capital firms, Michael enjoys privileged access to pioneering CEOs, scientists, and high-profile players. And he brings this entire world of Silicon Valley "insiders" right to you...
He was one of five people involved in early meetings for the $160 billion "cloud" computing phenomenon.
He was there as Lee Iacocca and Roger Smith, the CEOs of Chrysler and GM, led the robotics revolution that saved the U.S. automotive industry.
As cyber-security was becoming a focus of national security, Michael was with Dave DeWalt, the CEO of McAfee, right before Intel acquired his company for $7.8 billion.
This all means the entire world is constantly seeking Michael's insight.
In addition to being a regular guest and panelist on CNBC and Fox Business, he is also a Pulitzer Prize-nominated writer and reporter. His first book Overdrawn: The Bailout of American Savings warned people about the coming financial collapse - years before the word "bailout" became a household word.
Silicon Valley defense publications vie for his analysis. He's worked for Defense Media Network and Signal Magazine, as well as The New York Times, American Enterprise, and The Wall Street Journal.
And even with decades of experience, Michael believes there has never been a moment in time quite like this.
Right now, medical breakthroughs that once took years to develop are moving at a record speed. And that means we are going to see highly lucrative biotech investment opportunities come in fast and furious.
To help you navigate the historic opportunity in biotech, Michael launched the Bio-Tech Profit Alliance.
His other publications include: Strategic Tech Investor, The Nova-X Report, Bio-Technology Profit Alliance and Nexus-9 Network.