At least 60 million people tuned in to the second presidential debate yesterday.
But what I really want to see is what they do after.
That's because I've been watching a pattern that forms during election years, and it's driven one industry in particular to all-time highs 17 months in a row.
This pattern doesn't care about who's running or what their chances of winning are, either...
It only cares about the election itself - and how people are responding.
And with just 28 days left until Election Day, it's only getting stronger.
So now's your best time to profit.
Here's how...
It's Time to Buy Gun Stocks... and This Is Where You Start
It may come as no surprise to you that in most election years, gun sales soar. Take the 2008 election, for instance, where more guns were sold shortly following Obama's re-election than were sold over nearly the seven years prior.
And that momentum has only picked up...
In fact, gun sales have crushed every single monthly record this year, with September becoming the 17th consecutive month of record gun sales, which increased by 27%.
Don't Miss: This is your ticket to bigger and better returns... and it won't cost you a penny. What are you waiting for? Read more... 
And this increase in sales of firearms and accessories helps ammunition and gun manufacturers, like Smith & Wesson Holding Corp. (Nasdaq: SWHC).
SWHC stock is up by about three points from its closing price from the first day of trading for the year. It's bounced higher by 10 points from its yearly lows in January before bouncing nine points from its secondary low between May and June.
Both times SWHC ran out of steam in the price area of $30.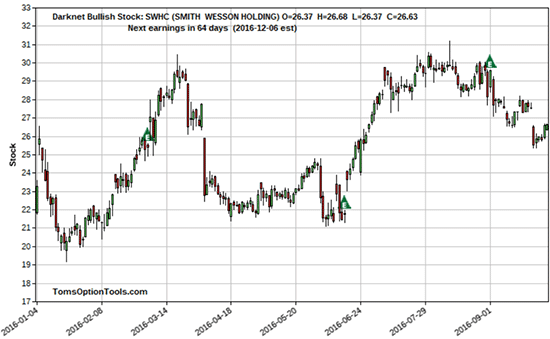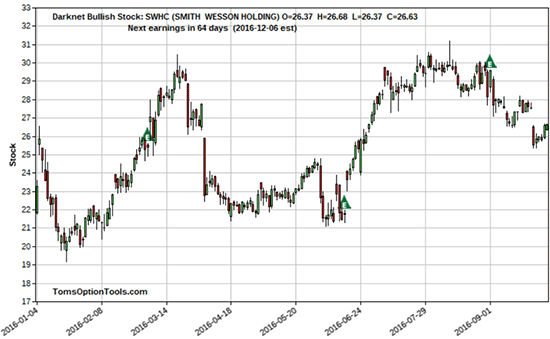 SWHC reported earnings on Sept. 1, 2016, beating both earnings-per-share (EPS) and revenue expectations. It reported a $0.62 EPS (nearly 17% higher than consensus estimates), and its revenue grew 40.1% on year-over-year basis.
Now, the company's increased its 2017 EPS projections, from $2.38 to $2.48, and its revenue projections, from $900 million to $920 million.
And as you can see below, it looks like SWHC has been in a post-earnings retracement where traders are "selling the news."
Join the conversation. Click here to jump to comments…
About the Author
Tom Gentile, options trading specialist for Money Map Press, is widely known as America's No. 1 Pattern Trader thanks to his nearly 30 years of experience spotting lucrative patterns in options trading. Tom has taught over 300,000 traders his option trading secrets in a variety of settings, including seminars and workshops. He's also a bestselling author of eight books and training courses.