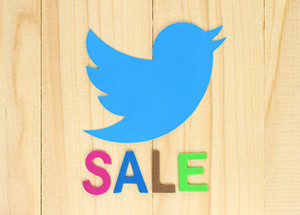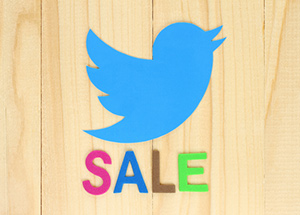 Our latest Twitter stock price analysis uncovered a disturbing trend for the social media company, so we weren't surprised this morning (Monday) when the Twitter stock price crashed.
The Twitter stock price today (Monday) crashed 13% in intraday trading because Alphabet Inc. (Nasdaq: GOOGL), Walt Disney Co. (NYSE: DIS), and Salesforce.com Inc. (NYSE: CRM) no longer appear interested in purchasing the struggling social media company.
The Twitter Inc. (NYSE: TWTR) stock price climbed as high as $25.25 on Oct. 5 thanks to those buyout rumors. But it opened this morning at $17.49 per share.
That's a 30% drop in less than a week.
And while this may seem like investors are overreacting to the Twitter news, it's actually the sign of a much bigger problem.
Twitter shareholders are in big trouble. And our Twitter stock price analysis shows that things will only get worse.
Today, we are going to show you why a Twitter takeover was so important for shareholders. After that, we will share the Twitter stock price analysis you can't afford to miss...
Why the Twitter Stock Price Today Is Crashing
Twitter has to sell itself. It has lost more than $2 billion since it first launched and $520 million in 2015 alone.
"Given the issues that Twitter has faced over the last couple of years, a merger with a larger firm makes a lot of sense," Money Morning Director of Tech & Venture Capital Research Michael A. Robinson told me on Sept. 27.
But because no one wants to buy Twitter, the company now has to rely on CEO Jack Dorsey to boost revenue and user growth.
Trending: New Snapchat IPO Date Details Revealed
Dorsey has made changes to direct messaging, struck a partnership with the NFL, and created a "Moments" feature to highlight trending topics.
But what he's been doing since becoming permanent CEO on Oct. 5, 2015, for a second time, has not been working...
"It's hard for me to see a clear path to sustained user growth and the kind of margins we should see in a cloud-based, mobile platform based on its current operations," Robinson said.
In Q2 2016, Twitter only increased monthly active users (MAUs) by 0.9% to 313 million from Q1. MAUs are so important because Twitter makes money from advertisers trying to reach its users. So when Twitter can't boost users, fewer advertisers spend on the platform.
Twitter also lowered its third-quarter revenue outlook from expectations of $678 million to $590-$610 million.
So the acquisition news is the reason the Twitter stock price today is crashing. But this is not a short-term problem, because management has not shown a way to turn Twitter into a profitable company.
And if you're a TWTR shareholder, our Twitter stock price analysis shows things could get worse after Twitter announces its Q3 2016 earnings report on Oct. 27...
Our Twitter Stock Price Analysis Shows More Losses This Quarter
FactSet expects Twitter will report 316.37 million MAUs for Q3. That's an increase of just 1.07% from Q2.
You see, Twitter needs to increase users and earn more ad revenue because mobile ad revenue accounted for 88% of Twitter's total revenue in Q2.
And we made a shocking discovery in our Twitter stock price analysis when analyzing what to expect in Q3: As advertisers spend more money on social media advertising, the Twitter stock price has actually gone down.
In its Q2 earnings call, Twitter even admitted this. Twitter said that it expects a continuation of the trend of less advertiser demand for its services.
Advertisers are spending more on Facebook Inc. (Nasdaq: FB), Instagram, and Snapchat to promote their products or services because those social networks have larger or more engaged audiences.
Facebook has 1.71 billion MAUs, Instagram surpassed 500 million MAUs in June, and Snapchat is believed to have surpassed Twitter (the company no longer reports daily active users, according to CNBC) in daily active users with 150 million in June.
So the fact that advertisers are spending more on social media but Twitter isn't making more money is a bad sign for long-term shareholders.
The graph below shows that social media spending has increased by 96% from 2013 to 2015, while the Twitter stock price has plummeted 63%. In comparison, the FB stock price has climbed 93%, which is on par with the growth of social media ad spending and what should be happening at Twitter.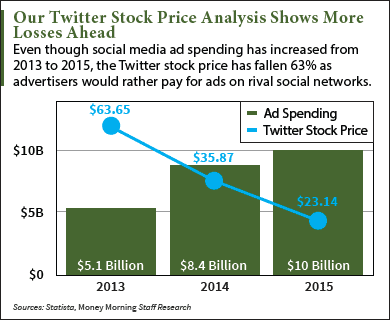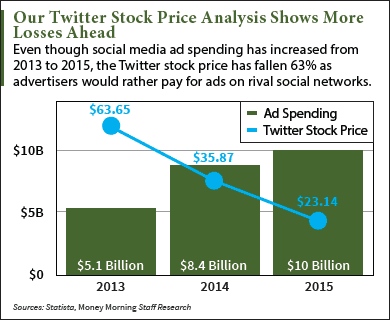 But the bad news doesn't stop there...
FactSet also expects Twitter to report revenue of $605 million. That would be an increase of just 0.4% from Q2. Twitter lost $102 million in Q2 when it posted revenue of $602 million, so the company could be looking at another $100 million loss in Q3.
The Twitter stock price has underperformed the markets as a whole and has been extremely volatile, and we expect that to continue in 2016 and beyond.
As part of our Twitter stock price analysis, you can see that the S&P 500 is up over 10%. In comparison, the Twitter stock price is down over 42%.
Must Read: What to Do After the Facebook Stock Split Vote
As Twitter's initiatives to increase MAUs and engagement have failed, there's no reason to expect the stock price to climb on earnings.
And it's extremely dangerous to buy a stock based on takeover rumors, as you can see the volatility in the Twitter stock price analysis above.
FactSet also has a one-year price target for the Twitter stock price of $16.84. From today's opening price of $17.49, that's a potential loss of 3.7%.
The Bottom Line: Our Twitter stock price analysis shows even more losses are on the way for Twitter shareholders. Even though social media ad spending is increasing, Twitter is still not a profitable company. Its plans to make the company profitable aren't working, and without a buyout, the Twitter stock price will fall even further.
Get Our Best Wealth-Building Ideas: Money Morning's top 5 investment reports to grow your money like never before are right here - and they're absolutely free. Read more...
Follow us on Twitter @moneymorning and like us on Facebook.