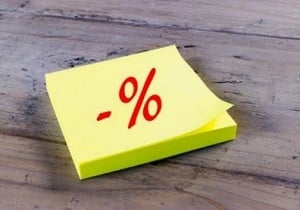 Global central banks continue to tout the positive outcomes of negative interest rates, but investors should not be fooled. Negative interest rates are a massive failure.
Fortunately for investors, Money Morning Global Credit Strategist Michael Lewitt has found a way to profit from the growing use of negative interest rates. Before we get to that, here's how negative-interest-rate policies (NIRPs) have become so popular...
Why Negative Interest Rates Are Being Used
In 2009, Sweden's Riksbank became the first central bank to implement negative interest rates. The goal was to bolster its limping economy. Over the next several years, the Danish National Bank, the Swiss National Bank, and the European Central Bank followed suit.
Don't Miss: This is your ticket to bigger and better returns... and it won't cost you a penny. What are you waiting for? Read more... 
In January, the Bank of Japan shocked the world when it cut its key benchmark interest rate to below zero.
U.S. Federal Reserve Chair Janet Yellen earlier this year said the Fed has discussed the use of negative rates. Yellen's comment sent shivers through global markets.
The aim of negative interest rates is to get banks to lend more, people to borrow and spend more, and businesses to invest in more expansion projects, infrastructure, and hiring.
But the results have been questionable at best...
Economic data shows consumers are actually saving more in countries with negative interest rates. And business investment remains low around the world, since it is not being stimulated by these low interest rates.
The Eurozone is still struggling even after the ECB has ventured further into negative territory. The ECB's key interest rate currently sits at -0.4%.
And realizing that negative interest rates are not having the desired effect, the Bank of Japan has taken a different approach than going deeper below zero. Japan's central bank has instead pledged to cap 10-year Japanese government bond yields at 0% until the central bank hits its 2% inflation target.
Clearly, negative interest rates are not the cure-all.
"After years of impotent monetary policy at the hands of the Fed, decades of incompetent foreign policy by several administrations, a dormant and corrupt Congress, and an activist Supreme Court rewriting the Constitution, the world is going to hell in a handbasket," Lewitt says.
Economies in Italy, Greece, and Spain remain on seriously fragile ground. Europe's banking sector is about to implode thanks to stagnant Eurozone growth and negative rates that are killing banks.
Concerns are mounting that Germany's largest lender, Deutsche Bank AG (NYSE: DB), is closing in on the next "Lehman moment." And Banca Monte dei Paschi di Siena, founded in 1472, making it the world's oldest and most storied bank, is teetering on collapse.
It's clear negative interest rates are not helping global economies. They're having the exact opposite impact.
But you don't have to fall victim to negative interest rates in 2016. That's because Lewitt has found the best way to profit from this massive failure of negative interest rates...
Follow us on Twitter @moneymorning and like us on Facebook.
Related Articles