When the markets are volatile, one of the best investment strategies is finding the best long-term stocks to buy and hold.
With the Dow trading near record highs, some investors are wondering if it's time just to sit on the sidelines. But that is exactly the wrong strategy to take. At market peaks it is best to find solid companies to invest in, with rock-solid financials and solid growth.
That's why we're bringing you the best long-term stocks to buy and hold today…
Finding Long-Term Stocks to Buy and Hold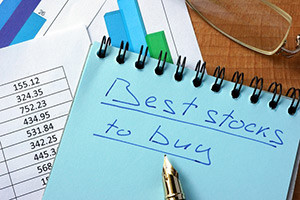 Finding the top long-term investments can be extremely difficult. When the markets are high, almost every stock looks like it is climbing. But that doesn't mean that they are all strong investments. In fact, corporate earnings as a whole are down in the third quarter, according to FactSet.
But some companies are going to remain profitable and exhibit growth regardless of market conditions. The best news? Temporary pullbacks in the market could provide some fantastic buying opportunities for new investors.
Here are five of the best long-term investments you can make today…
Long-Term Stocks to Buy and Hold No. 5: Caesars (Nasdaq: CZR)
When looking at the rest of the stocks on this list, it may be difficult to believe that a long-troubled casino company would be a recommendation. But Money Morning Global Credit Strategist Michael E. Lewitt has been saying this company's time would come, and it's finally here.
Trending: Our New Gold Price Prediction Shows 271% Returns by 2020
Caesars Entertainment Corp. (Nasdaq: CZR) is on the verge of emerging from bankruptcy in the wake of a $5 billion deal with TPG Capital and Apollo Global Management LLC. The two private-equity firms essentially looted the casino giant, but the company is emerging from bankruptcy free of their $1 billion annual debt interest payments.
For long-term investors, this is good news. Right now, CZR presents a unique buying opportunity. The company will emerge from this dark chapter in its history with the tools to grow and prosper. You can pick up shares of CZR for just $7.45, and they have already risen nearly 20% in the just the past 30 days. Lewitt expects Ceasars' stock to rise both in the short and long term.
Long-Term Stocks to Buy and Hold No. 4: Apple (Nasdaq: AAPL)
The mobile revolution is considered by Money Morning experts to be one of the top unstoppable global trends. The Apple Inc. (Nasdaq: AAPL) iPhone has been on the market for less than a decade, yet every new model continues to break sales records.
Apple makes a majority of its revenue from its phones and laptop sales, yet a significant business segment for the company is its Apple services. Apple is gaining revenue each year from services including iTunes, Apple Pay, iCloud, and Apple Music. By 2020, the company projects that services will account for 29% of gross income, up from 15% today.
Apple is one of the best long-term stocks to buy. Shares of AAPL are trading at $113.05, and the stock is up 7.41% year to date (YTD). Money Morning Chief Investment Strategist Keith Fitz-Gerald has a four-year target price of $200 for the stock, giving investors significant room to grow.
Long-Term Stocks to Buy and Hold No. 3