The 5,300 Wells Fargo & Co. (NYSE: WFC) employees who set up 2 million bogus accounts to bring in a measly $5 million in extra fees are being fobbed off as "a few bad apples."
They're not. They're the product of a global corporate culture of entitlement and corruption. The proverbial tip of the iceberg.
Don't get me wrong – Wells' misdeeds are bad, but there's much, much worse going on in the banking sector right now.
The moral hazard and casino banking underway at this very moment are putting the entire global financial system at risk – again – when we've barely recovered from the last crisis.
So today, I'm recommending everyone buy the ultimate "alternative money" at some of the best prices we're likely to see for the rest of the year…
This Is Easily the Gravest Threat to the Economy Right Now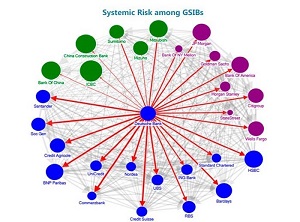 Deutsche Bank AG USA (NYSE: DB), Germany's biggest "too big to fail" bank, is having some well-publicized trouble meeting its legal liabilities right now.
The bank has $2 trillion in assets, slightly more than Wells Fargo and Citigroup Inc.'s (NYSE: C) $1.9 trillion and $1.8 trillion piles.
But that figure is highly misleading. Here's the difference.
Deutsche Bank's tangible common equity (tangible equity divided by tangible assets) is just 2.9%. That's all the bank could stand to lose before all its equity is flat-out gone. Wells Fargo and Citi hold 7.7% and 10.3%, respectively – the picture of health, by comparison.
It gets worse. Deutsche sports a derivatives book with a notional value of over $42 trillion, close to 14 times Germany's $3.3 trillion economy. Its densely tangled matrix of exposure and counterparty risk makes it critical to the global financial system. And now it's a ticking time bomb.
There's little confidence in Deutsche Bank, for good reason. And the problem has landed in German Chancellor Angela Merkel's lap.
She faces the ultimate quandary.
Tough-Talking the Economy to the Edge of Oblivion
By now, it's well known that Deutsche Bank is on the hook for up to $14 billion in fines levied by the U.S. Justice Department for pushing mortgage-backed securities in the run-up to the last financial crisis.
But the problem is, that fine comes to 80% of Deutsche Bank's entire $17.5 billion market cap. And management has set aside "just" $6.2 billion for litigation.
Merkel has already nixed to the prospect of a government bailout. She doesn't have much leeway there, either, thanks to her hardline stance against bailing out equally precarious Italian banks.
That's pretty much the official G20 stance agreed to in Australia back in 2014.
From a political perspective, the dilemma is obvious. A German federal election is slated for October 2017, and Merkel's party has already suffered a sobering loss in recent regional elections. She'll have a tough time going back on her "no bail-out" promise.
There's really only one realistic course of action open to regulators and bankers. And it's not good.
The Taxpayer Is on the Hook Again
Bail-ins are the more likely scenario, a risk to which I've alerted you numerous times over the past few years.
And for Deutsche Bank, the process is likely to start with its contingent convertible, or "coco," bonds. Deutsche Bank's €1.75 billion of cocos recently traded at an all-time low of 69.97 cents on the euro, highlighting just how precarious the situation is.
Now, coco bonds pay a higher coupon, but that premium comes with the risk that the bank's capital ratio could fall below a set level.
If that happens before maturity, then the bonds can be converted to bank shares. Or, the bank can choose to either skip the coupon payment or write down the principal. There's simply no free lunch.
The thing is, if the capital from convertible bonds is not enough, the next step is for the bank's long-term debt to be converted into common shares. And if that's still not enough, then it's on to the next set of creditors: depositors.
Deposits are considered a liability of the bank. So in order to rescue itself, a bank would then start with any amounts above what would be government-insured. Of course, that too may not be enough, and what comes next is either some form of government support… or you're on the hook for even more.
Even if you don't hold a Deutsche Bank account, chances are high your bank has massive exposure to them. One way or another, the risk to your capital is a real and growing danger.
Here's what you can do about it.
[mmpazkzone name="in-story" network="9794" site="307044" id="137008" type="4"]
This Is Money They Can't Seize
Some of the most evident alternatives are to own some physical cash and tangible assets like real estate.
But cash can lose purchasing power, sometimes rapidly, through inflation or even hyperinflation. Real estate is helpful if it's income producing. Otherwise it can have carrying costs.
There is another form of money that's stood the test of time: gold and silver coins.
No money is more "real."
Gold and silver are useful and so have retained intrinsic value for thousands of years. I see no indication that's about to change.
But I suggest you avoid the collectible numismatics or "rare coins."
If you're U.S.-based, go for some of the most widely owned American gold and silver coins whose cost is closely tied to their gold or silver content.
Here are the best recognized options:
| | | | |
| --- | --- | --- | --- |
| | Gross weight | Face Value | Fineness |
| 1 oz. Gold American Eagle | 33.930 g | $50 | 0.9167 (22 karat) |
| 1 oz. Gold American Buffalo | 31.103 g | $50 | 0.9999 (24 karat) |
| 1 oz. Silver GSM Buffalo | 31.103 g | None | 0.999 |
| 1 oz. Silver American Eagle | 31.103 g | $1 | 0.999 |
And with the recent sell-off in gold and silver, you can acquire some of these coins at attractive prices. Just be sure to keep them outside of the banking system.
Deutsche Bank's distress may be worrisome, but if you have a strong gold position, you'll sleep better. All the same, it throws the risks of banks and depositors into sharp relief.
There are 8,857 stocks trading on the market right now. But by targeting the worst ones, investing icon Michael Lewitt has devised a way for you to make $100,000 or more as these stocks come crashing down with a 94.5% certainty. His technique is controversial, but the money-making power is undeniable. Details here.