Friday's a big day for the banks (three, specifically) because earnings come out before the markets even open.
The pundits are already calling for weak earnings numbers for all three, largely due to the Fed's decision against raising interest rates.
Now, whether or not they're right is anyone's guess - at least, until Friday.
But you don't have to wait until then to get a read on how much these big banks' stocks will move...
There's a simple method you can use to predict the price movement of a stock before its earnings even come out.
And it's as easy as this...
How to Secure Profits Ahead of Wells Fargo, JPMorgan, and Citibank's Big Earnings Announcements
Tomorrow (Oct. 14), Wells Fargo & Co. (NYSE: WFC), JPMorgan Chase & Co. (NYSE: JPM), and Citigroup Inc. (NYSE: C) release their earnings before the markets open.
And while all the analysts in the world can offer their insights and projections of how each one will do, there's always the chance of a major earnings "surprise" - both good and bad.
Don't Miss: This is your ticket to bigger and better returns... and it won't cost you a penny. What are you waiting for? Read more... 
That's why many traders consider earnings season to be a gift or a curse.
If you're on the wrong side of your trade, you could be looking at thousands of dollars in losses. But if you're on the right side of your trade... your profit potential is virtually endless.
Now it can be nearly impossible to know what each one's earnings per share (EPS) and revenue numbers will be before they come out. But you can predict the percentage points that their stocks will move within the week following earnings.
Take a look at the earnings records for WFC, JPM, and C over the last seven quarters...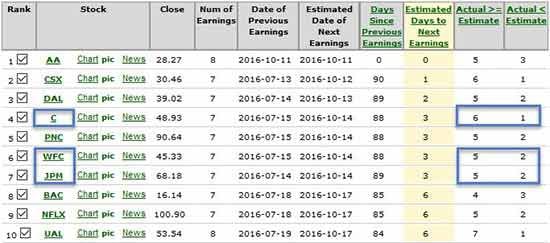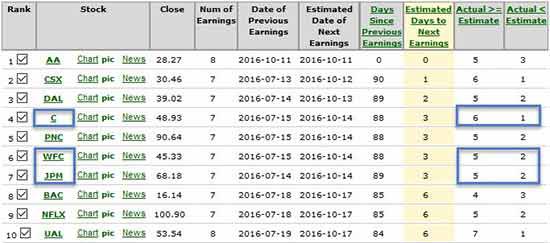 You can see that C has slightly outperformed WFC and JPM, with six earnings beats and one miss, compared to their five earnings beats and two misses.
When you drill even deeper into the data, you can actually see what the percentage moves were pre- and post-earnings. But just because a company has beat its earnings expectations the majority of the time (like C) doesn't actually mean the stock will trade higher.
And here's proof...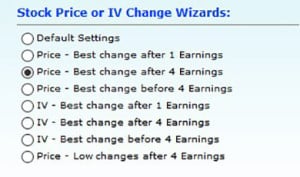 In the chart above, I've highlighted (in the blue rectangles) the percentage loss in the stocks' values the last four earnings quarters in a row. And the average moves WFC, JPM, and C made tell a different story than their earnings records.
Above, you'll see a column called "Best of Close BED AED Earnings Changes," which shows the best individual stock changes after earnings are announced (rounded to integers and using the most recent first high and low stock prices). This data gives you a read on the percentage price change of a stock after every earnings report. And that will help you gauge which direction any stock will move after earnings come out.
Now this data specifically comes from my proprietary tools, but you can use any financial or earnings website to find the earnings record and best individual stock changes post earnings.
A Unique Strategy to Predict (and Profit from) Any Stock's Price Movement Post-Earnings
You can also use options to get an idea of how the markets expect a stock to move (by percentage) after an earnings announcement. All you need to do is look at the option chain and add the option's premium for an at-the-money (ATM) call or put.
[mmpazkzone name="in-story" network="9794" site="307044" id="137008" type="4"]
The best options to use are the ones that expire one week after earnings since the price can pop or drop rather quickly.
Here's an example...

What you're looking at above is a WFC ATM call with a mid-price of $0.76 and a WFC ATM put with a mid-price of $0.79 for a total cost of $1.55. And that $1.55 is 3.4% of the WFC's closing price ($45.44) as of the time I'm writing this.
In this next example below, you've got a C ATM call with a mid-price of $1.02 and a C ATM put with a mid-price of $1.01 for a total cost of $2.03. That's 4.1% of C's closing price ($49.00) as of the time I'm writing.

And in this chart, you've got a JPM ATM call with a mid-price of $0.94 and a JPM ATM put with a mid-price of $1.09 for a total cost of $2.03, which is 2.97% of JPM's closing price ($68.31).

So to anticipate the percentage that any of these stocks will move, simply add the premiums of the ATM calls and puts.
Now take another look at this chart, but this time, focus on the column called "Best Close Median (Percentage Change)." This is the median change following each earnings date. The absolute value of the changes is used so those numbers will always be positive.

You can see if the ATM options are expecting a smaller percentage move, a percentage move in line with its past average, or a larger percentage move based on their prices. If the price is higher, it means the markets are expecting the stock to move more than its average. If it's lower, then the markets are expecting the stock to move less than its average. And if it's about the same, then the markets don't expect the stock to move much (or at all) after earnings come out.
And this enables you to gauge how much your own trades will move before earnings even come out.
This Is the Best "Retirement Stock" of 2016... And the good news is, it's trading for "pennies." But it won't be for long... its revenue is set to surge 4,709%. Learn the details of this $5 stock today while it's still "on sale." Read more...
Follow Money Morning on Facebook and Twitter.
About the Author
Tom Gentile, options trading specialist for Money Map Press, is widely known as America's No. 1 Pattern Trader thanks to his nearly 30 years of experience spotting lucrative patterns in options trading. Tom has taught over 300,000 traders his option trading secrets in a variety of settings, including seminars and workshops. He's also a bestselling author of eight books and training courses.