Even as the outrage over the Wells Fargo scam was running high, many already had started to wonder if the same kind of customer abuse happens at other big banks.
Digging into what evidence we have, it's clear the answer is yes. The only question is how pervasive it is.
We know that at Wells Fargo & Co. (NYSE: WFC), such behavior was widespread. Workers created 2 million fake accounts from May 2011 to July 2015 in a desperate attempt to fulfill unrealistic sales quotas.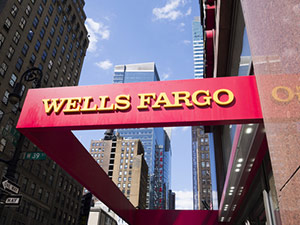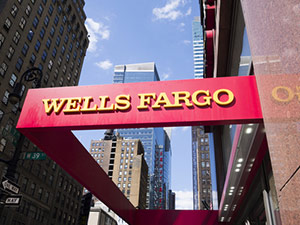 At the root of the Wells Fargo scam was an unhealthy obsession with "cross-selling," in which workers were encouraged to get customers to buy multiple bank products.
Customers were frequently pushed to add an unneeded checking account or credit card account. Because that rarely yielded enough new accounts to meet quotas, the heavily pressured bank workers resorted to creating fake accounts.
So far in the Wells Fargo scam, the U.S. Consumer Financial Protection Bureau has fined the bank $185 million. The state of California announced it would suspend its "most profitable business relationships" with the bank for at least one year. And on Wednesday, CEO John Stumpf resigned following weeks of withering criticism, including from many members of Congress.
Related: How the Wells Fargo Scam Pulverized Customers' Credit Scores
But the emphasis on cross-selling was not unique to Wells Fargo. Most major banks with large consumer businesses also do it…
Why the Wells Fargo Scam Could Be the First of Many Like It
"Wells Fargo isn't the only one. This is an industry-wide problem," one former banker, who requested anonymity, told CNNMoney last month.
Wells Fargo was the role model, though. It boasted in earnings calls of selling more than six products per customer — double the industry average.
Other banks were envious. The more business a customer does with a bank, the more the bank earns from that customer in the form of fees. Plus, each additional account deepens the relationship between bank and customer, making it less likely they'll jump to a rival bank.
The profit motive, however, is very high. Since 2008, bank profits have been pinched by historically low interest rates as well as higher regulatory costs.
While we don't have the kind of damning evidence against other banks that resulted in the public spectacle of the Wells Fargo scam, there's plenty of smoke.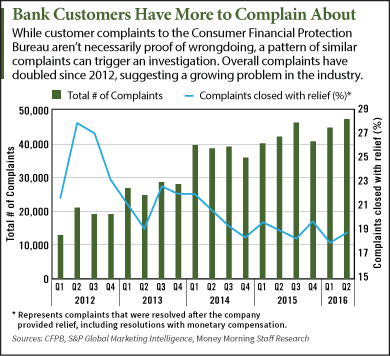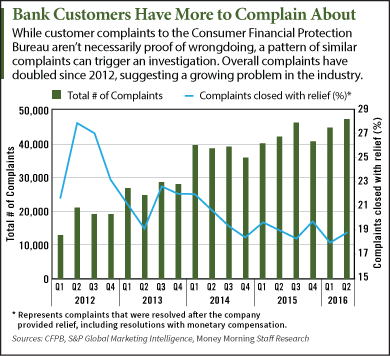 A CFPB database shows that the average number of consumer complaints about all banks have doubled from about 20,000 per month in 2012 to 40,000 per month in the past year.
Although Wells Fargo figures prominently in the CFPB database, it doesn't particularly stand out.
Get Our Best Wealth-Building Ideas: Money Morning's top 5 investment reports to grow your money like never before are right here – and they're absolutely free. Read more…
In addition, a June study by the National Employment Law Project (NELP) revealed that the practices exposed in the Wells Fargo scam are disturbingly common. The researchers interviewed 75 workers from a range of banks in 18 states. According to the report, the interviews make it "clear that Wells Fargo is not alone in implementing these policies."
While none may be as bad as Wells Fargo, the data suggests several prominent banks easily could end up with cross-selling scandals of their own…
The Banks Most Likely to Get Caught in a Cross-Selling Scandal