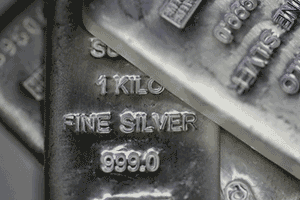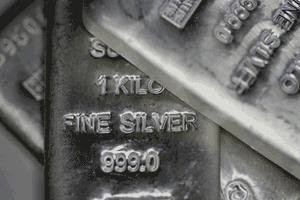 Investors are asking us "what is the price of silver today?" as the precious metal remains extremely volatile.
The price of silver today (Friday) is modestly lower in early trading as investors await a string economic data. The rising dollar and a potential interest rate hike in 2016 have also been weighing on silver prices.
Despite the recent pullback, we remain bullish on silver prices. Before we get into a silver price outlook, here is what's weighing on silver prices today…
What Is the Price of Silver Today and Where Is It Headed?
Shortly before Wall Street's opening bell, the spot silver price was down $0.04, or 0.26%, at $17.52 an ounce.
The biggest pressure on silver prices today has been the U.S. Dollar Index, which sits near a seven-month high. A batch of global economic data and earnings also played a key part in today's silver price action.
Traders remain cautious as we await reports on the U.S. producer price index, retail sales, manufacturing, and trade inventories, and the University of Michigan consumer sentiment survey. These are key reports that could impact precious metal markets today.
September's retail sales report didn't bring any surprises. Total retail sales increased 0.6% in September, while sales excluding autos rose 0.5%. The key takeaway is that consumer spending on goods continues at a modest pace – total retail sales rose 2.7% year over year (YOY) – and will remain a positive for third-quarter GDP forecasts.
Trending Now: Get the Best Investing Research Today to Grow Your Money
Strong earnings from big banks like Citigroup Inc. (NYSE: C), JPMorgan Chase & Co. (NYSE: JPM), and Wells Fargo & Co. (NYSE: WFC) also had the markets higher today.
Investors wondering "what is the price of silver today?" should also look abroad for catalysts…
China's consumer price index rose 1.9% in September YOY. China's producer price index increased 0.1% in the same period. That may seem like a small move, but it marked the first YOY rise in five years. The data helped lift stock markets in China, which weighed on silver prices.
And comments from Boston Federal Reserve President Eric Rosengren kept silver prices in check.
Rosengren was one of the Fed members who called for a rate hike at the September meeting. He told CNBC this morning that a December interest rate hike seems "appropriate." He noted that if economic projections are right, it would suggest a faster pace of rate hikes from the Fed than is currently being priced into the markets.
Precious metal investors now turn their attention to Fed Chair Janet Yellen. She will be speaking today at 1:30 p.m. on the topic of "Macroeconomic Research After the Crisis." Investors are waiting to see if Yellen offers any monetary policy insight.
Silver prices are off 7.3% over the last month. But thanks to the strong rally at the beginning of the year, the price of silver is still up more than 25% this year.
Money Morning Resource Specialist Peter Krauth sees silver prices rising to $22 by the end of the year. Check out his full silver price prediction here…
Follow us on Twitter @moneymorning and like us on Facebook.
Related Articles: