Last Monday, I appeared as a guest on CNBC World, where I was interviewed by hosts in Singapore and Seoul about Samsung Electronics Co. Ltd. (OTCMKTS: SSNLF) and the totally botched release-recall-discontinuation of its new Galaxy Note 7 smartphone. That's the phone that's been catching fire - and even forced the evacuation of a commercial flight prior to takeoff.
The CNBC hosts asked me what the financial impact would be if the company stopped selling its Galaxy Note 7 smartphone entirely (the company hadn't done so yet at the time). I answered that it was impossible to know how big a charge against earnings the firm would take - though, clearly, it could run into the billions.
Now, a few days after the company discontinued the phone, we know this: Samsung investors saw the value of their South Korea-traded shares lose some $17 billion in value last Tuesday in what was the biggest single-day decline for this stock in eight years. And Samsung itself says it expects to lose well over $5 billion in profit - about half of what it earned in 2015 - thanks to the debacle.
Oof...
I take no pleasure in Samsung's misfortunes. But as your guide to building wealth through tech investing, I want to show you a simple way to "short" this quality control challenged tech giant - and make some money for yourself.
Take a look...
Still a "Tech Turkey"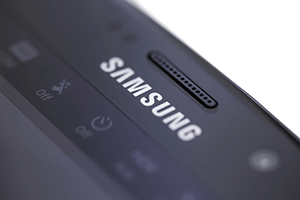 Early this year, I put Samsung on a list of stocks to avoid in 2016. I called it a "Tech Turkey." And I said pretty much the same thing at the end of 2014.
Tech Watch: How the Virtual Reality Sector Will Send This Stock Soaring 95%
But this is nothing "personal." Let me show you what I mean...
My wife and I did some remodeling on our home the last few months. As part of that, we upgraded a couple of kitchen appliances, including a Samsung stainless-steel refrigerator. And overall, it's been great.
Moreover, as I write this note to you, I'm looking at the two Samsung monitors that I also use for screening stocks. In all, we have six Samsung products in our home.
I mention all this so you know that I take no personal delight at all in Samsung's misfortunes.
After finishing up the kitchen, we moved on to the laundry area. You can imagine our surprise when our contractor told us to avoid buying Samsung, saying they were unreliable products.
Turns out, he was right...
The U.S. Consumer Product Safety Commission issued a warning last month about safety issues surrounding some of Samsung's top-loading washers. And a recently filed consumer lawsuit charges that heavy loads may cause the tub to become unfastened, resulting in a centrifugal explosion that can destroy the machine and anything next to it.
Then, I started hearing about the problems with the Note 7.
The recent release of the South Korean tech giant's flagship handset, the Galaxy Note 7, has been nothing short of an unmitigated disaster - and it just keeps getting worse.
Like I said, Samsung has now decided to stop selling the new phone completely because it can't seem to fix the problem that causes this phone to catch fire. I believe this will rank as the single biggest product failure in the short history of the smartphone.
It means the globe's largest cellphone maker will miss the crucial Christmas selling season here in the United States. In fact, it'll be skipping an entire product cycle in this highly competitive business.
Does that sound like a company you'd like to short?
Me, too.
Join the conversation. Click here to jump to comments…
About the Author
Michael A. Robinson is a 36-year Silicon Valley veteran and one of the top tech and biotech financial analysts working today. That's because, as a consultant, senior adviser, and board member for Silicon Valley venture capital firms, Michael enjoys privileged access to pioneering CEOs, scientists, and high-profile players. And he brings this entire world of Silicon Valley "insiders" right to you...
He was one of five people involved in early meetings for the $160 billion "cloud" computing phenomenon.
He was there as Lee Iacocca and Roger Smith, the CEOs of Chrysler and GM, led the robotics revolution that saved the U.S. automotive industry.
As cyber-security was becoming a focus of national security, Michael was with Dave DeWalt, the CEO of McAfee, right before Intel acquired his company for $7.8 billion.
This all means the entire world is constantly seeking Michael's insight.
In addition to being a regular guest and panelist on CNBC and Fox Business, he is also a Pulitzer Prize-nominated writer and reporter. His first book Overdrawn: The Bailout of American Savings warned people about the coming financial collapse - years before the word "bailout" became a household word.
Silicon Valley defense publications vie for his analysis. He's worked for Defense Media Network and Signal Magazine, as well as The New York Times, American Enterprise, and The Wall Street Journal.
And even with decades of experience, Michael believes there has never been a moment in time quite like this.
Right now, medical breakthroughs that once took years to develop are moving at a record speed. And that means we are going to see highly lucrative biotech investment opportunities come in fast and furious.
To help you navigate the historic opportunity in biotech, Michael launched the Bio-Tech Profit Alliance.
His other publications include: Strategic Tech Investor, The Nova-X Report, Bio-Technology Profit Alliance and Nexus-9 Network.