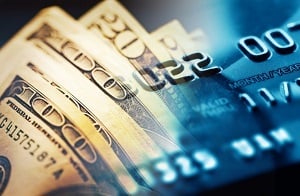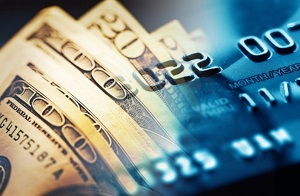 Though big banks have been reporting explosive Q3 earnings, we could be on the verge of a subprime credit card crisis.
Bank of America Corp. (NYSE: BAC) topped analyst expectations yesterday morning (Monday) when it boasted earnings per share (EPS) of $0.41 on revenue of $21.64 billion. Analysts had estimated the bank's adjusted earnings per share would only amount to $0.34 on revenue of $20.82 billion.
Citigroup Inc. (NYSE: C) posted $1.24 EPS versus analyst estimates of $1.16.
And JPMorgan Chase & Co. (NYSE: JPM) brought in the big surprise by posting $1.58 EPS against analysts' consensus estimate of $1.39 EPS for the quarter.
But there was something all of these banks failed to reveal in their earnings releases...
They're fueling a subprime credit card crisis right now.
The Subprime Credit Card Crisis - Fueled by the Big Banks
It's important to note that the big banks do not report clear and mutually comparable figures on their actual profits from credit cards issued, Reuters reported earlier today.
"But executives say cards are among the most profitable of any business," Reuters claimed, "with returns on equity of as much as 25%, about twice banks' recent overall return."
Don't Miss: The Subprime Auto Loan Market Is About to Collapse - Here's How to Profit
Big banks do, however, report on the average amount (in billions) of credit card loans they've each issued within a given quarter, as well as how many new card accounts were opened.
And boy have those numbers skyrocketed in the past three months...
[mmpazkzone name="in-story" network="9794" site="307044" id="137008" type="4"]
BOA, for example, issued $88.2 billion in credit card loans via 1.3 million credit cards this past quarter - up 8% from Q3 2015.
JPMorgan now has a credit card balance of $133.4 billion on 2.7 million credit cards - up 5% from a year ago.
And then there's Citigroup...
Citi released its latest Q3 report on Oct. 15. Its credit card loans hit a whopping $147.8 billion in Q3 2016 - up 13% from a year ago. What's so concerning about this boom in credit card loan issuance has to do with the fact that the increase is largely driven by those with lower credit scores (less than 620). These individuals make the subprime borrower market.
Now, you'd think the big banks would be more careful about subprime lending given the recession their subprime mortgage issuances caused almost a decade ago. That was when these "too big to fail institutions" lent mortgage funds to people with poor credit and a high risk of default. And sure enough, in time, these risky borrowers didn't pay up.
But to err on the side of caution would mean, for them, a smaller paycheck...
Take a look at how the current buildup of a subprime credit card crisis looks eerily similar to that of the 2008 subprime mortgage crisis...
We're in the Midst of a Subprime Credit Card Crisis
You see, immediately after the 2008 stock market crash, the financial sector experienced a sharp decline in the number of credit cards being issued by the big banks. Not only were people declining to open new accounts, but nearly 50 million accounts were closed. About 75% of those closures were by individuals with poor credit.
Get Our Best Wealth-Building Ideas: Money Morning's top 5 investment reports to grow your money like never before are right here - and they're absolutely free. Read more...
But in 2011, the level of new card issuances to subprime borrowers started to tick back up again. All the way to where it sits today - with just over 50% of all subprime borrowers holding at least one credit card.
This is near the percentage of subprime borrowers who had at least one credit card in 2008 - right around 59% - just before the financial crisis...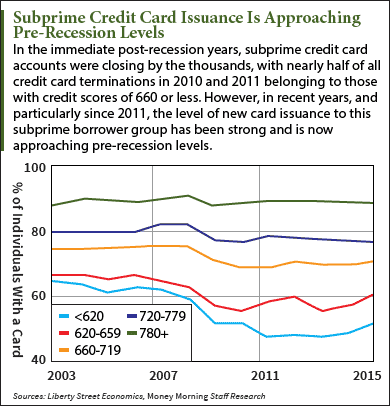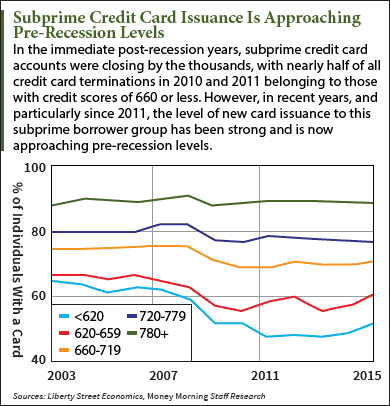 The eventuality that we saw in 2008 was poor-credit borrowers foreclosing on their homes because they could not afford their mortgages. This happened en masse across the nation, which led to a stock market crash. A massive $19.2 trillion in household wealth was lost in the subprime mortgage crisis.
Such could be the case with these subprime credit cards. Remember, the banks have loaned out by the billions to less-than-creditworthy customers in the last three months alone.
And in 2015, 30.9 billion big bank credit cards were used for charges and cash advances that involved over $2.9 trillion dollars, according to a June 6 congressional report on the profitability of credit card operations of depository institutions.
As time passes, the interest fees on subprime credit cards will undoubtedly rise while their hefty annual fees will come due.
Borrowers will find themselves in a mess of debt they can't pay back.
If this subprime credit card warning sign weren't alarming enough for you, there's yet another bubble signal flashing...
Money Morning Global Credit Strategist Michael Lewitt has identified another epic bubble in the credit markets that threatens to inflict major pain on bond investors.
"While it is entirely possible that U.S. yields will follow those in the rest of the world into the gates of negative interest rate Hell," Lewitt warns, "they will sooner or later rise as the Biblical flood of money unleashed by global central banks looks for places to nest."
Here's what's causing this imminent disaster and how you can protect yourself against it...
Follow us on Twitter @moneymorning and on Facebook.
Related Articles: