(Kitco News) – Asian stock markets were mixed overnight, despite some mostly upbeat economic data coming out of China. European stock markets were mostly lower.
U.S. stock indexes are pointed toward narrowly mixed openings when the U.S. day session begins in New York. Gold prices are trading moderately higher on more short covering and bargain hunting. The gold bulls are having a decent week, so far.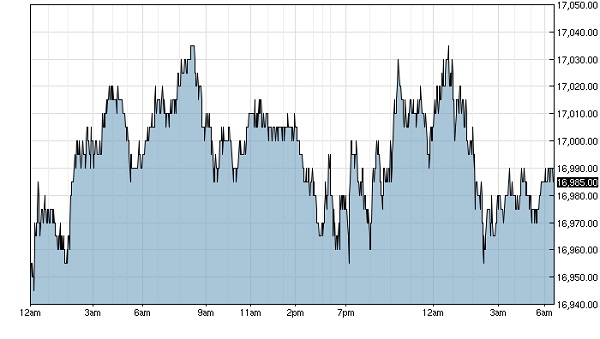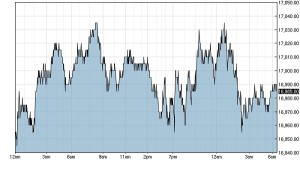 China's economy grew by 6.7% in the third quarter, year-on-year, which was in line with market expectations. The figure was also the same as the second quarter. China also reported its retail sales increased by 10.7% in September, from a year earlier. That number was also in line with expectations. China's industrial production was up 6.1% in September, year-on-year. That number was a miss to the downside. Overall, the data from the world's second-largest economy was deemed upbeat. Indeed, other major world economies' economic growth numbers don't come anywhere close to China's.
In other overnight news, the German government sold 30-year bonds (bunds) Wednesday for an average yield of 0.64%. That's above the 0.45% fetched in late July. World government bond market yields have been on the rise recently, as the specter of price inflation is creeping back into the world economic picture.
Higher crude oil prices Wednesday are bullish for the raw commodity sector in general, including the precious metals. Nymex crude is trading above $51.00 a barrel. One analyst says that OPEC's decision to curb its collective oil production is a sign that OPEC's original strategy of all-out oil production in order to defeat U.S. shale oil production was a failure.
The other key "outside market" finds the U.S. dollar index trading lower Wednesday on a corrective pullback after hitting a seven-month high on Monday. The weaker greenback on this day is also a bullish element for the raw commodity sector.
Two U.S. Federal Reserve officials give speeches Wednesday. Those talks will be closely monitored for any clues on the future direction of U.S. monetary policy.
The World Gold Council said Wednesday that the recent decline in gold prices should spur more demand for physical gold from China.
U.S. economic data due for release Wednesday includes the weekly MBA mortgage applications survey, new residential construction, the Federal Reserve's beige book, and the weekly DOE liquid energy stocks report.
Spot gold prices on Kitco.com continued to benefit from a weaker U.S. dollar overnight with prices trading in a range between $1,272.40 an ounce and $1,260 an ounce.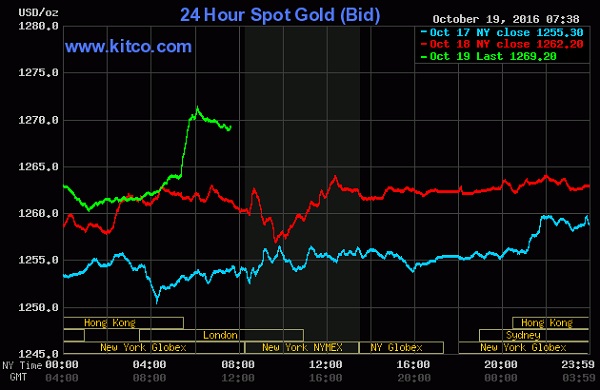 By Jim Wyckoff, contributing to Kitco News; jwyckoff@kitco.com
Follow Jim Wyckoff @jimwyckoff