(Kitco News) – World equity markets were mixed overnight. European stock markets traded not far from unchanged as traders and investors debated whether the European Central Bank will or won't extend its quantitative easing of monetary policy of purchasing bonds. An ECB survey said inflation in the Euro zone for 2016 will be 0.2%. The ECB wants to see inflation at 2.0%.
Asian stock markets were mostly lower. The Chinese yuan hit a six-year low against the U.S. dollar Friday, which prompted some concerns about flight of capital from the yuan into other currencies. Hong Kong markets were closed due to a typhoon. Bank of Japan governor Kuroda said Friday the central bank will continue its "extremely accommodative, expansionary monetary policy."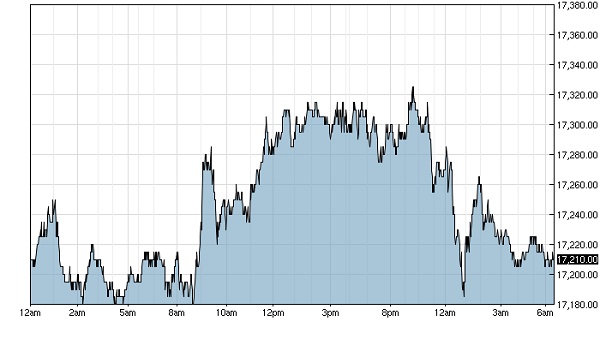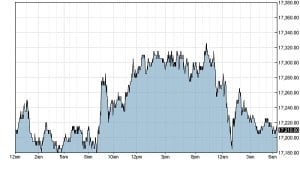 U.S. stock indexes are pointed toward weaker openings when the New York day session begins.
Gold prices are slightly lower in early U.S. trading. Bulls have had the better week, so far, but the bears still have the overall near-term technical advantage.
The key "outside markets" on Friday find the U.S. dollar index higher and hitting another seven-month high overnight. Nymex crude oil prices are also firmer after hitting a 3.5-month high earlier this week. Reports said Russian oil officials have indicated Russia could increase its oil production if demand for its oil increases.
U.S. economic data due for release Friday includes the Chicago Fed national activity index and the U.S. flash manufacturing purchasing managers' index.
Overnight, spot gold on Kitco.com managed to hold support around its 200-day moving average trading in a range between $1,260.70 an  and $1,267.70 an ounce.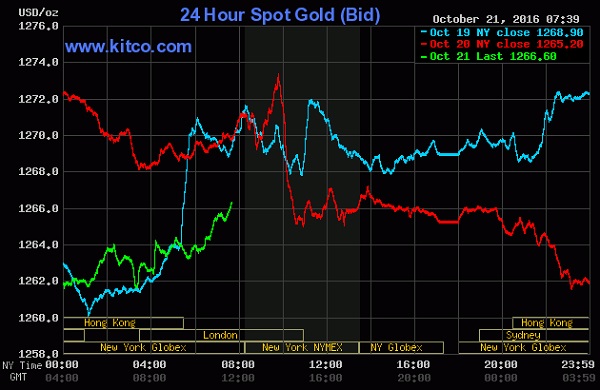 By Jim Wyckoff, contributing to Kitco News; jwyckoff@kitco.com
Follow Jim Wyckoff @jimwyckoff