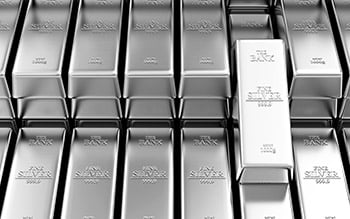 Investors keep asking us "how much is an ounce of silver?" since the silver metal continues to be extremely volatile in October.
In morning trading today (Friday), the price of silver was trading at $17.59, down $0.01, or 0.06%.
While October has been volatile, silver prices traded in a tight range for much of the week. The silver price per ounce is up a modest 0.40% over the last five trading days.
Silver prices ticked up mid-week thanks to a weaker dollar. Tame U.S. inflation figures for September chipped away at some of the dollar's recent gains and gave a slight rise to the price of silver.
On Tuesday, the Labor Department said its Consumer Price Index increased a slim 0.3% last month, following a 0.2% rise in August. The subdued data took some of the air out of recent interest rate hike talks.
The U.S. central bank has a 2% inflation target, and inflation currently sits at 1.7%. Monday, U.S. Federal Reserve Vice Chair Stanley Fischer said the U.S. central bank was "very close" to its inflation and employment targets. However, Fed Chair Janet Yellen has made arguments in recent weeks for allowing the economy (and inflation) to run hot for a while so that lackluster growth doesn't become the norm.
Next Up: Our Newest Gold Price Prediction Indicates Triple-Digit Returns by 2020
In the past, economists have found that a falling unemployment rate will raise inflation. But that hasn't happened since the recession.
Since the expectations for a December interest rate hike keep climbing, the Wall Street Journal Dollar Index has been trending higher over the last several weeks. But September's tempered inflation read caused the dollar rally to pause, boosting silver prices. A weaker dollar is bullish for silver prices because it makes the metal more affordable for investors who hold other currencies.
Still, the likelihood of an interest rate hike in December remains high and continues to be a strong headwind for silver prices. According to CME Group's Fed Tracker Tool, markets are placing a 63% chance of a rate hike at the conclusion of the December FOMC meeting.
Expectations of an interest rate increase are typically bearish for silver, which struggles to compete with other investments when rates rise. And all the interest rate chatter is one of the main reasons investors keep asking us "how much is an ounce of silver?"
Silver prices slipped $0.11 at $17.54 an ounce yesterday after the European Central Bank left its ultra-loose monetary policy unchanged. But the ECB kept the door open for further stimulus in December, keeping a cushion under silver prices.
Here's what investors need to know about the price of silver per ounce as we head toward 2017…
How Much Is an Ounce of Silver and Where Is It Headed?