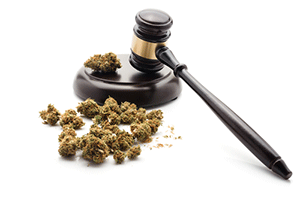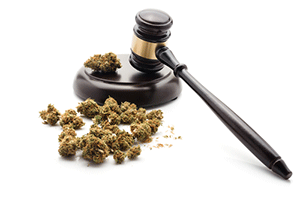 The initiative for marijuana legalization in California has gained enough traction for a vote on Nov. 8.
Known as California Proposition 64 (Prop 64), residents of California will vote on whether or not to legalize recreational marijuana.
If Prop 64 passes, adults aged 21 or older would be allowed to use marijuana without a medical prescription. Smoking would be allowed in a private home or at a business with a license for on-site marijuana consumption.
Smoking marijuana would remain illegal while driving.
Recreational users would be allowed to possess up to 28.5 grams of marijuana and eight grams of concentrated marijuana (concentrated into a mass that looks like honey), according to BallotPedia.com.
Individuals can also grow up to six plants in a private home, as long as the growing area is locked and not visible to the public.
Possession of marijuana at youth centers, day cares, and on school grounds where children are present will remain illegal. Businesses with a marijuana license are not authorized to sell within 600 feet of the above mentioned institutions.
Prop 64 will also establish certain sales and cultivation taxes.
One tax for cultivation would be $9.25 per ounce for flowers and $2.75 per leaves. The exception would be for certain medical marijuana sales.
The second tax would be 15% on the retail price of marijuana, and taxes would be adjusted for inflation starting in 2020.
Editor's Note: Love it or hate it, more Americans use marijuana now than ever before...
But marijuana laws are confusing, especially when it comes to state marijuana laws and federal marijuana laws.
Here's a breakdown of the current marijuana laws for California ahead of the vote on Prop 64...
History of Marijuana Laws in California
Currently, the possession and use of marijuana in California is illegal for recreational purposes.
But in 1996, Proposition 215 legalized medical marijuana. Proposition 215 exempts patients from criminal laws who possess or grow marijuana for medical usage that's been recommended by a physician.
According to BallotPedia.com, 55.58% of voters voted in favor of Proposition 215.
But isn't marijuana still illegal under federal law?
Yes, medical and recreational marijuana is still illegal under federal law.
But in 2014, a congressional budget rule passed that prevents the Department of Justice (DoJ) from using funds to interfere with implementation of state medical marijuana laws.
And more recently, a court ruling on Aug. 16 declared the DoJ can no longer spend money to prosecute medical marijuana businesses where the defendants are following state marijuana laws, according to Fortune.
This doesn't legalize marijuana under federal law, but it is a step in providing more protection for marijuana users under both state and federal laws.
But proponents and opponents of Prop 64 right now are focused on state laws for the Nov. 8 vote...
Who Is in Support of Prop 64?
Right now, it's a tight race. According to a SurveyUSA poll conducted from Oct. 13 to Oct. 16, 51% of voters supported Prop 64.
Supporters for the initiative to legalize recreational marijuana in California have raised $18.1 million.
Supporters of the initiative for marijuana legalization in California include:
Sen. Mark Leno (D-CA)
Lt. Gov. Gavin Newsom (D-CA)
Sean Parker (founder of Napster)
The California Democratic Party
The Green Party of California
National Latino Officers Association
Musician and entrepreneur Sean Carter (Jay-Z) also worked with Yes on 64 for a promotional video.
The proponents claim that Prop 64 would provide a safe environment where marijuana is controlled and taxed. They also argue it would decrease black market drug selling, generate tax revenue to help fund afterschool programs, and decrease law enforcement costs.
Must Read: Former Google Exec Quits Dream Job to Launch Marijuana Empire
As of January 2016, it was more expensive in Arizona, California, Colorado, Michigan, Oregon, and Washington to purchase an ounce of marijuana from dispensaries than it was to buy on the street, according to research site Statista. But proponents argue that this would change.
In the graph below, you can see the biggest discrepancy is in California, where dispensary sites are 37% more expensive than street prices.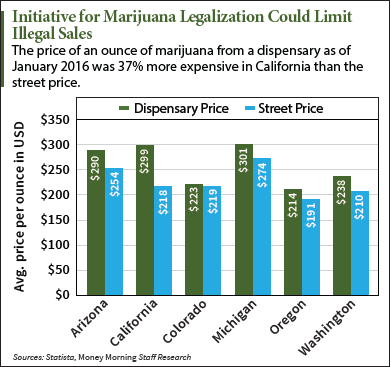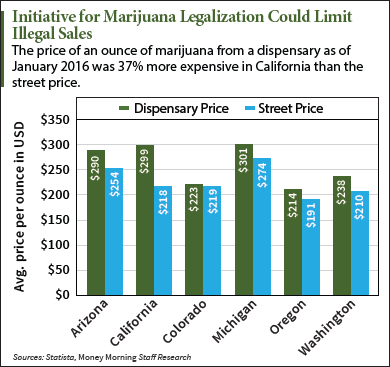 Legal recreational marijuana use would create more competition for legal dispensaries, which would make them keep prices competitive.
With the prices potentially lower, people would purchase from the legal sellers and not fund the black market.
But there is opposition to Prop 64...
Who Is Against Prop 64?
No on 64 has raised $2 million as of Oct. 17.
According to Weed News, $1.3 million of that came from an individual, Julie Schauer of Pennsylvania.
Opponents of Prop 64 include:
U.S. Sen. Dianne Feinstein (D-CA)
Sen. Joel Anderson (R-CA)
Sen. Cathleen Galgiani (D-CA)
Sen. Jim Nielsen (R-CA)
The California Republican Party
The California Association of Highway Patrolmen
The California Police Chiefs Association
Opponents argue that the initiative for marijuana legalization will result in more impaired driving and increased black market activity. They say it will hurt underprivileged neighborhoods and would hurt small cannabis farmers in Northern California, potentially driving them out of business.
Those are the cases for and against the initiative for marijuana legalization.
And before making a decision, it's important to know exactly what the money from Prop 64 will fund...
Where Would the Money Go for Prop 64?
The two taxes from legalized recreational marijuana would be deposited into the California Marijuana Tax Fund.
The funds would be used to cover the costs of enforcing and administrating Prop 64.
After those costs were covered, it would then be used for drug treatment, research, and enforcement.
For 11 years, $10 million per year would go to public California universities to research the implementation and results from Prop 64. Also, $10 million per year, increasing by an additional $10 million per year until 2022, would go to grants for local health departments and nonprofit organizations supporting job placement, mental health treatment, and medical care for communities affected by past drug policies.
There would also be $3 million given annually for five years to the Department of California Highway Patrol for creating protocols to determine if a driver is impaired because of marijuana.
Finally, $2 million would be given per year to the UC San Diego Center for Medical Cannabis Tax Fund to study medical marijuana.
Remaining revenue would be distributed across three different programs. Of the revenue that's left over, 60% would go to youth programs for drug education and prevention services.
The rest of the money would go to preventing and alleviating environmental damages caused by illegal marijuana growers, as well as to programs designed to reduce driving under the influence of marijuana.
But California isn't the only state voting on marijuana laws on Nov. 8...
The Initiative to Legalize Marijuana in America Is Growing Rapidly...
On Nov. 8, as many as nine states will vote to legalize marijuana. The vote is expected to create one of the biggest wealth grabs in history, transforming everyday Americans into millionaires overnight.
As a service to Money Morning readers, we're now making available a 90-page cannabis investing guide called The Roadmap to Marijuana Millions.
This "bible of weed investing" reveals the world's top marijuana stocks every serious investor should consider right now.
Normally valued at $499, it can be yours absolutely free. To learn how to get your free copy, click here.
This offer is only available to the first 500 people who respond today. So please go here now to reserve your copy.
Follow Money Morning on Facebook and Twitter.