Last week, I received a call from one of my team members at Money Map Press - and it left me a bit confused.
He described to me a big corporation suffering from a massive DDoS attack (distributed denial-of-service), and then he went on and on about how some "white hat" hacker was called in to solve the problem.
Naturally, I figured he was talking about the major DDoS attack that - at that very moment - was taking down a lot of prominent U.S. websites, including Amazon, Twitter, Shopify, Spotify, and Github.
But he was just getting some of the important details wrong.
Why was he describing a single corporation being cyberattacked instead of dozens of websites? And how did he know so much about a particular individual being called in to handle it, right down to the guy's name (Elliot)?
Worse than that, he tried to tell me about how Elliot himself was also a target of this cyberattack...
I was getting concerned. Was my colleague suffering from some sort of paranoiac delusion?
That wasn't the case - thankfully.
Today I'll reveal to you what my colleague was talking about - and how it connects to today's huge DDoS attack.
And then I'll show you how this story "converges" with an ETF I tipped you off to a few weeks ago.
It may sound like some sort of conspiracy theory - but it's really a huge profit opportunity...
What "Mr. Robot" Gets Right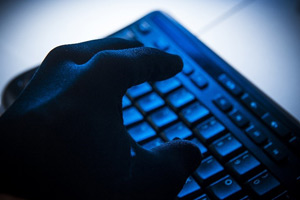 Many of you have probably already solved this puzzle - especially if you watch USA Network on Wednesday nights.
My buddy was talking about how he and his wife had just started watching the TV drama "Mr. Robot" on DVD.
Trending: Double Your Money as This Company Takes the Fight to America's Enemies
And because the show's plot matched up so perfectly with the morning's news, I got a bit confused.
Now, I've watched the first season of "Mr. Robot" already - and plan to catch up on the second season soon. And I'm impressed with how much it gets right about hacking (though not so much the tech business world).
For those who haven't seen it yet, here's a quick rundown...
By day, Elliot Alderson is a computer engineer/programmer - a "white hat" hacker - who safeguards the clients of his cybersecurity firm employer, Allsafe.
By night, however, Elliot's a bit different. He's a socially maladjusted morphine addict who hacks "bad guys" - like child-porn rings and cheating spouses - in order to get them arrested or just exposed.
That's the backstory. The plot is driven by Allsafe client E-Corp getting struck by that DDoS attack and Elliot getting called in. After that, a mysterious group of Coney Island-based hackers - the fsociety - enters.
From there, the plot gets pretty murky - but like I said, what I really like about "Mr. Robot" is what it gets right about the world of hacking.
It's mostly correct about the technical details of hacking (DDoS attacks are pretty esoteric and hard to explain - but the show does it well). It gets the jargon hackers use right. And it gets hackers' motivations right: Sure, most hackers do what they do to cause trouble or steal, but plenty of others use it as a coping mechanism... or as a form of "justice." It's justice I agree with, but a lot of these guys do have moral codes they stick to - and I have to give them that.
But most impressively, the creators of the show have proven themselves to be prescient about how the world of hacking intersects with the real world.
After all, they anticipated last week's massive DDoS attack.
And all the major retail and bank cyber thefts we've seen, along with the election-related hacks we're seeing right now, give "Mr. Robot's" producers plenty of material to work with.
Juniper Research recently estimated that the global cost of data breaches - hacks - will reach $2.1 trillion by 2019. That's nearly four times the estimated cost of cybercrime in 2015.
And Cybersecurity Ventures Worldwide recently predicted that cybersecurity spending, from 2017 to 2021, will top $1 trillion.
That reality is why we've moved into cybersecurity investing at Strategic Tech Investor.
So let's review our "play" on cybersecurity...
Join the conversation. Click here to jump to comments…
About the Author
Michael A. Robinson is a 36-year Silicon Valley veteran and one of the top tech and biotech financial analysts working today. That's because, as a consultant, senior adviser, and board member for Silicon Valley venture capital firms, Michael enjoys privileged access to pioneering CEOs, scientists, and high-profile players. And he brings this entire world of Silicon Valley "insiders" right to you...
He was one of five people involved in early meetings for the $160 billion "cloud" computing phenomenon.
He was there as Lee Iacocca and Roger Smith, the CEOs of Chrysler and GM, led the robotics revolution that saved the U.S. automotive industry.
As cyber-security was becoming a focus of national security, Michael was with Dave DeWalt, the CEO of McAfee, right before Intel acquired his company for $7.8 billion.
This all means the entire world is constantly seeking Michael's insight.
In addition to being a regular guest and panelist on CNBC and Fox Business, he is also a Pulitzer Prize-nominated writer and reporter. His first book Overdrawn: The Bailout of American Savings warned people about the coming financial collapse - years before the word "bailout" became a household word.
Silicon Valley defense publications vie for his analysis. He's worked for Defense Media Network and Signal Magazine, as well as The New York Times, American Enterprise, and The Wall Street Journal.
And even with decades of experience, Michael believes there has never been a moment in time quite like this.
Right now, medical breakthroughs that once took years to develop are moving at a record speed. And that means we are going to see highly lucrative biotech investment opportunities come in fast and furious.
To help you navigate the historic opportunity in biotech, Michael launched the Bio-Tech Profit Alliance.
His other publications include: Strategic Tech Investor, The Nova-X Report, Bio-Technology Profit Alliance and Nexus-9 Network.