There are seven upcoming IPOs this week, and they're expected to raise a total of $2.1 billion, according to Renaissance Capital, a manager of IPO-focused ETFs.
The seven companies with upcoming IPOs this week include a Chinese shipping company and a maker and marketer of golf equipment. Also on tap: two biotechnology companies and three technology firms.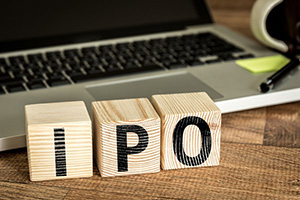 The largest upcoming IPO this week is ZTO Express's (NYSE: ZTO) proposed $1.3 billion U.S. offering. Shanghai-based ZTO Express is a premier Chinese express delivery and logistics company and has been in operation since 2002. Its sales for the year ended June 30, 2016, totaled $1.2 billion.
Special: This tiny stock could double its current price - and also save a dying industry. Click here to learn more...
ZTO's $1.3 billion will be raised by selling 72.1 million shares at a range of $16.50 to $18.50 per share.
Here's a look at the rest of this week's upcoming IPOs...
6 More Upcoming IPOs This Week
Massachusetts-based Acushnet Holdings (NYSE: GOLF) is coming to market this week with an IPO of $435 million. Acushnet manufactures and markets equipment for golf under a variety of brands, including the well-known Titleist.
Acushnet has been in operation since 1910. Its sales for the year ended June 30, 2016, equaled $1.5 billion.
GOLF will be offering 19.3 million shares in a $21 to $24 per share price range to raise $435 million. Although, 100% of the shares will be insider.
Several biotechs with promising treatments are also on the IPO calendar this week. The first is Myovant Sciences (NYSE: MYOV), with a $176 million IPO. Bermuda-based MYOV, a newly formed company, is engaged in creating an acquired therapy for endocrine disorders and in women's health.
MYOV is scheduled to raise $176 million via a 13 million share offering at $12 to $15 per share.
The other is venture capital-supported Ra Pharmaceuticals (Nasdaq: RARX), which develops small molecule therapies for rare blood immune disorders. It will be coming to market with a $75 million IPO. RARX is located in Cambridge, Mass.
The biotech began in 2008. Sales for the year ended June 30, 2016, were $7 million. Ra Pharmaceuticals is offering 5.8 million shares priced between $12 and $14 per share. Insiders will be purchasing $30 million of the offered shares.
Three tech companies have upcoming IPOs this week...
Woodland Hills, Calif.-based BlackLine (Nasdaq: BL) is in the market to raise $120 million. Its product is a cloud-based platform for automated quarterly financial reporting. The company reported sales of $102 million for the 12 months ended June 30, 2016. It was founded in 2001. BlackLine is backed by Silver Lake. BL financials indicate it has yet to reach profitability.
Quantenna Communications (Nasdaq: QTNA) will raise $101 million in its scheduled IPO this week. Fremont, Calif.-based QTNA manufactures and sells next-generation semiconductor chipsets for high-speed wireless networks.
Quantenna was founded in 2005. In the year ended June 26, 2016, its sales totaled $105 million.
The company plans to sell 6.7 million shares at a $14 to $16 price range.
Finally, Full Spectrum (Nasdaq: FMAX) is coming to market for $15 million. FMAX is a small telecom equipment company whose products are developed and sold to private cellular networks. FMAX is based in Sunnyvale, Calif.
The $15 million will be raised by issuance of 1.9 million shares at a price from $7.00 to $9.00 per share.
Up Next: Get the Best Investing Research Today to Grow Your Money
Follow  Money Morning on Facebook and Twitter.