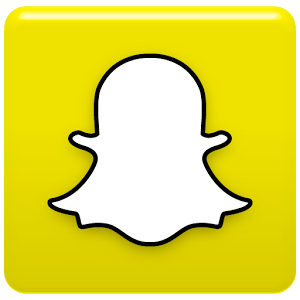 Investors are anxiously waiting to invest in Snapchat stock, as the Snapchat IPO could be the biggest IPO since Alibaba in 2014.
But before investing in any company, no matter how much hype surrounds the IPO, every investor needs to perform their due diligence.
That's why we are providing Money Morning readers with a Snapchat stock guide consisting of the most common questions we've received ahead of the Snapchat IPO date.
But we aren't just going to provide you details about Snapchat (now formally Snap Inc.). We are going to talk about whether or not Snapchat stock will be profitable.
Let's start with the most common Snapchat questions we receive...
How Does Snapchat Work?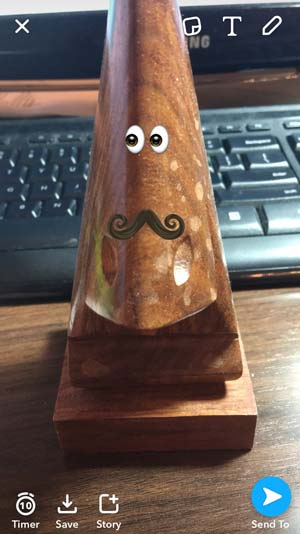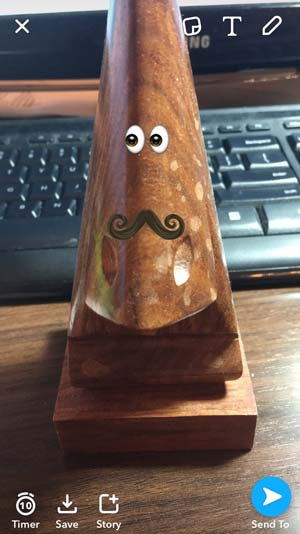 Snapchat is a mobile app that allows users to post videos and pictures of themselves. But instead of posting a plain video or picture, users can add captions and doodles.
Users can also add animations and images to the picture.
As an example, I used Snapchat's features to add eyes and a mustache to my Easter Island glasses holder. You can see that right here on the side.
Snapchat is also unique because after a picture is viewed, it will disappear after 10 seconds.
Pictures and videos on Facebook Inc. (Nasdaq: FB) are normally about what you have done, but Snapchat pictures and videos are focused on what you are currently doing.
It's supposed to be a representation of what is happening right now, and then disappears just like a real moment.
Snapchat users can also add pictures and videos as a "story," which can be viewed for 24 hours.
Now that you know how it works, here's the most important question for Snapchat stock investors: How does Snapchat make money?
How Does Snapchat Make Money?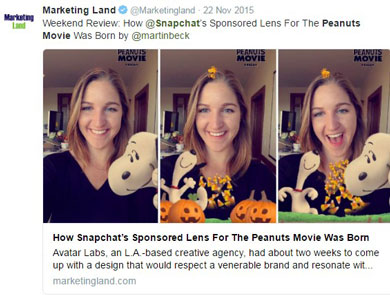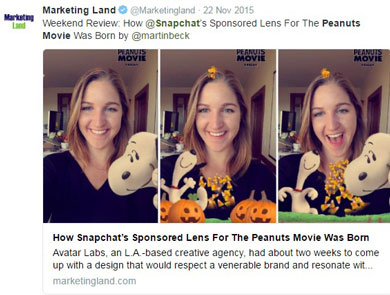 One of the ways Snapchat makes money is through its "Sponsored Lenses" feature, which was launched in October 2015.
The lenses feature allows users to customize a video or picture of themselves with different animated filters.
The first sponsor of lenses was 20th Century Fox. It allowed Snapchat users to take selfies with characters from "The Peanut Movie." Snapchat users could also add characters like Snoopy and Woodstock to their snaps.
According to eMarketer projections, branded lenses and geo filters (an ad-like invitation that allows users to know when and where an event will be held) could generate $102 million in revenue by 2016.
Those new features are great for Snapchat's growing revenue.
Special Report: Cannabis Is The Gold Rush of the 21st Century - 30 Stocks to Invest in Now. Read More...
But the most important revenue source for Snapchat stock owners will be advertising.
Companies can buy ad space on Snapchat, and Snapchat provides a lot of additional features for ads. The ad will appear in the context of other snaps, and the advertiser has the option to direct ad viewers to more of its content.
If the ad viewer swipes up on the ad to see more, advertisers can direct Snapchat users to articles, videos, app install ads, or a mobile website.
According to Snapchat, the swipe-up rate for its Snap Ads are five times higher than the average click-through rate on comparable platforms.
Revenue from video ads is expected to generate roughly $250 million in 2016 for Snapchat, according to eMarketer.
Aside from selling ad space, Snapchat will also have a physical product to sell.
On Sept. 23, Snapchat revealed a new product called "Spectacles." The Spectacles are sunglasses that record up to 10 seconds of video, and the video can be posted wirelessly to the Snapchat app.
There's no official release date for Spectacles. But according to The Wall Street Journal, it should be released this fall.
The glasses will retail at $129.99, but won't be a significant source of revenue right away. Spectacles, though, will give a Snapchat a unique edge over its competitors.
But because some of Snapchat's competitors offer similar services, investors can be confused if Snapchat owns or is owned by another company.
And one of the most common misconceptions is that Snapchat and Instagram are the same company...
Are Snapchat and Instagram the Same Company?
No, Instagram and Snapchat are not the same company, even though they have similar features.
Instagram was created by Kevin Systrom and Mike Krieger and launched in October 2010. Facebook purchased Instagram in April 2012 for $1 billion in cash and stock.
Snapchat was created by Evan Spiegel, Reggie Brown, and Booby Murphy when they were studying at Stanford.
According to TechCrunch, Brown said he wished the photos he was sending a girl would disappear. When Spiegel heard about the comment, he allegedly said it was a "million-dollar idea."
The trio began working on the idea in the spring of 2011 and called it "Picaboo." It launched in July 2011, but only had 127 users.
There was internal conflict between Brown and Spiegel, and Spiegel and Murphy removed him from the company. They renamed it Snapchat in the fall of 2011.
According to The Wall Street Journal, Spiegel received a $3 billion offer from Facebook in 2013.
Spiegel turned it down.
Before the imminent Snapchat IPO, I asked Money Moring Director of Tech & Venture Capital Research Michael A. Robinson if Facebook CEO Mark Zuckerberg would make another attempt at buying Snapchat.
"As regards to a possible Facebook purchase, I think it would actually be a great fit specifically because of the new glasses that I think would be a good hardware lineup when you throw in Oculus," Robinson told me.
"Same thing for Snap's TV plans. It's a great platform since millennials watch TV on their mobiles or laptops. Anything is possible in today's M&A market, but Facebook making an offer would be tough for Zuckerberg. He'd have to pay several times his earlier offer to induce the firm to change its mind, and I think Snap prefers to remain independent at this point, especially following the new glass and their plans for TV," Robinson said. Spiegel seems confident Snapchat could eventually be worth more than Zuckerberg's original offer.
But how much more?
If you plan on buying Snapchat stock, here's how much Snapchat could be worth before its IPO date...
How Much Is Snapchat Worth?
According to Bloomberg, Snapchat could be worth $25 billion.
But how can a company with just $3.1 million in revenue from 2014 be valued so highly?
The first reason is revenue growth. In 2015, Snapchat generated $59 million in revenue, according to Bloomberg estimates.
That's an increase of 1,803% in just one year.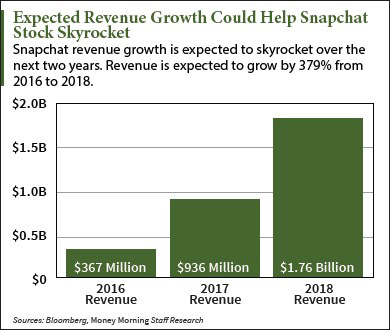 But Snapchat's projected revenue in 2018 is what really makes investors excited to buy Snapchat stock... By 2018, Bloomberg projects Snapchat will generate $1.76 billion in revenue.
The revenue growth rate is impressive. It took Twitter Inc. (NYSE: TWTR) nine years to generate $2.22 billion in revenue.
Snapchat could do it in six.
The second reason is that Snapchat would be priced similarly to Facebook in terms of its estimated revenue for the following 12 months before its IPO.
Facebook's shares were priced at 19 times its estimated revenue.
With a $25 billion valuation and projected revenue of $1 billion, Snapchat stock could be priced at 25 times its 2017 revenue.
For value investors, this will still seem like an overvalued company. But tech companies in general have high price/earnings ratios.
For example, Facebook has a P/E ratio of 61.59, Amazon.com Inc. (Nasdaq: AMZN) has a P/E ratio of 203.65, and Netflix Inc. (Nasdaq: NFLX) has a P/E of 367.88.
The third reason Snapchat could have a $25 billion valuation is Snapchat has one of the most sought after demographics on the internet for advertisers: teens and millennials.
According to Bloomberg, 70% of 18 to 24-year-old Americans with smartphones use Snapchat. There is also growth in the 25 to 34-year-old age range. Only 6% of 25 to 34-year-olds used Snapchat as of June 2013.
By June 2016, that number has climbed to 41%.
Well-known companies and products like BMW, Gatorade, T-Mobile, Sony Pictures, and Under Armour Inc. (NYSE: UA) have all advertised on Snapchat to reach younger demographics.
Snapchat currently has 235 million monthly active users (MAUs), and the average user is highly engaged with the app. Snapchat users spend nearly 10 minutes a day on the app, compared to Instagram's 6.4 minutes, according to equity investment company Cantor Fitzgerald.
As Snapchat continues to grow its MAUs, companies will spend more and more on advertising to reach them.
If the revenue growth rate has you interested in buying Snapchat stock, here's when you could potentially add it to your portfolio...
When Will Snapchat Go Public?
On Oct. 6, 2015, The Wall Street Journal reported Snap Inc. was preparing paperwork for an IPO.
The earliest Snapchat IPO date is reportedly March 2017.
If the Snapchat IPO does happen in 2017, it will be the biggest company to go public on a U.S. stock exchange since Alibaba Group Holding Ltd. (NYSE: BABA) in 2014.
But as WSJ reports, there is no guarantee there will be a Snapchat IPO in March, and it may not even happen in 2017.
Snapchat may also not receive a valuation of $25 billion by the time it goes public.
When Snapchat does go public, investors have been asking us what will be the symbol for Snapchat...
What Is the Snapchat Stock Symbol?
Right now, there is no Snapchat stock symbol.
There is a company with a related name called Snap-on Inc. (NYSE: SNA), but the "SNAP" symbol isn't publicly traded on a major index.
To keep its brand recognition, the company will most likely use SNAP or something closely related.
Once Snapchat does pick an IPO date and a stock symbol, our readers have been asking what will be the Snapchat stock price?
What Is the Snapchat Stock Price per Share?
The Snapchat stock price has not been set.
But there will be two different prices for Snapchat stock that our readers will need to be aware of...
The IPO offering price is the price wealthy investors and large institutions pay for shares of the IPO before it trades to the public.
For example, these wealthy individuals were able to buy shares of the tech company Twilio Inc. (NYSE: TWLO) for $15 before it was open to the public to invest on June 23. On June 23, the TWLO stock price opened at $23.99.
It closed on June 23 at $28.79 per share. That was a profit of 20% in a day for most retail investors. But the big investors who bought in at $15 netted a gain of 91% in just one day.
Don't Miss: The Top 10 IPOs to Watch in 2017...
And the losses are also much less for wealthy individuals...
TWLO traded at an all-time high of $70.96 on Sept. 28. The TWLO stock price opened at $45.39 on Oct. 18, which means investors would be down 36% in less than a month if they bought TWLO stock at its height.
But for the large investors who have just held on to their $15 TWLO shares, they are up 202%.
When you first see the price of the Snapchat stock, it will be the price available to wealthy individuals and institutions. The actual price per share for Snapchat stock on the morning it trades to the public will be different.
This leads us to the most importance question investors will ask themselves in 2017: "Should I buy Snapchat stock?"
Should I Buy Snapchat Stock?
[mmpazkzone name="in-story" network="9794" site="307044" id="137008" type="4"]
If you're asking if you should buy Snapchat stock, that depends on your personal investing goals and risk tolerance.
The tech sector is very volatile. For example, the Facebook stock price traded as low as $18.80 on Oct. 19, 2012, down 50% from its $38 IPO price.
Twitter is another good example of a volatile tech stock.
The Twitter stock price traded as high as $74.73 per share in December 2013. But investors who bought in at that price and are still holding on have a lost a lot of money.
From today's opening price of $17.25, Twitter stock has fallen 76% since that 2013 high.
And there's an additional problem with IPOs, even if they aren't in the tech industry...
You see, a new company has not yet earned your money. You're buying into the idea that revenue will grow and the stock price will climb, but the company may only have a few years of earnings or may not even be profitable yet.
There's simply less data to judge, which makes it difficult to evaluate the stock.
"I generally tell retail investors to avoid buying an IPO at the open because the insiders have already made all the money available at the debut," Robinson told me.
"My exception to this rule is to put in a limit order that is fairly tight from the offering price. Otherwise the risk is you buy at the top and then go upside down. That's a big risk to carry with a new issue that hasn't hit the lock up date," Robinson said.
Although, Robinson does feel that a successful Snapchat IPO would be great for the tech industry and the IPO market.
"Having said that, I'm hoping to see a very successful IPO since Snap Inc. is a high-profile unicorn with a pre-market valuation of $17.8 billion at its last round. So, if reports of a $25 billion valuation at the open are true, that's great for the entire tech industry, the IPO market, and the overall value of the social networking market," Robinson told me.
But there is a way to profit off of Snapchat as a short-term investment...
Because of the large amount of hype around IPOs, the prices can quickly skyrocket in the short term.
For example, Twitter opened at $48.10 per share on Nov. 13, 2013, its first day publicly traded. By December 2013, it had reached that all-time high price of $74.73. That's a 55% climb in roughly a month.
Alibaba stock also had a similar short-term rise. It opened to the public at $92.70 on Sept. 19, 2014, and climbed to $119.07 per share by Nov. 12, 2014. That's a 29% gain in roughly two months.
And the most recent example is Twilio. The Twilio stock price opened up at $23.99 on June 23 and climbed to $70.49 on Sept. 28. That's a 193% climb in three months.
Short-term investing, though, does have significant risks. You have to actively follow the stock each day, and you have to determine the best time to sell Snapchat stock. That means you do have to time the markets, and you could miss out on more profits if you sell before it peaks.
You may also hold on to the stock too long if you aren't actively watching it, and you will miss out on maximizing your profits or may not make any profits at all.
But there's no guarantee that Snapchat stock will climb just like the other stocks mentioned.
This is only a move recommended for investors who understand the consequences of Snapchat stock not quickly climbing and who can accept a fair amount of risk.
The Bottom Line: Investors are anxiously awaiting to invest in Snapchat stock. It could be the biggest IPO since Alibaba in 2014. But before rushing out to buy Snapchat stock, investors need to understand if Snapchat fits into their investment strategy. It could grow revenue by over 300% in the next two years, and it is heavily used by the teenage and millennial demographic. But tech companies are risky to invest in, and the company still has to prove that it's worth owning over the long term.
Editor's Note: The legal marijuana market is going ballistic. Right now marijuana stocks are on fire, with peak gains quadrupling in value. And these are mostly small companies trading for under $10. Click here to learn more...
Follow us on Twitter @moneymorning and like us on Facebook.