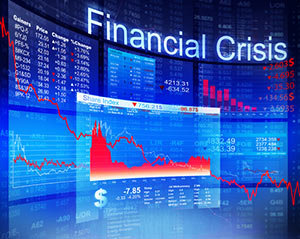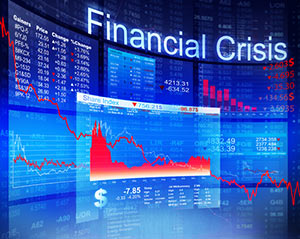 We found three major triggers that have the global economy on the edge of collapse, and that makes having a stock market crash investment plan a necessity for all investors.
It's not only important to safeguard your money in the event of a stock market crash, but smart investors can profit, too. Preparing a stock market crash investment plan will help achieve both goals.
Below, we'll explain how to create and execute a stock market crash investment plan in the event of an economic collapse.
But, first, how likely is a stock market crash? It's more likely than you think. These are the three major triggers that can cause the next crash…
Stock Market Crash Trigger No. 1: The Fed
The Fed has been keeping interest rates low, but that can change very soon.
The Federal Open Market Committee will meet twice more in 2016. It is expected to raise interest rates during one of these meetings, as 14 out of 17 Fed officials surveyed by The New York Times believe rates will be raised this year.
The FOMC decided to leave rates unchanged during its September meeting. But three members of the committee voted to raise rates, and the committee's report said "the case for an increase in the federal funds rate has strengthened."
Why is the interest rate such an important trigger for a 2016 stock market crash?
The sustained period of low rates and negative global rates has caused investors to buy stocks to find decent returns. This has fueled market climbs to unsustainable levels (we'll talk more about this below).
And even though the interest rate increases will be gradual, when the Fed made a slight increase last December, the S&P 500 lost 10% over the next month and a half.
As a result, when the Fed does decide to raise rates, stock market investors might decide to head for the exits all at once. This sort of mass exodus could lead to the next stock market crash.
So, even a gradual adjustment to the interest rate can trigger a stock market crash. However, without the next trigger, a Fed interest rate hike wouldn't be nearly as frightening…
Stock Market Crash Trigger No. 2: An Unsustainable Market
If the Fed's ability to trigger a stock market crash wasn't worrying enough, another major trigger is the unsustainably high market.
Two months ago, all three major stock indexes (the Dow Jones Industrial Average, the S&P 500, and the Nasdaq Composite) reached all-time highs on the same day.
The S&P 500 has lost a bit of steam since then, dropping around 2%, but we're still in a very long bull market. The current one began in 2009, and many analysts expect a correction soon. The Financial Times Magazine reports 51 economists it surveyed expect a 20% chance of recession within a year.
The chief reason to expect a correction is the current overvaluation of the major indexes.
One of the best ways to value stocks is to look at the price/earnings (P/E) ratio. The current P/E of the S&P 500 is approximately 25. The historical average of the S&P 500 is 15.62. That means the market is currently 60% above its historical valuation.
With the Fed set to raise interest rates and an unsustainably high market, there's already a lot pointing to a possible stock market crash. But there's more. An overall weak economy is our third trigger that can cause a stock market crash…
Stock Market Crash Trigger No. 3: A Weak Economy
Money Morning Capital Wave Strategist Shah Gilani explains the gross domestic product (GDP) of the U.S. economy shows it is currently very weak.
GDP rose only 1.2% in the second quarter. Not only was that a dismal showing by historical standards – the median GDP growth rate has been nearly 5% over the last two decades – but it followed an even weaker first-quarter increase of 0.8%.
And while the S&P 500 has steadily risen over the last five years, corporate growth has not been fueling the rise.
Corporations have been using share buybacks to boost their own stock prices. Since money has been cheap, thanks to the Fed, they've been borrowing money to do it. FactSet reports stock buybacks have risen more than 15% year over year. Corporate debt is currently at a 10-year high.
And remember, it is very likely that a rate hike is coming. Once rates go up, companies won't be able to easily borrow money to buy their own shares any longer and will still have to service their existing debt. When this happens, an economic crisis can follow.
Now that you know the triggers that can cause the next stock market crash, you need a plan to protect your money.
Our stock market crash investment plan led to double-digit gains during the 2008 financial crash, and you can profit during the next stock market crash, too…
Our Stock Market Crash Investment Plan Guide