If you've been following my new service, Zenith Trading Circle, you know that I apply a series of four very specialized Stress Tests to uncover toxic stocks.
Right now we're targeting a handful of the worst stocks in the world with trades designed to make money as these stocks inevitably collapse. (Subscribers, go here now to see how our trades are doing this week.)
But as I've sifted through all the garbage out in the equity markets, I've found several stocks that absolutely qualify as toxic, fail all my tests, but I cannot in good conscience recommend anyone put their money into trying to trade them.
Look, I'm convinced these stocks are going to fail, but for a variety of reasons, they don't meet my trading criteria (for instance, the stocks have already dropped too far, the options are too illiquid, or there are no options available).
However, one thing that we can all do is get far, far away from them.
If you own any one of these three firebombs, drop it now and back away slowly.
Here's why...
These Stocks Are Only Good Enough for the Trash Bin
First, my Stress Tests indicate that each one of these companies has about a 94.5% chance of bankruptcy in the near future.
Most of my tests are fairly self-explanatory, but for those who haven't yet subscribed to Zenith Trading Circle, I wanted to give you a brief look at the Z-Score (a bankruptcy predictor tool developed by NYU Stern Finance Professor Edward Altman). It's an equation that adds these calculations together to reach a final, low score of zero.
Get Our Best Wealth-Building Ideas: Money Morning's top 5 investment reports to grow your money like never before are right here - and they're absolutely free. Read more...
When a company's Z-score = zero, that stock is in trouble, big time. It can't generate a profit, it makes very few sales, its assets are declining in value, it has poor liquidity, and it relies very heavily on debt.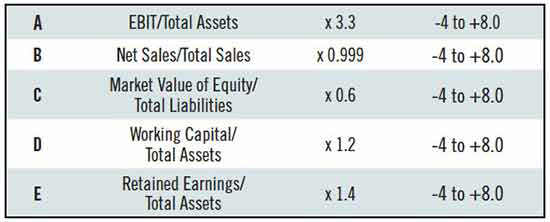 Keep in mind that this is just the first indicator I use to determine whether a stock is toxic. Next, I check to see whether it has a dangerous current ratio below 1, a foolish price-to-sales ratio (above 4), and a flatlining net income (less than 10% growth).
Now, here are the three "untradeable" stocks that I won't recommend actually trading (not enough volume, low share price, no options, etc.). However, I do recommend that you dump them as quickly as humanly possible...
Join the conversation. Click here to jump to comments…
About the Author
Prominent money manager. Has built  top-ranked credit and hedge funds, managed billions for institutional and high-net-worth clients. 29-year career.