I was excited to get news on Friday that the U.S. Department of Justice was breathing down the neck of ratings agency Moody's Corp. (NYSE: MCO). The two parties are "negotiating" over allegations of fraud relating to mortgage bonds that Moody's rated AAA from 2004 to 2007. As we all know, the bonds (and their sterling ratings) turned out to be beer-battered, deep-fried garbage in most cases.
Moody's shares had been coasting along near a 52-week high of $110, but they gapped down to $102.60 on the news and haven't come back since.
They're not likely to, either.
I'm thinking Moody's has a ways to go before it gets out of these woods, meaning its stock could sink a lot lower.
We'll all get the chance to make some money on this lemon, but first let me answer some burning questions about this company that I don't see anyone else asking, like why Loretta Lynch and the Justice Department picked now, of all times, to turn up at Moody's front door.
And the identity of the famous investor that stands to get a good burning on this news…
We Could Profit, but You Won't Believe Who'll Lose Here
It's late October of 2016. The financial crisis busted the dam almost eight years ago to the day. So it sure took a long time for the Justice Department to throw cold water on Moody's.
Why now?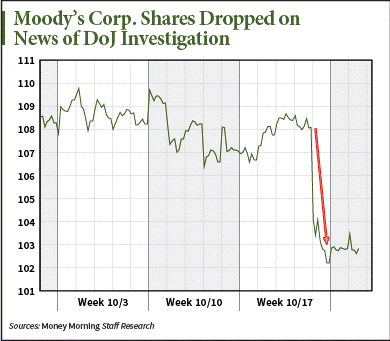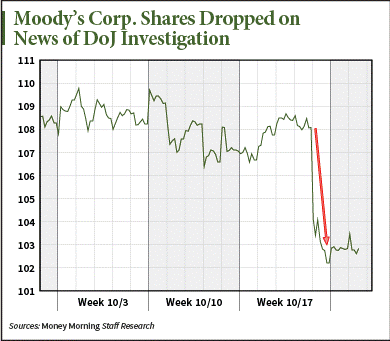 Well, for one thing, it's because Moody's stock was near record highs. That's a good position to be in if you're going to take a hit – as opposed to your shares getting slammed when they're weak and breaking through support.
So if it seems to you like the Justice Department behaved like good lapdogs, giving the company years to gussy up, build a $2 billion cash hoard, and come out with solid third-quarter earnings… you're right.
There's a reason for the Fed's kid-glove, mollycoddling treatment of this company: the "famous investor" I mentioned earlier…
I believe it's because Warren Buffett owns a nice, big chunk of Moody's.
There, I said it.
My apologies to all you Warren Buffett fans out there. I get that he's the Oracle of Omaha… and he has a great investing track record… and that he's old, and folksy, and drinks Cherry Coke, and comes from Nebraska, and says, "Aw shucks" a lot.
I get that.
I also get that, when it serves his positions and purposes, he's just as much a snake-in-the-grass as anyone else on Wall Street; there's no more "connected" crony capitalist investor in America than Buffett – and no better example of that than Buffett's Moody's stake.
Join the conversation. Click here to jump to comments…
About the Author
Shah Gilani boasts a financial pedigree unlike any other. He ran his first hedge fund in 1982 from his seat on the floor of the Chicago Board of Options Exchange. When options on the Standard & Poor's 100 began trading on March 11, 1983, Shah worked in "the pit" as a market maker.
The work he did laid the foundation for what would later become the VIX - to this day one of the most widely used indicators worldwide. After leaving Chicago to run the futures and options division of the British banking giant Lloyd's TSB, Shah moved up to Roosevelt & Cross Inc., an old-line New York boutique firm. There he originated and ran a packaged fixed-income trading desk, and established that company's "listed" and OTC trading desks.
Shah founded a second hedge fund in 1999, which he ran until 2003.
Shah's vast network of contacts includes the biggest players on Wall Street and in international finance. These contacts give him the real story - when others only get what the investment banks want them to see.
Today, as editor of Hyperdrive Portfolio, Shah presents his legion of subscribers with massive profit opportunities that result from paradigm shifts in the way we work, play, and live.
Shah is a frequent guest on CNBC, Forbes, and MarketWatch, and you can catch him every week on Fox Business's Varney & Co.