Here's everything you need to know ahead of the Amazon earnings report this week…
What Time Does Amazon Report Earnings?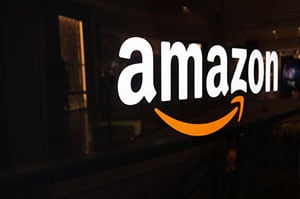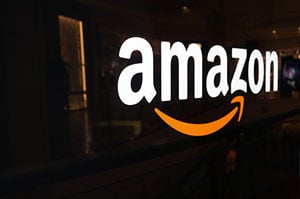 Amazon.com Inc. (Nasdaq: AMZN) is due to report third-quarter earnings results after market close on Oct. 27. Amazon's earnings call will be held at 5:30 p.m. ET.
Will Amazon Beat Earnings Expectations?  
Will Amazon beat earnings estimates once again? It's a good bet that they will.
Amazon has five straight quarters of profits – the company's longest period of profitability in four years, according to FactSet. Now few analysts expect to receive negative news on Thursday.
Wall Street predictions for the upcoming Amazon earnings report are a third-quarter EPS of $0.76, with revenue of approximately $32 billion. Let's compare that to the third quarter of 2015, where EPS was $0.17 on revenue of $25.4 billion. EPS growth here would be over 347% year over year.
Will the Amazon Stock Price Rise?
Amazon stock trades near record highs right now, with AMZN shares around $834. This puts the stock up over 23% year to date and 39% in the past year.
Analysts remain bullish on the company and continue to raise their AMZN price targets. Amazon stock is now rated as a "Buy" by 35 analysts.
Urgent: This micro-cap stock could help you double your money and save a dying industry at the same time…
JPMorgan analysts on Sept. 27 raised their price target for AMZN stock to $1,000 from $925. That's a 20% jump from where it trades now. Around the same time, analysts at the Maxim Group raised their Amazon stock price each time that this has happened so far, and Nasdaq has reported a share-price boost of over 3% in after-hours trading. So, provided this occurs on Oct. 27, we'll be looking at a new 52-week high for AMZN stock.
Amazon Earnings History
In the past, Amazon earnings reports weren't something to get overly excited about. The e-commerce giant was known for making promises that didn't deliver for investors, like its failed Fire Phone. Today, however, the company generates excitement among investors, and for good reason.
At July's earnings announcement, Amazon reported its fifth straight quarter of profits and a record profit for the company. In the second fiscal quarter of 2016, the company posted a profit of $857 million, with revenue of $30.1 billion. EPS was $1.78, which beat Wall Street expectations of $1.11 a share. Year over year, Amazon's profit was up a whopping 832%, with a 31% corresponding jump in sales.
Is Amazon Stock a Buy?
Amazon stock has strong long-term potential. The company has so many irons in the fire that it is destined to make both current and new investors substantial gains.
Amazon's subscription service, Amazon Prime, continues to be one its biggest moneymakers. In the second quarter of this year, Prime was the largest contributor to earnings, and this is expected to continue. Just this summer, Prime launched in India, and the service's streaming media segment is giving Netflix a run for its money, particularly now that Netflix has announced price hikes for its popular service.
Amazon also operates the world's largest cloud-computing infrastructure, which offers more than 70 different services that include such things as data management, storage, and analytics. Netflix remains one of its big-name clients. Amazon's AWS services now account for over half of its total operating income.
Don't forget Amazon's proprietary products. While its phone was an admitted bust, the company has had some astounding success with other digital products, like the Amazon Kindle, Fire Tablets, Fire TV, Fire TV Stick, and the new voice-controlled Amazon Echo product. And Amazon's second annual "Prime Day" this past July was the biggest sales day in the company's history. Sellers on Amazon saw orders triple from the year before, and Amazon saw its biggest day ever for sales of its Amazon devices.
Amazon Outlook in 2016 and Beyond