If you believe anything Goldman Sachs says, their latest report might have you worried.
Even if they're halfway right that earnings for S&P 500 companies could still be crimped all the way up to 2018, it'll be tougher than usual for most investors to profit.
I'm not worried at all, though - and you don't have to be, either.
The sector I'm going to show you how to target today has a proven record of dramatically outperforming broader markets. It outperforms in depressions, recessions, and in the "earnings contractions" like the one Goldman's forecasting.
It's such a powerful group of stocks, it's about to cap another decade of market dominance. And I still see plenty of upside for the "catchall" holding I've found for you today.
Thrashing Broader Markets Year After Year
It's not the best-kept secret in financial media, but the small-cap sector's about to notch another decade of dramatically outperforming the broader markets.
Profits from small caps over the last few decades have thrashed the major indices. The S&P 600 Small-Cap Index, for example, has returned more than 1,130% since 1990, almost double the 623% the S&P 500 has managed in the same time frame.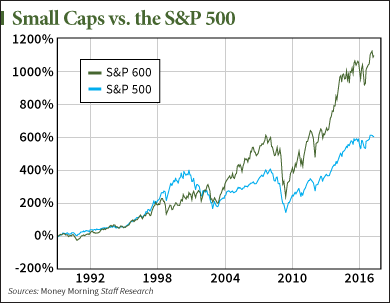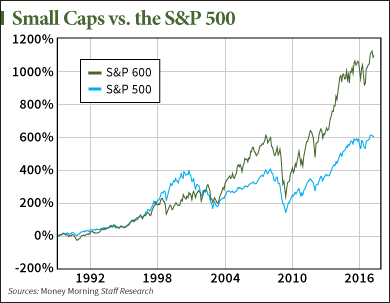 Over the last 10 years, the beat is 85% to 54%.
What about even more recently? Over the last 12 months, the S&P 600 Small-Cap Index has beaten the S&P 500 by more than two-to-one.
Twenty-seven years, 10 years, five years, one year... it doesn't matter. The small-cap sector is supreme when it comes to growing investors' money.
I've seen the numbers bear out in my own experience, too.
In fact, by focusing on this sector, I've helped readers double their money with four small-cap plays this year, and another one's at 96% as I write. Meanwhile, the S&P 500 is up just 4% for the year. I just love delivering those market beats to readers.
The point is that the small-cap sector abounds with profit potential - if you know where to look and how to scrutinize opportunities.
And the great news is, there's an easy way to capture a lot of the sector's upside, without devoting hour after hour of research into little-known companies.
Even better, you don't have to be obsessed (like me) to capture a good amount of profit in this sector and beat the broader markets, too.
Join the conversation. Click here to jump to comments…
About the Author
Sid is the investment community's best-kept secret. Since 2009, he's served at Money Map Press as Director of Research, analyzing thousands of securities and profit opportunities for subscribers. He's an expert in identifying "alpha" potential in a wide variety of industries, but especially the small-cap sector, where he's discovered a pattern of profits that's almost foolproof.