Last weekend, Donald Trump's presidential campaign put out a 312-word press release.
In it, Trump economic advisor Peter Navarro says that major media organizations are becoming Standard Oil-style "trusts." Further, Navarro says that Trump would "break up the new media conglomerate oligopolies that have gained enormous control over our information, intrude into our personal lives, and in this election, are attempting to unduly influence America's political process."
Trump sent out this message as a response to AT&T Inc. (NYSE: T) announcing plans to buy Time Warner Inc. (NYSE: TWX) for more than $85 billion. He doesn't like that deal much.
"AT&T, the original and abusive 'Ma Bell' telephone monopoly, is now trying to buy Time Warner," Navarro wrote. "Donald Trump would never approve such a deal because it concentrates too much power in the hands of the too and powerful few."
It's a somewhat surprising anti-business stance, as it puts Trump in company with the likes of U.S. Sen. Bernie Sanders.
But that's where we find ourselves this year…
Whether you're in favor of the AT&T merger or not, I know you're looking at it as a possible profit opportunity. You're a tech investor – that's how you think.
I want you to stop right there.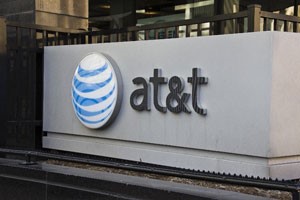 M&A deals like the proposed AT&T-Time Warner merger can help these companies beat their competition – and boost their share prices.
That's obviously good news for investors – if they're already "in." However, you're likely not "in" this one.
But I have a "workaround" around this problem. It will help you boost your earnings via tech sector M&A… and you won't have to get "in" early.
Take a look…
Content + Platforms = a 19% Jump
Pending regulatory approval, the AT&T-Time Warner merger would be one of the largest media mergers of all time. But it's also a marriage between two very different companies…
Time Warner creates content: HBO, Warner Bros. film studios, CNN, TBS, and TNT. It also owns DC Entertainment (home to Batman and Superman) and has a 10% stake in the Hulu streaming subscription service.
AT&T, besides still handling local and long-distance phone service for millions of landline customers, provides platforms (wireless, phone, cable) on which consumers can access such content.
It's a move that makes sense, especially in the world of streaming video, the preferred content platform by mobile users nationwide: a content company pairing with a mobile distribution network.
Tech Profits: Double Your Money as This Company Takes the Fight to America's Enemies
Despite concerns about the deal from lawmakers and consumer advocates, investors liked the deal – sending Time Warner shares up 19% following the merger's announcement.
That would have been nice…
But it's extremely difficult to predict such deals and time your "Buys" to take advantage of them.
Who knows what company is going to buy what when? Not I – not all the time… and I spend my days studying this stuff.
But there is a way to get in on such M&A deals – the next time one comes around – without any guesswork at all…
Join the conversation. Click here to jump to comments…
About the Author
Michael A. Robinson is one of the top financial analysts working today. His book "Overdrawn: The Bailout of American Savings" was a prescient look at the anatomy of the nation's S&L crisis, long before the word "bailout" became part of our daily lexicon. He's a Pulitzer Prize-nominated writer and reporter, lauded by the Columbia Journalism Review for his aggressive style. His 30-year track record as a leading tech analyst has garnered him rave reviews, too. Today he is the editor of the monthly tech investing newsletter Nova-X Report as well as Radical Technology Profits, where he covers truly radical technologies – ones that have the power to sweep across the globe and change the very fabric of our lives – and profit opportunities they give rise to. He also explores "what's next" in the tech investing world at Strategic Tech Investor.