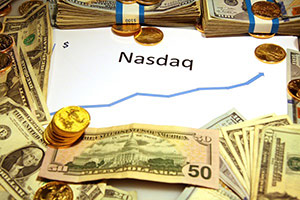 The Nasdaq is up about 5.9% this year to 5,305. It hit a high of 5,340 in September as top Nasdaq stocks drove the index higher.
These Nasdaq highs come from tech stocks having a strong year. This is great for investors following Money Morning as we love tech stocks and have them among our "stocks to buy" running list.
Take a look at these top Nasdaq stocks as you look at what to buy…
Top Nasdaq Stocks of 2016 No. 1
The No. 1 stock on our list is a top pick of Michael A. Robinson, Money Morning's Director of Tech & Venture Capital. It's Facebook Inc. (Nasdaq: FB). FB stock is expected to rise to $250 per share by 2020 on the strength of Instagram, Messenger/WhatsApp, and its virtual reality product Oculus Rift. Virtual reality is expected to grow exponentially over the next decade. FB's current price per share is $133, and our nearly double FB stock price prediction could be reached in just three-and-a-half years.
Top Nasdaq Stocks of 2016 No. 2
Apple Inc. (Nasdaq: AAPL) is another Money Morning top pick trading on the Nasdaq. Chief Investment Strategist Keith Fitz-Gerald said the AAPL share price could hit $200 by 2020, a 70% increase from the current share price of $117. Apple also has a nice dividend yield of 1.94%. Apple isn't resting on its iPhone laurels. It is moving in a major way into services, which are expected to constitute 29% of its profits in four years, versus 15% now.
Top Nasdaq Stocks of 2016 No. 3
Amazon.com Inc. (Nasdaq: AMZN) will report earnings on Oct. 27. It is expected to see EPS growth on the basis of its retail sales. AMZN is branching out as a retailer as well. It plans to institute small physical stores that can deliver groceries. AMZN is a top pick of many investment firms; Cantor Fitzgerald has a target price of $1,000 per share. The shares currently sell at $834, near one-year highs.
SPECIAL: Millions could make a fortune on these 30 pot stocks come Nov. 8.
Top Nasdaq Stocks of 2016 No. 4
Microsoft Inc. (Nasdaq: MSFT) is another tech titan with a nice dividend, currently 2.56%. Its move into cloud computing is expected to drive earnings going forward. In the July quarter, EPS beat handily, at $0.69 versus expectations of $0.58 and year-prior results of $0.62. Microsoft stock trades around $61 per share today.
Top Nasdaq Stocks of 2016 No. 5
Alphabet Inc. (Nasdaq: GOOGL) is a top Nasdaq stock pick based on the company's mobile and cloud presence and potential, which are expected to drive robust earnings. In the July quarter, EPS came in at a hefty $8.42, well above the $8.03 consensus estimate. Revenue increased a healthy 21% from year-prior levels, over the forecast $16.9 billion. GOOGL currently trades at $835.
Top Nasdaq Stocks of 2016 No. 6
When you think Qualcomm Inc. (Nasdaq: QCOM), think semiconductors and the Internet of Things (IoT). Semiconductors are needed to inform the IoT devices that will drive our cars, stock our kitchens, and give feedback about our health. QCOM, a leading chipmaker for the IoT, will benefit. Its price target is $80, a more than 19% increase from the current $67 level. Qualcomm is also an excellent dividend payer, with a 3.12% current yield.
Top Nasdaq Stocks of 2016 No. 7