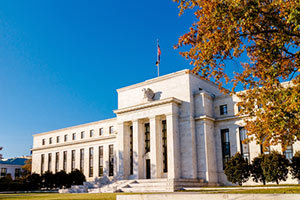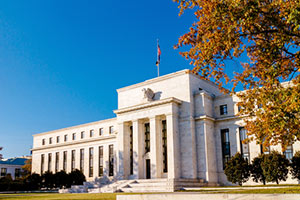 When is the next FOMC meeting?
It starts on Tuesday, Nov. 1, and will conclude on Tuesday, Nov. 2. Following that, the next FOMC meeting will be held on Dec. 13 and Dec. 14.
These two FOMC meetings will be extremely important. The FOMC will be looking at economic indicators from across the nation. If they decide the economy is robust, they may decide to raise rates to affect inflation. If the economy looks weak, it may lower rates to stimulate the economy and make it easier for businesses to borrow and expand. Or it may decide that rates should remain the same.
The Fed watches the economy with an eye to neither overheating it nor sinking it. An abrupt rise in rates can set markets back. In December 2015, the Fed hiked rates a minimal 0.25%, and the markets fell 10% in the ensuing two months.
Of course, other factors affected the markets in addition to the Fed. But rising rates often pull markets back.
Up Next: Our Newest Gold Price Prediction Indicates Triple-Digit Returns by 2020
The November and December FOMC meetings are the last of the FOMC's approximately eight regular meetings annually.
When Is the Next FOMC Meeting – and What Will Be Done There?
Now that we've answered when the next meeting is, it's on to the next large question.
What will the next FOMC meeting do to rates? Currently, consensus does not indicate a high chance of rates going anywhere.
The CME Group's FedWatch Tool indicates just over a 19% chance of rates being raised in November. In the December FOMC meeting, CME FedWatch says there is a more than 64% chance of a rate hike.
Since we are already at historically low rates, there is almost no chance they'll be lowered.
Global Issues in Focus at Next FOMC Meeting
U.S. interest rates are at historically low levels and have been that way for some time. The reason is the economy. The Fed fears that raising rates in a stagnant economy will plunge that economy into even worse trouble.
Their current economic fears center around global economies. There are three primary concerns: 1) weak global economies; 2) volatility in stock markets worldwide; and 3) Brexit's impact on world economies.
While the United States has low interest rates, several countries in Western Europe have interest rates at 0% or under. Negative interest rates are designed to stimulate weak economies. GDPs both in the U.S. and Europe are low. The Chinese economy, once a powerhouse, is slowing. Its 5% growth rate looks impressive compared to the U.S. and Western Europe, but it is less than in years past, and there is concern that the rate is slowing more.
Currently, U.S. major stock averages are making new highs. However, there is a risk of volatility going forward. Markets hate uncertainty, and right now there is a great deal of it. The global economy is one issue. The second is the U.S. presidential election.
Finally, global stock markets were hit very hard by the news that the United Kingdom had voted to end its decades-long membership in the European Union (EU). They've recovered, but volatility still remains a danger because of lackluster economies and global uncertainty.
Money Morning will continue following the Federal Reserve's actions following the next FOMC meeting. Stay tuned for frequent updates.
Editor's Note: We've found a special profit opportunity for investors, but there are only a few days left to get all the details…
Follow Money Morning on Facebook and Twitter.