With the exception of Wells Fargo (for obvious reasons) and basket case Deutsche Bank, earnings for the "big banks" have actually been pretty good this quarter.
But they've got a much bigger problem right now. According to New York Fed economists, large banks have over $140 billion invested in bad energy loans stemming from the oil crash. And they could be facing astronomical losses.
So it seems as though it's only a matter of time before the banks go to Hades in a handbasket - and take the rest of the stock market with them.
Now there's a camp of people who will tell you about a new "cash alternative" that's the best safe haven for your money.
It hasn't been fully embraced (yet), but it's already being called the "new world currency."
In the past 12 months alone, its transaction volume has increased by 110%.
It's got the potential to become an $8.2 trillion industry.
But before you ditch your gold bars...
You'll want to read this first.
Why Bitcoin Is Inching Closer to Becoming Your Financial "Safe Haven" - but It's Not There Yet
Back in November 2008, an anonymous cryptographer going by the pseudonym Satoshi Nakamoto created the first digital currency, or cryptocurrency, called Bitcoin. It's traded on digital exchanges such as Bitstamp. Now, it's not an actual coin or anything that you can physically touch - think of it as a digital asset that's found within a peer-to-peer (P2P) computer networking payment system.
Don't Miss: Why the First Bitcoin ETF Could Double the Price of Bitcoin
Users of this network are called "nodes," and they verify Bitcoin transactions by solving complex computer algorithms. Once verified, these transactions are recorded on a public ledger called a "blockchain," which is basically a virtual wallet. But there's no one true central authority overseeing these transactions. And at the moment, there aren't any government controls backing this digital currency, either.
Now, there are a lot of people out there who believe that Bitcoin could very well replace the U.S. dollar by 2031 - that's just 15 years away. I won't go so far as to say that Bitcoin is a "safe haven" for your money right now. But I do strongly believe that the technology behind the blockchain could be the reason a new global currency eventually replaces the U.S. dollar.
When the first Bitcoin transaction was placed on Jan. 12, 2009, its valuation was just pennies on the dollar. But in 2013, after the financial crisis in Cyprus exploded (and resulted in a shutdown of their banks and ATMs), many people within that region turned to Bitcoin. In fact, the buying volume was so massive - its price skyrocketed to over $260 per bitcoin. And by November 2013, it had increased by over 377%, peaking at $1,242 per bitcoin.
You can look at Brexit as another powerful example of the growing demand for this "digital gold."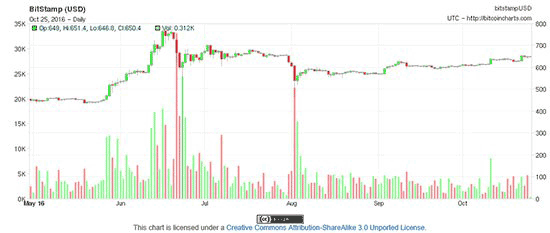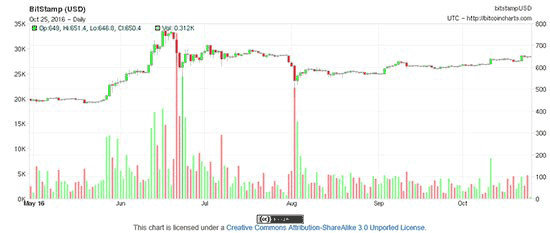 At the time of the referendum (in June 2016), but when all bets were on staying in the UK, Bitcoin dropped from $1,242 to roughly $585. However, as soon as the shocking results came in, Bitcoin shot back up to nearly $700, with its new lows around $585.
Remember, while Bitcoin was soaring, the British pound and the stock market were taking a beating (and the pound still is). That's just one of the many reasons Bitcoin's been deemed "digital gold" and the new "safe haven" for your money.
Currently, it's trading at around $651. So the way I see it, if Bitcoin isn't valuable at all, it wouldn't be trading actively like it is.
Mining for "BitGold"
Join the conversation. Click here to jump to comments…
About the Author
Tom Gentile, options trading specialist for Money Map Press, is widely known as America's No. 1 Pattern Trader thanks to his nearly 30 years of experience spotting lucrative patterns in options trading. Tom has taught over 300,000 traders his option trading secrets in a variety of settings, including seminars and workshops. He's also a bestselling author of eight books and training courses.