Our readers are anxiously waiting to invest in Uber stock, as the ride-hailing service is one of the most highly-anticipated IPOs of 2019.
That's why we've made a guide for the Uber IPO date that answers the most common questions investors have about Uber stock.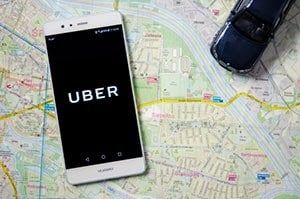 We'll provide you with everything you need to know about Uber, as well as advice from Money Morning Defense and Tech Specialist Michael A. Robinson about investing in IPOs.
Let's start with the most common question we receive about Uber...
How Does Uber Work?
In terms of transportation, Uber operates like a taxi service. Drivers pick people up who need a ride.
Where Uber differs from other transportation services, though, is that Uber classifies itself as a technology platform. Instead of calling Uber for a ride, everything is done through its app on smartphones.
Also, Uber does not own any vehicles, and its drivers are independent contractors.
THREE STOCKS: Any one of these cannabis companies could potentially deliver a 1,000% windfall. Click here to learn more...
When you first use the Uber app, it asks where you want to be picked up. Then, the user selects their destination. An Uber driver will see someone in their area has requested a ride, and if they are available, they can accept your request.
Before the ride begins, users can estimate how much the ride will cost on Uber's website through its fare estimator.
The app will notify you how far away your Uber driver is, and provide the name of the driver, vehicle type, and license plate.
When the ride is over, the transaction is complete. The cost of the ride is charged to the payment method selected by the rider for their Uber account.
The app will then ask you to rate your driver from one to five stars. Drivers will also be asked to rate the riders, so Uber can use the feedback to monitor and improve its services.
On every trip, Uber makes a 20% commission. Drivers keep the rest, but have to pay for tolls, gas, and maintenance for their vehicles.
That's how Uber works.
But who founded Uber and how did they come up with the idea?
Who Is the Founder of Uber?
Uber was founded in 2009 by Garrett Camp and Travis Kalanick. It was originally called UberCab.
But this was not the first tech endeavor for these founders.
Camp co-founded StumbleUpon, a web search engine for content, in 2002. EBay Inc. (Nasdaq: EBAY) purchased StumbleUpon in 2007 for $75 million, but Camp and other investors bought back the company in 2009.
Kalanick created Red Swoosh in 2001, a peer-to-peer file-sharing company. Red Swoosh allowed users to transfer and share large files like videos and music.
It was acquired for $19 million in 2007.
According to its website, the idea for Uber was formed on a snowy evening in Paris in 2008.
Camp and Kalanick had difficulty getting a ride, and they wanted to create a way for people to just tap a button and hail a ride.
However, Kalanick resigned due to a series of scandals and Dara Khosrowshahi replaced him as the new CEO of Uber in September 2017.
Mixing technology with transportation service has clearly been effective.
But Uber's not the only ride-hailing app in the marketplace.
And this competition could weigh down the Uber stock price...
Who Are Uber's Competitors?
Right now, Uber's main competitor in the United States is Lyft.
Lyft launched in 2012, and its drivers are known for the signature pink mustache on the front of their dashboard.
Just like Uber, Lyft users use a smartphone app to request a ride. Rates vary by city, type of ride, and the current demand for rides.
According to Zacks, Lyft is available in roughly 220 cities nationwide.
Lyft has a smaller valuation ($5.5 billion) than Uber ($66 billion, but more on that later) as of January, but it has major backers.
In January 2016, General Motors Co. (NYSE: GM) announced it would invest $500 million in Lyft. Saudi Prince Al-Waleed invested $104.9 million in Lyft in December 2015, and Alibaba Group Holding Ltd. (NYSE:BABA) also invested in Lyft for an undisclosed amount back in 2014.
In foreign markets, Uber's biggest competitor was Didi Chuxing.
Didi Dache and Kuaidi Dache, formerly China's two biggest ride-hailing services, merged in 2015 to form Didi Chuxing. According to Zacks, the recently formed entity has 87% of the market share in China for hailing private vehicles.
Uber tried to compete in China, but the 45 cities it was available in was no match for Didi Chuxing's operations in over 400 cities.
According to The New York Times, Uber spent billions of dollars from 2014 to 2016 trying to attract more drivers by paying subsidies.
Ultimately, Uber couldn't afford the spending race. In August 2016, Uber announced it was selling its brand, business, and data to Didi Chuxing, according to Bloomberg. In return, Didi agreed to invest $1 billion in Uber's global company.
It's important that Uber shareholders understand the marketplace is competitive, and that could affect the profitability of Uber.
But as Uber continues to grow, when will it finally decide to go public?
When Will Uber Go Public?
Uber confidentially filed its IPO documents on Dec. 7, 2018,
Must Read: The Top 5G Stocks to Buy in 2019
That indicates the company plans to go public in 2019, but nothing is guaranteed.
Lyft is aiming for a March or April 2019 IPO date, and that could affect the success of the Uber IPO. Retail investors may be more interested in buying Lyft stock, as the company has not had the scandals Uber has.
That means there could be less demand for Uber stock, which could affect how Uber stock is priced.
Also, if the brass at Uber are worried about a recession or a slowing of consumer spending, they may wait to go public.
They want to make sure they can bring in as much money as possible from the IPO to repay early investors and expand their business.
And that leads us to one of the biggest questions investors have about Uber...
How Much Is Uber Worth?
As of December 2017, Uber has a valuation of $72 billion, according to CNBC.
So why is Uber valued at $72 billion?
The biggest reason is Uber's rapid revenue growth.
In 2014, Uber recorded $2.93 billion in bookings. Just in Q2 2016, Uber generated $5 billion in bookings. That's a 70% increase from its full-year figure in 2014.
And net revenue has also skyrocketed.
For all of 2014, Uber recorded $495.3 million in revenue. For Q2, revenue was $1.1 billion. That's an increase of 122% from its full-year figure in 2014.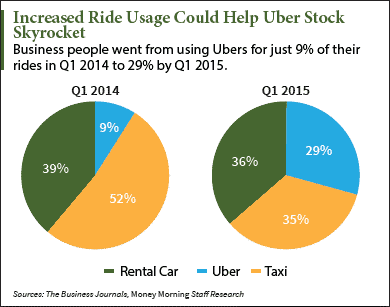 And Uber is clearly not a passing trend...
According to data from cloud-based travel and expense report management system Certify, total paid car rides for business people exponentially increased from Q1 2014 to Q1 2015.
Only 9% of business people used an Uber when seeking a ride in Q1 2014, but that number jumped to 29% in Q1 2015.
Because Uber is still growing, it's spending a lot of money to attract more drivers and customers. But as its presence grows, it can cut down on marketing expenses.
So when Uber does go public, what is the stock symbol investors can expect to buy Uber under?
What Is the Uber Stock Symbol?
Right now, Uber does not have a stock symbol.
There is an ETF that trades under UBR called ProShares Ultra MSCI Brazil Capped (NYSE Arca: UBR), so Uber will be unable to use that stock symbol.
To make the stock symbol easily identifiable, Uber will most likely use UBER or something closely related.
Once the Uber stock symbol is revealed, investors will race out to try and buy Uber stock.
Here is how you can buy Uber stock...
How Do I Buy Uber Stock?
Unfortunately, retail investors will not be able to purchase Uber stock at the same price as large investors and institutions.
You see, there will be two prices on the day of the Uber stock debut. The first price is the IPO offering price only large institutions and wealthy investors can invest in before Uber stock is traded to the public.
2019 IPOs: Your Definitive Guide and How to Profit
In 2016, wealthy investors were able to purchase shares of the tech company Twilio Inc. (NYSE: TWLO) for $15 per share before retail investors could purchase TWLO stock.
When TWLO stock was available to retail investors on June 23, 2016, it opened at $23.99 per share.
If you want to buy Uber stock, you will have to use a broker or an online trading platform to buy shares on the day of the Uber IPO.
But it will likely be at a higher opening price than the "IPO price" that's offered to institutional investors.
This leads us to the most important question investors will ask themselves when the Uber IPO date is announced: "Should I buy Uber stock?"
Should I Buy Uber Stock?