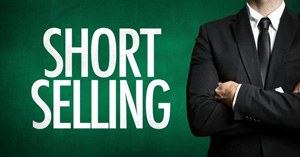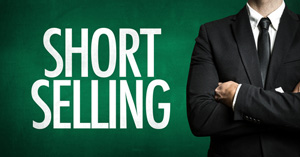 Many investors focus primarily on buying the best stocks. While this is a good investing strategy, it ignores other ways to capture profit from the markets.
For example, quick double-digit profits could be on the table with these three stocks to short now, as identified by Money Morning Chief Investment Strategist Keith Fitz-Gerald.
Fitz-Gerald has more than 30 years of experience as a market analyst and professional trader. And he's known for making money from stocks whether they're going up or down. That's why he's able to turn three of the "worst" stocks on the market into great profit opportunities for readers.
Before we look at Fitz-Gerald's three favorite stocks to short now, here's a quick primer on shorting stocks…
How to Short Stocks
When shorting, you're betting on a stock going down. The process involves "borrowing shares" of a stock from your broker and selling them. You then use the proceeds you made from selling your borrowed shares to repurchase shares of the stock at a lower price (if it goes down in price). This is called a cover. Your profit potential is based on the difference between the price you originally borrowed and sold the shares at and the price you rebought the same amount of shares at.
Here's an example: If Tom thinks stock X is going to plummet, he would check to see if shares of stock X are available for shorting. The broker would then check his inventory to process Tom's request.
If the broker gives Tom the green light, Tom would sell, say, 100 shares of Stock X at $100. He now has $10,000 in proceeds. That money is deposited straight into his account.
Let's say that two months later, the price of stock X has fallen by 30%. Tom decides to buy shares back to "cover" the trade. He takes some of his initial $10,000 and buys 100 shares of stock X at $70 per share. The difference between what he paid initially ($10,000) and the cost of his cover ($7,000) yields his profit. Tom just made $3,000 that's his to keep, while his broker gets back 100 shares of stock X for his inventory. Everyone's happy.
As a reminder, before you short anything, you'll need approval from your broker. That's because shorting entails a substantial amount of risk for both you and your broker.
For instance, if stock X had risen in price from its initial $100 per share and you were betting on it going down, you'd have to make up the losses from your short by paying your broker.
You can short a stock for as long as you want, but interest will be charged to you. So keeping a short sale open for an extended period of time will cost more to you.
"Obviously, going against the grain isn't for everybody – it takes a lot of guts and more than a little conviction to do it profitably," Fitz-Gerald said. "Not to mention a healthy dose of discipline."
But when it's done right, shorting stocks can add a sizeable boost to your portfolio returns.
"Best of all," Fitz-Gerald said, "you'll never have to fear a market correction ever again!"
As we mentioned earlier, Fitz-Gerald has three stocks that he sees as major short prospects.
Let's take a look at them now…