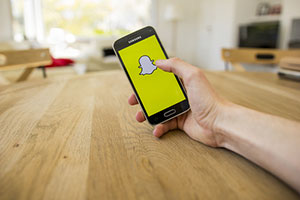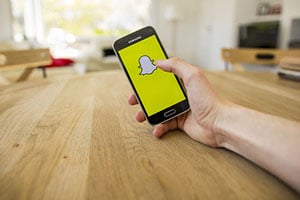 Before its reported March IPO, Money Morning wants to make sure our readers are caught up each week on the most important Snapchat stock update.
And there's a big product launch for Snap Inc. this fall. In fact, it could be worth billions of dollars.
Here's what you need to know...
Snapchat Spectacles Release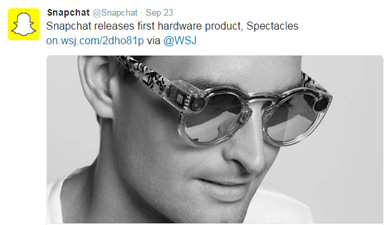 On Sept. 23, Snap released its first hardware product, "Snapchat Spectacles." And this could end up being a major catalyst for Snapchat stock.
According to The Wall Street Journal, the sunglasses will have a button you can tap to take 10-second videos.
CEO Evan Spiegel believes the images recorded on Spectacles are fundamentally different than regular smartphone cameras, according to WSJ.
He says Spectacles' camera uses a 115-degree-angle lens, which is wider than a typical smartphone camera.
He also noted the video will appear more like direct human vision.
Having a camera on the glasses will also free up users' hands, allowing them to capture a moment more easily. Users can shoot videos of more natural first-person viewpoints like when they are at concerts.
The videos will sync wirelessly to a smartphone, which will be a huge selling point.
The glasses will come in three different colors (black, teal, and coral) and will retail for $129.99. According to CNET, the glasses will charge in their case.
There is no set release date for Spectacles, but they will launch in the fall, according to WSJ.
While it's true other first-person camera products have struggled, like GoPro Inc. (Nasdaq: GPRO) and Google Glass from Alphabet Inc. (Nasdaq: GOOGL), Snap seems to have learned from their mistakes.
Unlike the original GoPros, Snapchat will make loading videos seamless. Spectacle owners will not have to have a memory card, put it in their computer, wait for the video to download, and then finally be able to post it.
They can just click a button and upload the video to their Snapchat account.
Don't Miss: A Special Profit Opportunity with Only Days Left to Get the Details
And unlike Google Glass, Spectacles have a more appealing, every-day look. Google Glass was criticized for having a too futuristic design that wasn't enticing to wear on a daily basis.
Google also doesn't have a social media outlet as in demand for sharing pictures and videos as Snapchat.
But why exactly are $129 glasses an important Snapchat stock update? More importantly, how can Spectacles generate billions of dollars for Snapchat?
You see, Snapchat could use Spectacles to enter two growing markets. And it allows Snap to become more than just a social media company.
Here's everything you need to know about how Snapchat can make billions from these emerging sectors...
Snapchat Stock Update: Why Spectacles Is a Billion-Dollar Idea
Snapchat Spectacles may just be a quirky accessory now, but introducing the glasses is a very strategic move that shows forward thinking. And it will allow Snapchat to be more than just a social media company.
By making hardware, Snapchat is moving into the wearable technology field.
And as you can see from the chart, wearable technology is expected to generate billions in revenue over the next several years.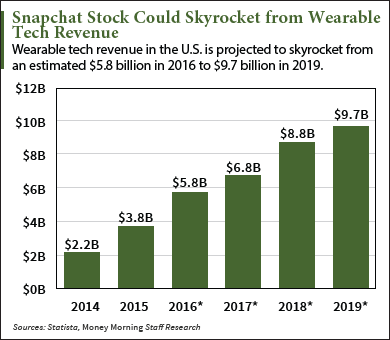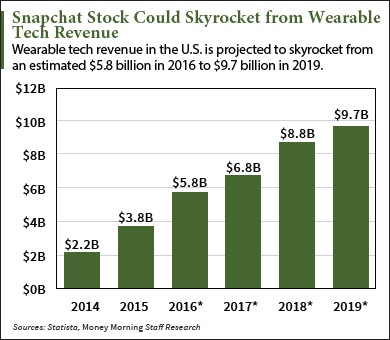 Research site Statista projects that in the United States alone, wearable revenue will reach $9.7 billion by 2019.
That's a potential increase of 67% from the $5.8 billion projected for 2016.
And according to Business Insider, Snapchat has been on a hiring spree in 2016 to recruit some of the best workers from the field.
In May, Dan Stein, a lead recruiter for Google's wearable technology efforts, joined Snapchat as a recruiter for "Special Initiatives." Snapchat also hired two hardware specialists from GoPro.
And the hiring won't stop there...
According to its website, Snapchat has a job opening for a 3D Designer.
This could mean Snapchat wants to expand its glasses for use in augmented reality (AR) and virtual reality (VR).
Under the "What we're looking for" section, Snapchat says a job candidate should have a solid understanding of low poly modeling. That term makes an important revelation. It's highly technical, but all that investors really need to know is low poly meshes happen in real-time applications like games.
This could lead to glasses like Spectacles being used to play AR games like Pokemon Go, and Snapchat could build accessories to use with the games.
And there are several ways Snapchat could make money from the growing AR/VR gaming industry.
First, Snap could develop its own games and charge companies to advertise within the games. Snap could also create a game app store like Apple Inc. (Nasdaq: AAPL), making a commission off of each game sold.
Snapchat could also charge a fee for game developers to upload their games to reach the 41% of 18- to 34-year-olds in the United States who reportedly use Snapchat on any given day.
This is just speculation as to what Snapchat could do with Spectacles.
But it shows the company could create several billion-dollar revenue sources. According to an August BI Intelligence report, total revenue for the AR and VR industry is expected to increase from $5.2 billion in 2016 to $162 billion in 2020.
That's a 3,015% increase in just four years.
This is one of the reasons the Snapchat IPO could be one of the most hyped deals in 2017.
But because of the recent volatility in the markets, it's more important now than ever to buy stocks that fit your long-term investment strategy.
That's why we created an exclusive Snapchat stock guide.
We answer the most common questions we've received from our readers, like:
How Does Snapchat Make Money?
How Much Is Snapchat Worth?
What Is the Snapchat Stock Symbol?
And we also answer the most important question there is: Should I Buy Snapchat Stock?
You can start researching Snapchat stock before its inevitable IPO through our exclusive guide, right here.
The Bottom Line: For our Snapchat stock update this week, we wanted to make sure our readers knew about Spectacles. Right now, they take 10 seconds of video and easily upload it to the Snapchat app. But the hardware used for Spectacles shows broader ambitions for Snapchat, which could help it evolve into much more than just a social media company. Snapchat could make billions off of Spectacles in the wearable technology market, as well as the AR/VR gaming sector.
Follow Money Morning on Facebook and Twitter.