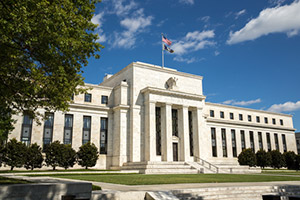 There was no big surprise from the FOMC meeting statement today after the U.S. Federal Reserve ended its closely watched two-day policy meeting.
As widely expected, the Fed left interest rates unchanged. Heading into the meeting, market odds of a rate hike at today's Fed gathering were just 7.2%, according to CME Group's FedWatch Tool.
Here are the key highlights from the November FOMC meeting…
FOMC Meeting Statement's Biggest Takeaways
Policymakers decided to maintain the target range for the federal funds rate at 0.25% to 0.50%.
The case for an interest rate hike has increased. But the U.S. central bank has decided to wait for more evidence of continued progress toward its full employment and inflation objectives.
The Fed's monetary policy stance remains accommodative. It wants to support further improvement in the labor market and an inflation rate of 2%.
The Fed said the labor market continues to show strength even though the unemployment rate has held steady in recent months.
Inflation has increased modestly since the start of the year. Still, it remains below the FOMC's 2% objective. Declines in energy prices and non-import prices have had an impact here.
Near-term risks to the economic outlook appear mostly "balanced," according to the Fed. Policymakers continue to closely monitor inflation indicators and global economic and financial developments.
As for as future interest rate hikes, the Fed will keep a close eye on economic activity and inflation. While the Fed wants to raise rates slowly, it says it will remain accommodative in doing so.
The most notable piece in the FOMC meeting statement was that the number of dissenters was reduced to two from three. Ester George and Loretta J. Mester preferred to hike rates. Eric Rosengren, meanwhile, turned more dovish.
Every word in the Fed's statement will be picked over for days for clues of when we can expect the next interest rate hike. Market odds of a rate hike in December were 68.4% prior to the meeting. Following the FOMC meeting statement, the odds rose to 71.5%.
Don't Miss: This penny stock has much more than just triple-digit profit potential…
It's looking increasingly likely that we will get an interest rate increase next month. But there is plenty of economic data that will be released before then that could change that scenario.
If the Fed does raise rates at the December FOMC meeting, we could see a similar reaction in the markets as we saw last year. In the six weeks following the rate hike in December 2015, the markets fell 10%…
What a Fed Rate Hike Means for Investors Now