Will Donald Trump win the election?
We've weighed the odds...
First, a look at the polls: The GOP presidential candidate, who announced his campaign back on June 16, 2015, just took the lead over Democratic candidate Hillary Clinton in the latest ABC News/Washington Post poll. Results published Tuesday morning (Nov. 1) revealed Trump has just under a one-point lead (0.07%) over Clinton.  (Note that this poll was administered between Oct. 27 and Oct. 30.)
That marks the first time since May that Trump edged Clinton out of an ABC News/Washington Post poll.
Trump had 46% support and Clinton has 45%. Libertarian candidate Gary Johnson had 3%, while Green Party candidate Jill Stein raked in 2%: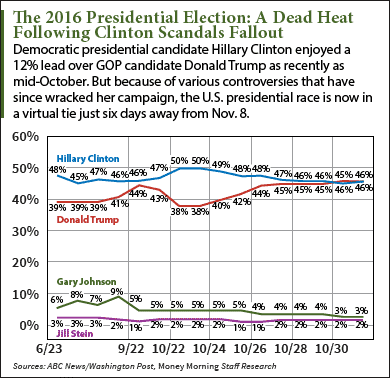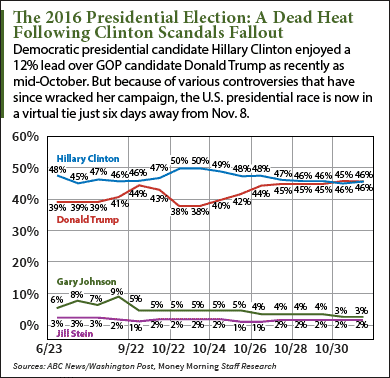 Second, a look at current scandals...
The two candidates have had plenty during this 2016 presidential election cycle. And because of these myriad controversies, both Clinton and Trump were revealed on Aug. 23 to be the two most unpopular presidential candidates in more than 30 years of ABC News/Washington Post polling...
Clinton is seen unfavorably by 60% of likely voters, according to Tuesday's ABC News/WaPo poll. And Trump is seen unfavorably by 58%. (Previously, former president George H.W. Bush had the highest unfavorable rating for a major-party candidate, in 1992.)
But right now, Trump's last-minute popularity surge is largely thanks to two people who have plunged the Clinton campaign into chaos...
Will Donald Trump Win the Election Thanks to Clinton Scandals? 
These two individuals are key players in Hillary Clinton's recent plunge in popularity.
In fact, Tuesday's ABC News/Washington Post survey results also showed precisely how much of a hit the former first lady's campaign has taken thanks in large part to Comey and Assange...
First, let's look at the damage Assange has done...
Don't Miss: How to Make a Killing... When Everyone Else Is Panicking
WikiLeaks has posted precisely 41,969 emails in 25 different batches from Hillary Clinton's campaign chair, John Podesta, since Oct. 7.
These emails contained damaging information including:
How DNC Chair Donna Brazile leaked debate questions to Clinton before the second presidential debate
Proof that President Barack Obama knew about Clinton's email server when he claimed he had no idea about it in December 2015
That Podesta directed Clinton's former chief of staff to "dump all those emails" on March 2, 2015 - the same day a bombshell report from The New York Times revealed Clinton's use of a private computer server
Now we're less than a week out from Election Day, and more from Assange is on the way -- including one ticking time bomb promising that "Clinton is in serious trouble"...
According to internet security expert Kim Dotcom on Monday, Hillary Clinton's presidential run remains in "serious trouble," with new information set to leak that some speculate could be a WikiLeaks release of her 33,000 deleted emails.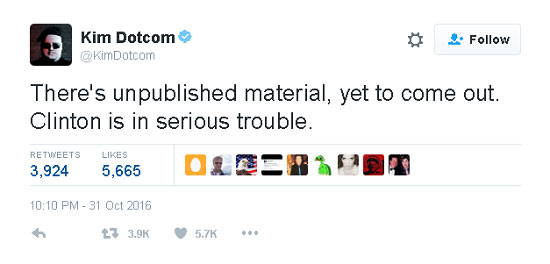 Kim Dotcom's promise is worthy of attention given his longstanding relationship with Assange's organization.
He's told the media numerous times that "he loves to talk to [WikiLeaks]," reported RealClearPolitics on Tuesday.
Then there's unofficial (and perhaps accidental) Trump support booster number two: FBI Director James Comey.
Last Friday, the federal agency head sent a letter to Congress notifying them of the discovery of further emails relevant to the probe into Hillary Clinton's alleged mishandling of classified information.
That same day, the ABC News/WaPo tracking poll showed negligible differences in enthusiasm between supporters of Trump (53% said they were "very enthusiastic") and supporters of Clinton (51% were "very" enthusiastic).
But by Tuesday morning, that negligibility had morphed into a concerning popularity gap...
According to the poll, enthusiasm among Clinton supporters had dipped a whopping 8% after Comey's disclosure -- all the way to 43%.
Meanwhile, Trump's held steady at 53%.
Up Next
FBI Director James Comey could be sitting on news that the Trump camp has indeed colluded with Russian hackers over the span of the election cycle.
At least, that's what Senate Democrat Harry Reid thinks.
Reid recently sent out a scathing public memo accusing Comey of "partisan actions" and even suggested he "may have broken the law." Here's what you need to know...
Related Articles: